Over the years, I've written hundreds of articles about scuba diving. The article you're reading right now, about the top five dive sites in the Philippines, was one of the most challenging.
The Philippines is a nation of more than 7,000 islands located in the Coral Triangle. It's one of the best places to dive with sharks (including whale sharks), it has colorful reefs, world-renowned muck diving and historic wreck dives. Oof! Choosing the five best diving spots in the Philippines is like trying to make a list of Meryl Streep's five greatest acting performances or the five best Beatles' songs. Each person you ask will have slightly different answers.
In the end, I wrote the list based on the different types of divers who might be reading this article (new divers, experienced divers, etc.). Choosing the best of the best, that's up to you!
Best for divers who: want a variety of diving experiences
On my first visit to the Philippines, I wanted to see as much as possible, so I did a liveaboard out of Cebu that sailed around The Visayas. We visited both Malapascua Island (one of the best places to dive with thresher sharks) and Gato Island, known for its 30m/100ft tunnel.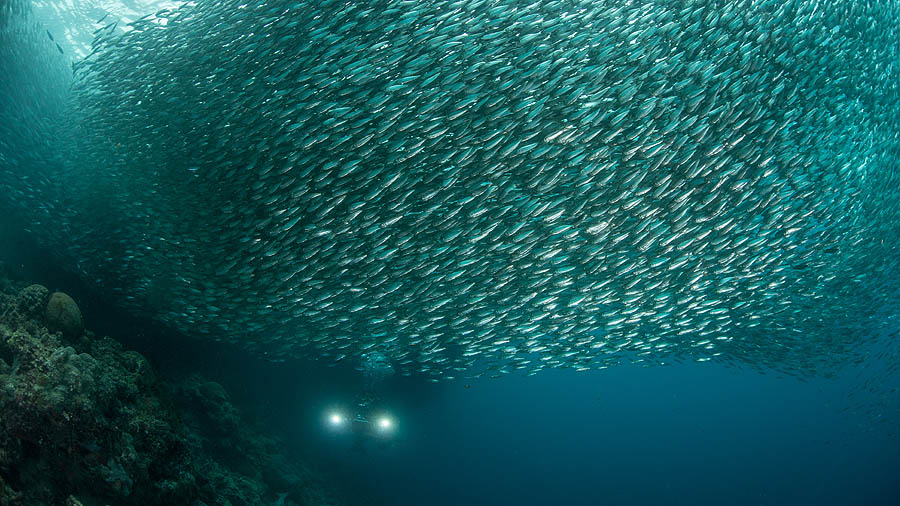 Unfortunately, I missed out on the sardine run at Moalboal. Unlike the famous sardine run in South Africa (which occurs annually), you can experience an underwater spectacle nearly every day in Moalboal, Philippines.
If you prefer land-based diving, Mactan Island (where Cebu's airport is located) has great shore diving, wall and drift diving. Common marine life sightings in and around Cebu include: whitetip reef sharks, eagle rays, dolphins and manta rays (Dec-May).
Best for divers who: enjoy liveaboards, want to see sharks and large pelagics
On my first dive trip to the Philippines, I asked our guide, "in your opinion, where's the best diving in the Philippines?"
He immediately replied, "Tubbataha." It should be noted, our guide was from Malapascua and he had grown up diving all around The Central Visayas.
Our guide said he loved Tubbataha for the big pelagics and its biodiversity. He said every time he dove there he saw creatures he'd never seen before.
Tubbataha is one of the premier scuba diving locations in the Philippines and a UNESCO world heritage site. The only downside? Tubbataha's diving season is limited to mid-March through mid-June and you can only dive Tubbataha from a liveaboard.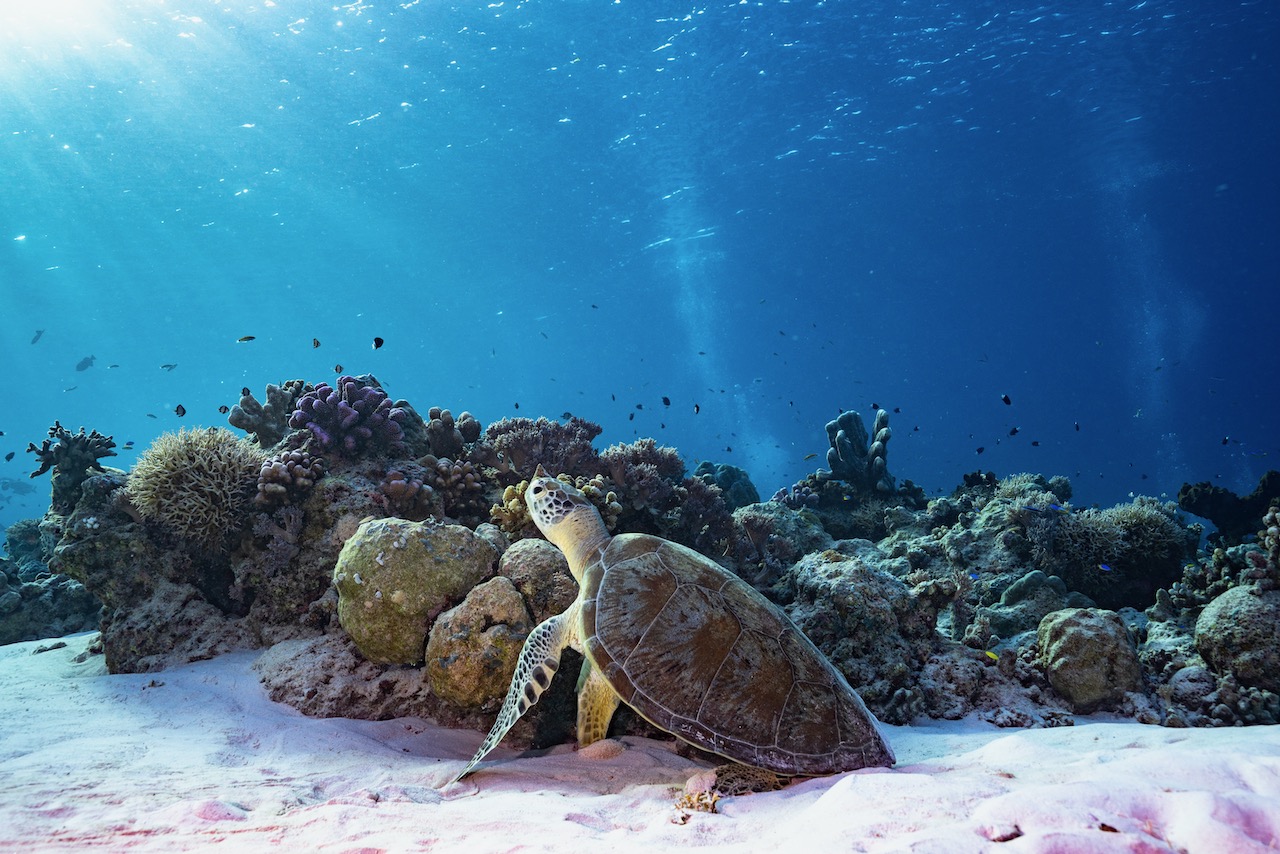 Best for divers who: want a destination with numerous activities for nondivers, nightlife and/or dive sites for all levels (beginner through advanced)
Puerto Galera has something for everyone: advanced divers, underwater photographers, beginner divers and even nondivers. Topside activities include: waterfall and mangrove treks, luxury spas, shopping and more.
Underwater you'll find wrecks, large schools of fish, turtles, reef sharks, eagle rays and 800+ species of nudibranchs (finding all of them may take some time). Puerto Galera also has top-notch night diving.
Best for divers who: want to dive historic wrecks and colorful reefs
Coron is stunning both above and below the water. Topside you'll pass between dramatic limestone cliffs covered in lush, green vegetation. Underwater there's even more to explore including historic WWII wrecks and caverns.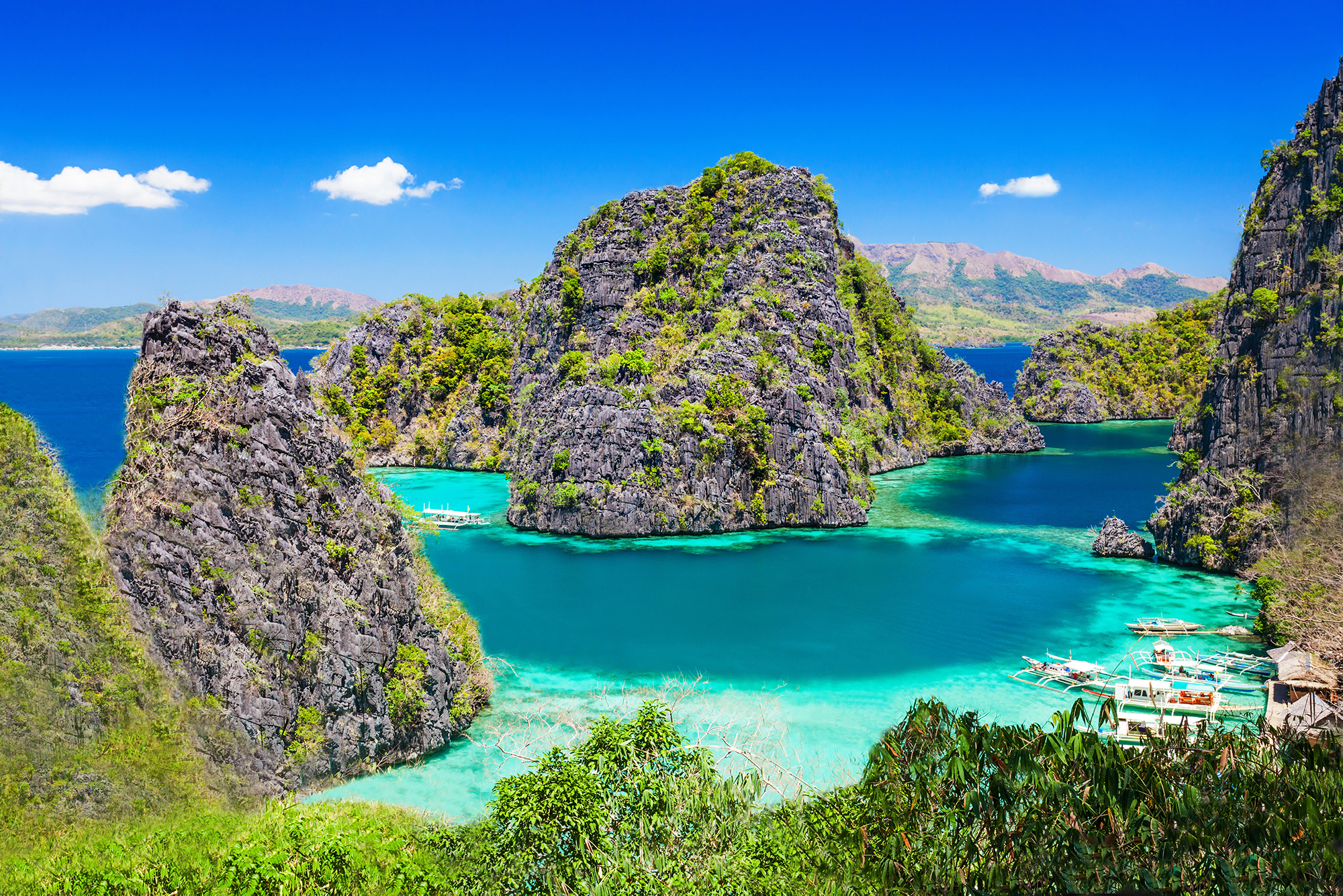 Most of the eleven wrecks in Coron are accessible to recreational divers. It's a great place to earn your PADI Wreck Diver certification.
Cave and cavern diving require proper experience and training.
If you dive Coron via a liveaboard, there's a good chance you'll also visit Apo Reef, the second-longest contiguous reef in the world (after the Great Barrier Reef). Apo Reef, not to be confused with Apo Island, is home to colorful coralscapes, a variety of reef sharks and schools of pelagic fish.
Best for divers who: love small and strange creatures, want to minimize flight connections
Anilao is a protected marine sanctuary just 140 km/86 m south of Manila. After stepping off the plane, it's only a two-hour drive to colorful reefs and swaying palm trees.
There are more than 75 dive sites just a short boat ride from shore. Many are home to bucket list macro critters like hairy frogfish, mimic and blue-ringed octopuses, mantis shrimp and bobbit worms. You're also likely to see whitetip and blacktip reef sharks, eagle rays, stonefish, dolphins, hawksbill turtles and (from December to May), manta rays.
The Best Time of Year to Dive the Philippines and Other FAQs
Philippines diving is great any time of year, but the best time to dive the Philippines is from November to April, mainly due to the lack of typhoons. The only place you can't dive year-round is Tubbataha, which is only accessible from mid-March through mid-June.
Check out the video below, filmed by PADI's AmbassaDiver™ from the Philippines Claude Evangelista. It was shot entirely in the Philippines and features footage from three of the destinations mentioned in this article: Puerto Galera, Malapascua and Moalboal.
Contact the experts at PADI Travel® for assistance choosing the very best place to dive the Philippines based on your travel preferences, diving experience and budget. For more information about where to scuba dive in the Philippines, check out the articles below.
Learn More About Diving in the Philippines