If eat, sleep, and dive are the only three activities you want to do on your vacation, a liveaboard adventure is for you. But perhaps you're worried that a week on a boat will leave you longing for a 5-star resort. Don't be! These luxurious liveaboard dive boats offer the best liveaboard diving in the world. And you won't have to lift a finger in the process!
Don't believe us? Check out the hundreds of scuba liveaboard reviews found on PADI Travel.
What to Expect on a Luxurious Liveaboard
Whether you call these boats opulent or boutique, there are a few common denominators in terms of service and amenities. To be considered one of the best scuba liveaboards in the "luxury" category, a dive boat most likely provides:
Tailor-Made Service: Many dive charters take into account the needs of their guests in terms of dive sites, desired marine creature sightings and food menus. This flexibility is a cornerstone of the boutique liveaboard experience.
Attention to Detail: From post-dive snacks to towels that are refreshed daily, no detail goes unnoticed, leaving divers with nothing to worry about and everything to enjoy.
A Low Ratio of Dive Guides to Divers: On these dive safaris, most dive guides are only responsible for 4 to 5 people, ensuring incredible service, and safe and quality scuba diving.
A Full-Service Dive Routine: Divers only have to set up their equipment on the first day and disassemble their equipment on the last day. In between, the crew takes all responsibility for washing and changing tanks.
A Crew That Outnumbers the Guests: Most of these dive boats have more crew members than the maximum number of guests. This is to ensure that each and every guest feels pampered and cared for throughout the journey.
Deluxe Cabins: Unlike some charters, luxury liveaboards tend to have spacious staterooms with ensuite bathrooms and air conditioning. A few less common amenities include in-room TVs, full bathtubs or 180-degree views of the ocean.
Quality Cuisine: Most boats displaying a note of grandeur boast trained chefs who prepare the finest cuisine on the high seas. You won't go hungry on these yachts!
Plentiful Frills: From full spas to full bars, there's really nothing you can't find on the world's top liveaboard yachts. Submarines, kayaks, hot tubs and yoga studios make an appearance in some of the top 12 boutique dive charters below.
The Top 12 Luxurious Liveaboard Dive Boats
If you want to add a touch of splendor to your next diving vacation, consider the 12 yachts listed below. From Raja Ampat to the Maldives, these are the best trips for scuba divers who love to feel pampered.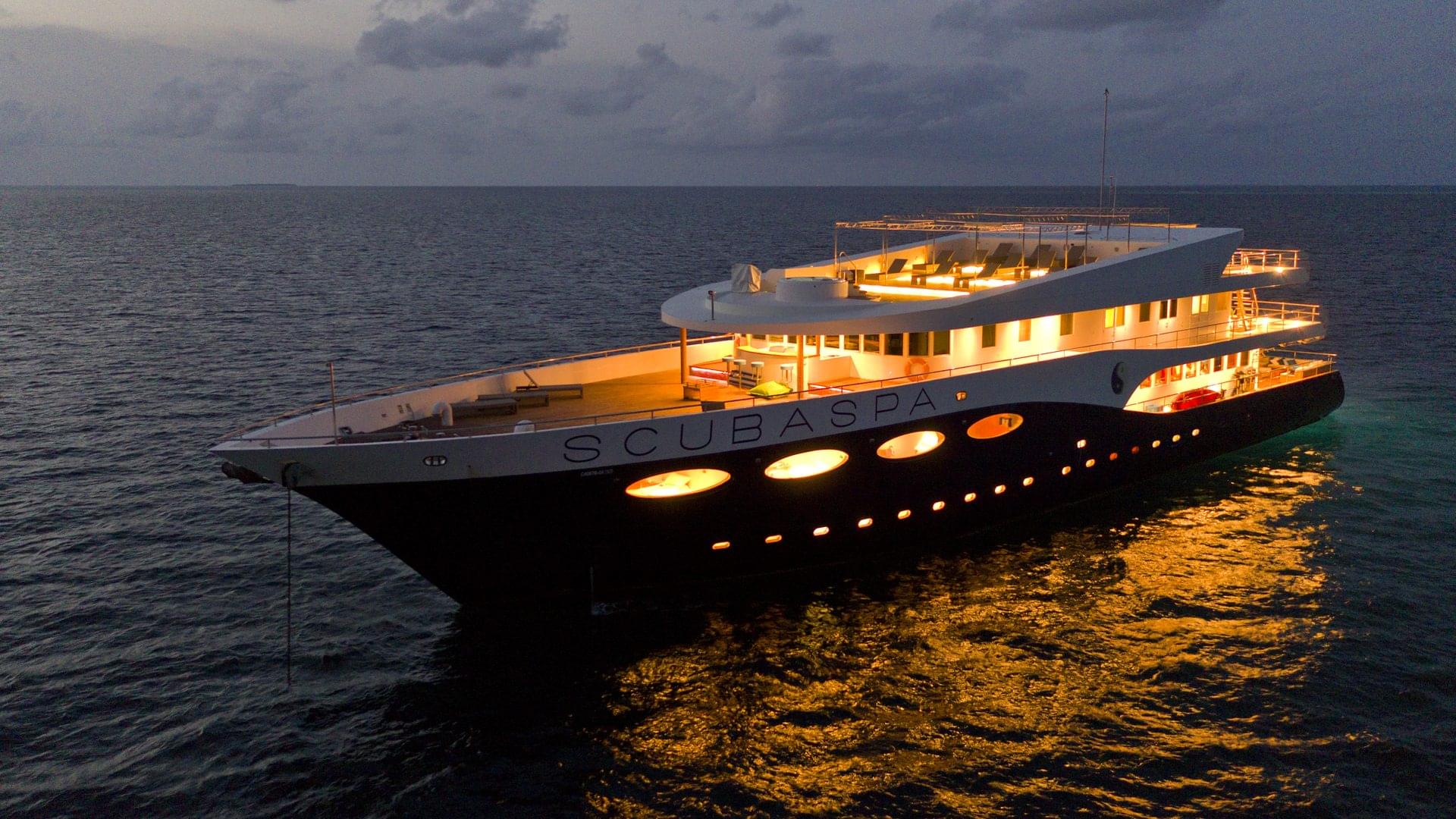 1. Scubaspa Ying
Possibly the best and most luxurious liveaboard dive vacation for traveling with a non-diving partner, Scubaspa Ying boasts the innovative concept of combining a diving charter with a wellness retreat. Sailing among the idyllic islands of the Maldives, you'll be in total peace during your stay aboard these two diving yachts. A jacuzzi on top, a 5-star spa and three decks allow plenty of room for guests to relax. For diving, there's a well-equipped dhoni to store equipment and ferry divers to dive sites. Packages can be booked for diving only holidays, spa only holidays or a combination of the two.
VIEW DEALS FOR THE SCUBASPA YING
---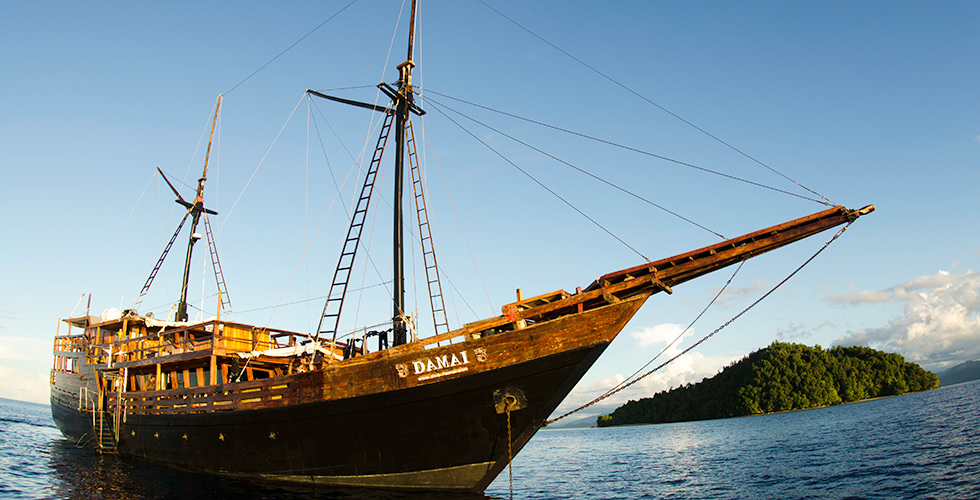 2. Damai I & II
With 25 years of experience diving in Indonesia, the Damai I & II are 130-foot (40-meter) traditional yachts designed for small group dive safaris. With 7 staterooms, the maximum number of divers is 14 yet the crew of each vessel is 20 members strong. You're sure to get personalized service, but what's even better are the small perks found on board. Each room is equipped with reef-safe amenities such as suntan lotion and shampoo as well as a 3G hotspot so that you can always be in contact with the outside world. Sailing in the Coral Triangle has never been so simple!
Unlimited buddy diving helps you get the most of World War II wrecks and a seemingly endless variety of sea life, including sharks, mantas and dolphins. Plus, excursions offer that little bit more, bringing you close to the famous Komodo dragon, local villages and even an active volcano.
---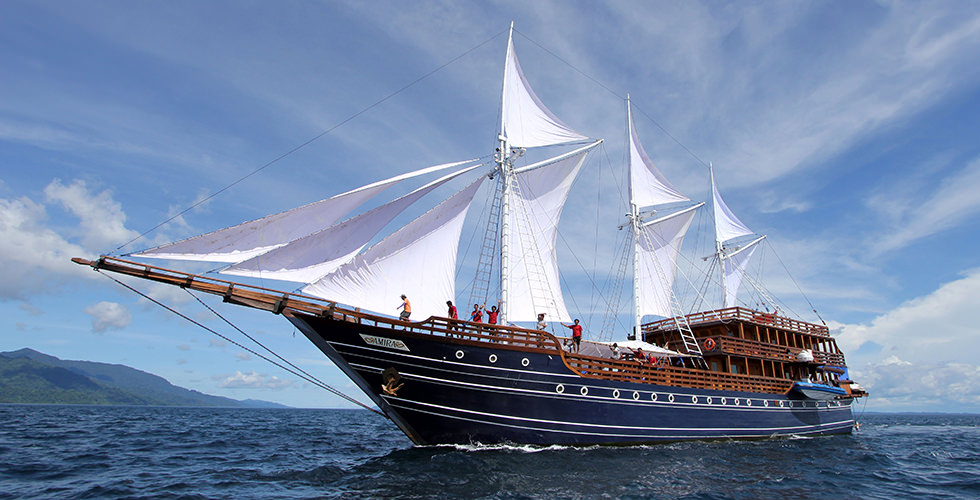 3. Amira
Cloud-like white sails announce the arrival of the Amira at ports throughout Indonesia. But just because it reaches remote corners of the Coral Triangle doesn't mean the Amira sacrifices grandeur. The 170-foot (52-meter) yacht boasts both a sun deck and a spacious lounge as well as two shared computers, massage services and onboard kayaks. The spacious dive deck and four dives a day mean scuba divers are well-catered for aboard this luxurious liveaboard dive charter.
See whale sharks and wrecks in Cenderawasih Bay and enjoy sharks, mantas, dolphins and tiny macro-critters at other destinations. Break from diving temporarily to take part in an excursion to see the world-famous Komodo dragons, if you book a Komodo itinerary.
---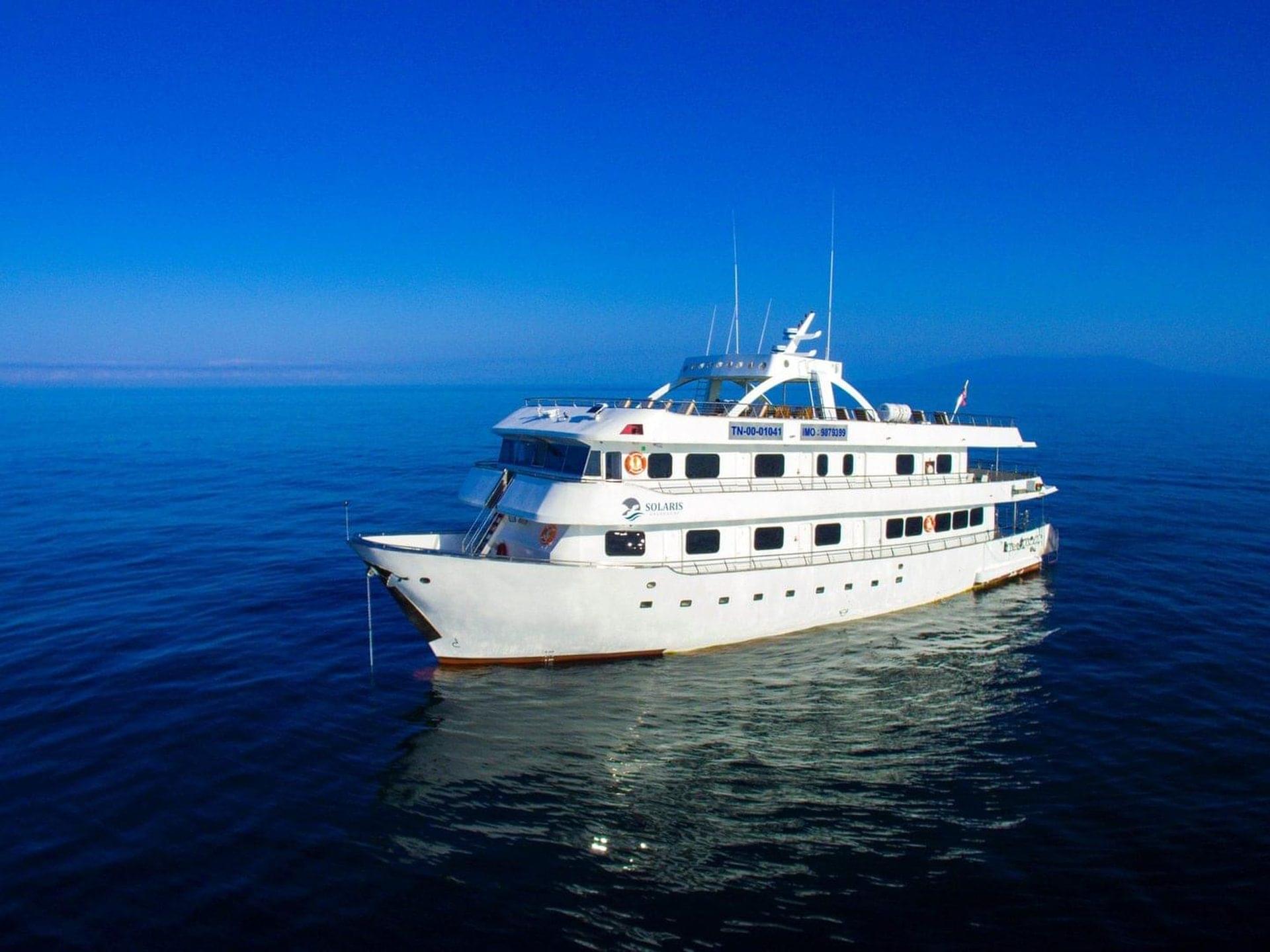 4. M/Y Yacht Solaris
The M/Y Yacht Solaris offers an incredible non-diving naturalist cruise on a first-class yacht, with all the luxuries of a floating hotel. This 36-meter motor yacht was built specifically to cruise the Galapagos Islands and can accommodate 16 people in 11 cabins. All cabins are very spacious, are located on the main and upper decks and each has an ocean-facing window. The yacht features good sized social areas with an indoor dining area, a passenger lounge with a TV, a bar, an uncovered sun deck and one fully shaded outdoor deck with loungers.
All the naturalist cruise programs include a wide range of activities such as guided hikes, inflatable dinghy-rides, snorkeling, as well as interesting visits to giant tortoise breeding projects, interpretive botanic trails and visitor centers. The trained crew and cruise director, assisted by naturalist guide, will be ready to serve your every need making your stay as comfortable as possible. All you have to do is sit back, relax and watch the world float by.
VIEW DEALS FOR THE M/Y YACHT SOLARIS
---
5. Samambaia
Newly built in 2015, the Samambaia is one of the newest liveaboards sailing Indonesian waters. To ensure your dive safari holiday becomes a memorable experience, every aspect of the Samambaia exudes extravagance. The design, itinerary and menu have all received detailed attention, but the personalized service makes the Samambaia stand out in the field of Indonesian dive boats. There's a crew of 16 for a maximum of 14 guests! In addition, the Samambaia carries children's diving equipment, making this a great option for the whole family.
The magnificent Samambaia is a traditional Indonesian wooden yacht sailing to remote dive locations. This exclusive sailing vessel transports dive safari Adventurers to spectacular sites such as Raja Ampat, Banda Sea, Alor, Komodo (Ambon, Labuan Bajo, Serangan, Banda Islands) arguably the world's best diving spots featuring the greatest marine biodiversity! Unwind with a soothing massage and spa treatments, enjoy delicious fresh meals and rest in luxurious accommodation aboard the Samambaia.
---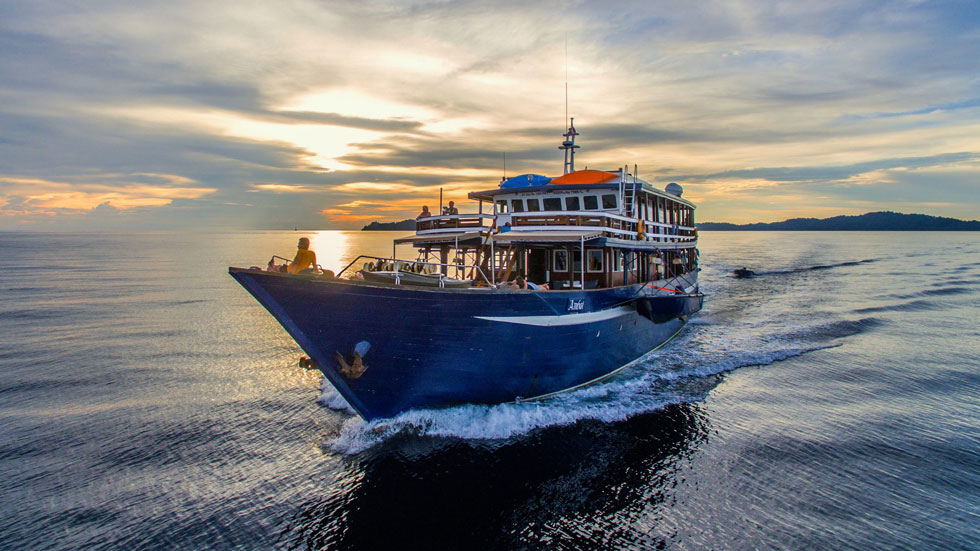 6. Ambai
The range of amenities available on this luxurious liveaboard dive boat is sure to wow you. Outstanding service is provided for the 16 guests in the 8 roomy and quaintly decorated wood-trimmed cabins. Every Stateroom has a double occupancy capacity, individual air conditioning and private bathrooms with hot water showers. Guests will forget they are on a boat with the convenient daily housekeeping and laundry service.
The onboard massage services, kayaks, free wifi and dive courses will keep you busy when you aren't under the water. But the frills don't stop there. Divers enjoy a spacious dive deck, and 3 dive tenders are used to reach the dive sites in small groups. With an attentive crew for 16 guests, you'll feel pampered throughout your diving holiday.
---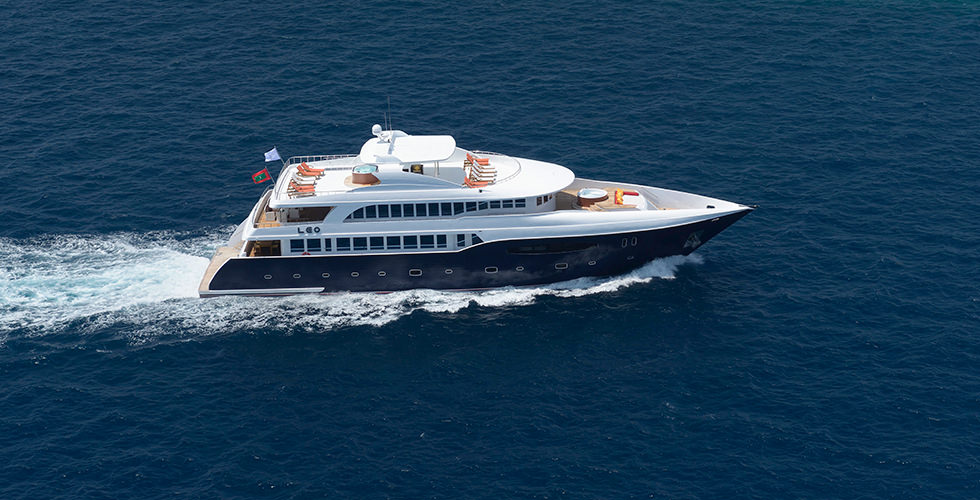 7. Maldives Blue Force One
Awarded the title of Best Built Liveaboard for 2014 by the Liveaboard Association of the Maldives, the Maldives Blue Force One is 138 feet (42m) long and 39 feet (12m) wide. Two jacuzzis and a full spa as well as three sundecks ensure non-divers are well taken care of too. The diving, the leisure activities and the luxury and comfort found aboard this dive safari are rarely found in today's liveaboard portfolio.
This magnificent ship allows divers to explore the magic of manta rays and whale sharks under the water while enjoying VIP treatment between dives. Nitrox is included and diving takes place from the yacht's dhoni where your equipment will stay for the entirety of the journey. Discover these uniquely beautiful islands aboard the Maldives Blue Force One.
VIEW DEALS FOR THE BLUE FORCE ONE
---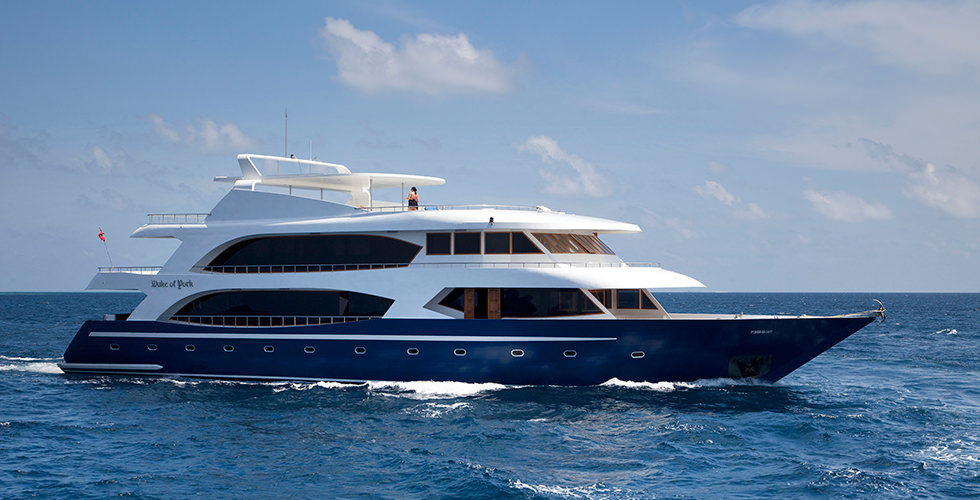 8. MY Duke of York
Serious divers who enjoy the finer things in life will want to consider the MY Duke of York for their next journey to the Maldives. This was one of the first vessels in the region to offer facilities for rebreather diving. The crystal clear waters are home to large Pelagics such as Mantas and Whale Sharks, as well as brilliant Flatworms, Ghost Pipefish and a myriad of macro life hiding in the brilliant coral gardens, channels, pinnacles and ancient wrecks. Duke of York's itineraries include World-class dive sites such as North Male Atoll, Hanifaru Bay, Ari Atoll, Rasdhoo, Baa Atoll and more.
Topside, the ship's four decks and 10 spacious cabins give guests plenty of room to spread out. The beautifully appointed staterooms are equipped with A/C, ensuite bathrooms and WiFi (for an additional fee). Furthermore, as an Italian-run vessel, you're sure to be delighted with every meal served to your table.
VIEW DEALS FOR THE MY DUKE OF YORK
---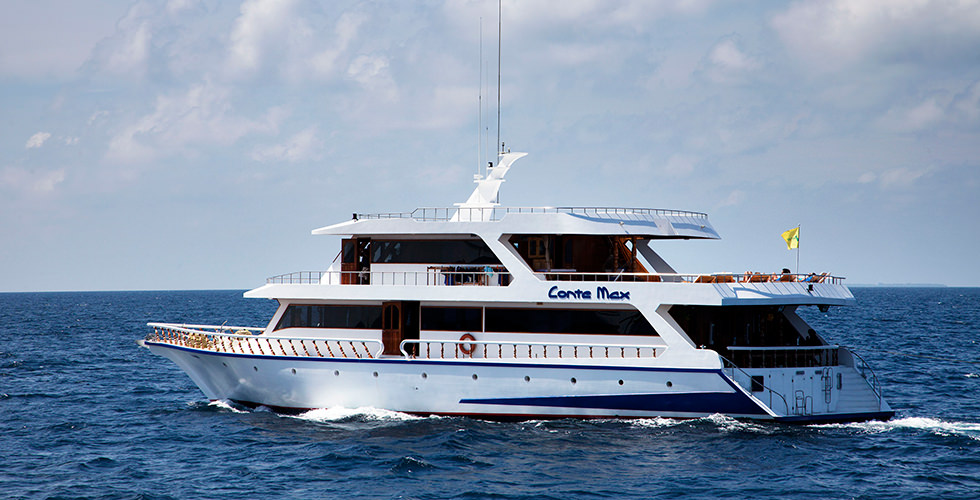 9. MY Conte Max
The sister vessel of the MY Duke of York, the MY Conte Max holds itself to the same standard of service. In addition to world-class Maldivian diving, this dive boat prides itself as a wellness retreat. Enjoy an ayurvedic treatment while gazing onto the sapphire-blue waters of the Indian Ocean. Two restaurants, one inside and one outside, allow guests to enjoy chef-inspired cuisine in total comfort. Furthermore, the well-appointed staterooms have both a double and single bed, making the Conte Max a great option for larger groups.
Delve into channels and passages between atolls, as currents sweep playfully throughout the chain of islands. Rich nutrients attract vast numbers of fish including Napoleon Wrasse, Parrotfish, Snappers, Jacks and Sweetlips and so many more species. Visit famous sites such as the North Atolls, Central Atolls and extreme South Atolls in the Indian Ocean and let the large channels and vibrant reefs fulfill your dream luxurious liveaboard dive vacation.
VIEW DEALS FOR THE MY CONTE MAX
---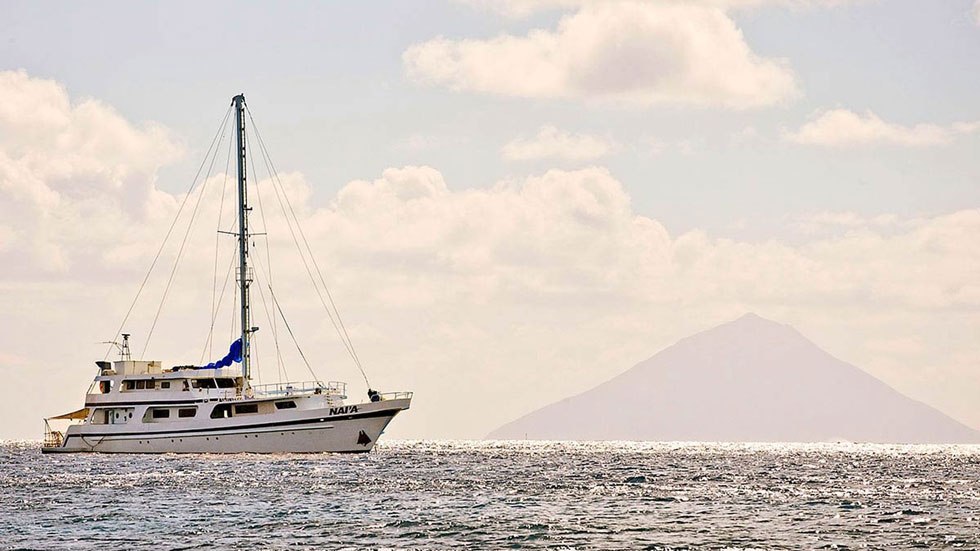 10. Nai'a
A boutique yacht through-and-through, the Nai'a helps divers to discover the brilliant coral environments of Fiji. With Nitrox and rental equipment available and a designated area for camera room, it's easy to see why this is the pro's choice for underwater photography and videography trips.
Topside amenities include a video room, gorgeously decorated interiors, a spacious lounge and a bar area serving up complimentary wine. The boat carries up to 18 guests with all the creature comforts of a quality, land-based resort, including hot showers and cool staterooms. The Fijian crew ensures each and every guest leaves their luxurious liveaboard diving holiday feeling pampered and relaxed.
---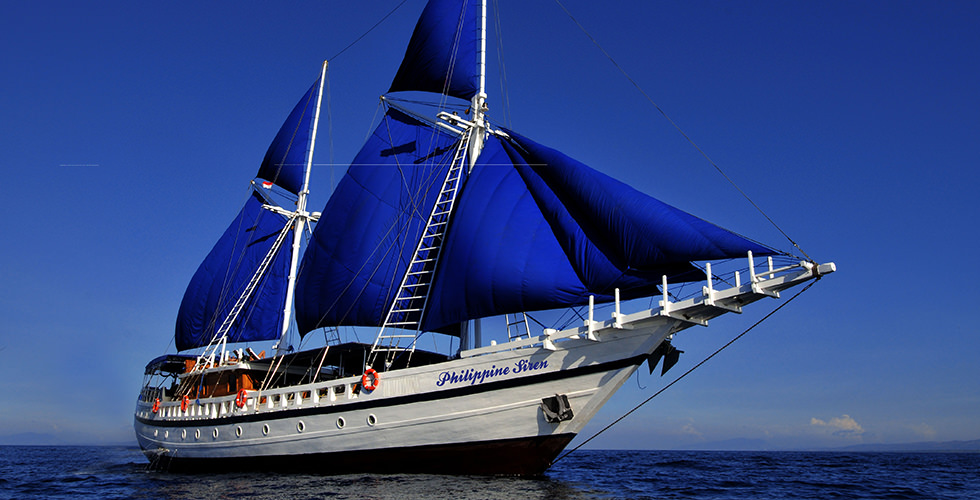 11. SY Philippine Siren
Built by divers for divers, the SY Philippine Siren has all the amenities you need for a fulfilling holiday. The dive deck is one of the most spacious worldwide, and equipment rental as well as Nitrox are provided free of charge. The liveaboard Philippine Siren has 8 air-conditioned cabins to accommodate 16 guests.
This incredible ship offers many between-dive activities such as movies, audio-video entertainment, as well as a big flat screen in the lounge and a library in the air conditioned main saloon. For some extra action, go snorkeling, kayaking or take a shore excursion. They also have an on-board shop where you can buy accessories. If relaxing in comfort is more your style, sunbathe or take a nap on the shaded sun deck on the cushioned lounge chairs.
Relax in the convenience of a highly experienced crew who work tirelessly to ensure your diving vacation is second to none. This beautiful wooden sailing vessel is the perfect dive vacation for beginners and experienced divers.
VIEW DEALS FOR THE SY PHILIPPINE SIREN
---
12. SY Palau Siren
Adventurers aboard the Palau Siren will experience Palau diving at its finest and get pampered in bliss and comfort. While participating in underwater activities, divers can enjoy an expansive, shady dive deck, free Nitrox, free equipment rental and two high-powered tenders. The 3 dive professionals on board the Palau Siren ensure guests have a memorable, small group diving experience. The covered, outdoor dining area, the rejuvenating sundeck and air conditioned lounge with a cocktail bar are all perfect for soaking in the post-dive glow.
Located just southeast of the Philippines, Palau is known for healthy and vibrant reefs and walls flourishing with current-rich upwellings. Palau is where 3 of the world's major currents meet, creating a giant influx of menu items for hungry marine creatures. With an amazing abundance of coral and sea anemone species and 1,500 species of fish, divers will be astounded at the diversity of the Palau waters while relaxing on this luxurious liveaboard dive boat.
VIEW DEALS FOR THE SY PALAU SIREN
---
Are You Looking for Liveaboard Special Offers?
If so, you're in luck! PADI Travel offers the very best special deals in the industry. Browse all the available dive resorts, liveaboards and day trips on PADI Travel.