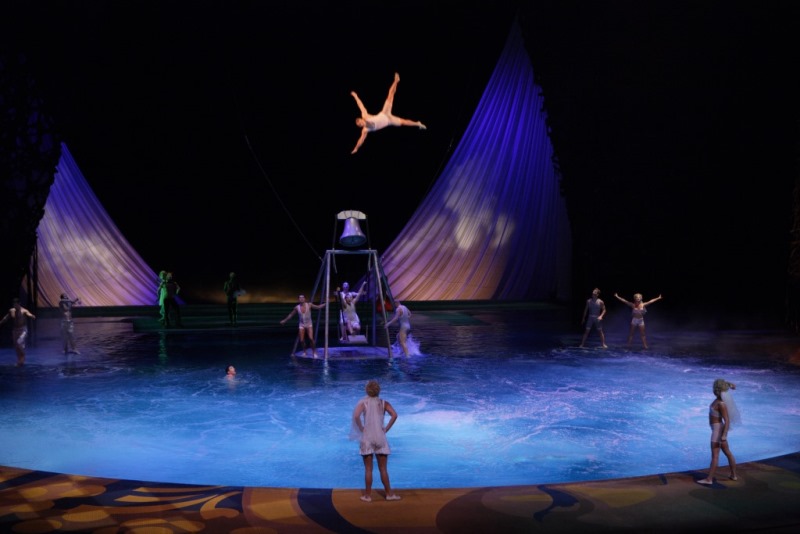 Do you dream about going pro and making diving a lifelong career? It's something many of us imagine, but for some, it's reality. Although becoming a professional dive instructor is one of the most popular career options, there are many other ways divers do what they love while paying the bills. For Robert Soncini, that opportunity presented itself in the live entertainment industry.
After moving to Las Vegas to work as a paramedic, Soncini started taking dive lessons and his enthusiasm for the sport grew every time he hit the water. In 2007, shortly after becoming a PADI Instructor, there was a job opening for an artist handler at the Bellagio's Cirque du Soleil show "O". Soncini jumped at the opportunity and got the job.
"During the show, there are 14 divers in the water, including four artist handlers and two divecomms," says Soncini. "The divecomms are on full face masks with a hardwire communications unit. The divecomms relay information about the show to a platform called the crow's nest that overlooks the pool, and to stage management which maintains the continuity of the show nightly. The artist handlers are responsible for swimming them either on or off stage underwater or to their next cue."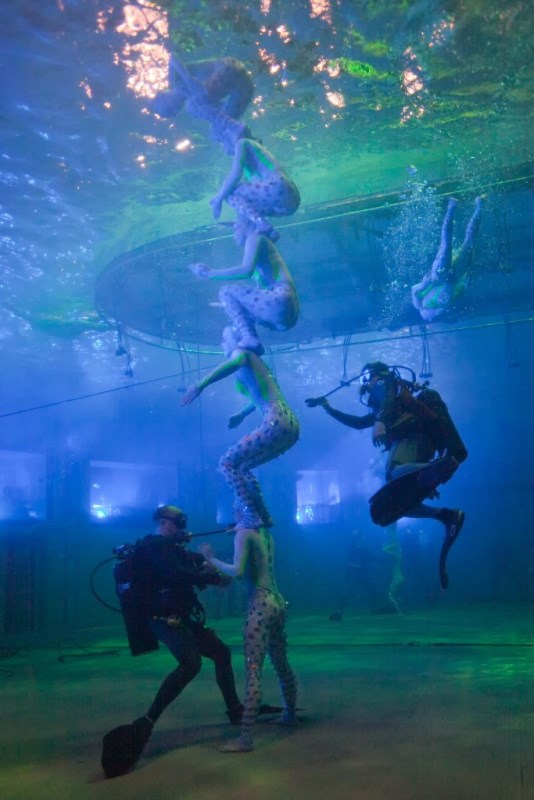 Additionally, Soncini explains, "When the artists enter the water, we are waiting in a predetermined location with regulators in hand. At any given time we can support three artists off of the rig that I wear. Yes, I have three octos on me attached to a single first stage. The other divers are carpenters and riggers who maneuver the set pieces and prep them for the next act. The timing of the show is critical. To keep everything running smooth, everyone has to be in the right place at the right time and ready to move when the stage manager says 'Go!'"
Two top characteristics to do the job well include being outgoing and personable, says Soncini. "Additionally, we need to be aware of any cultural barriers. Currently, our show has over 20 countries represented and multiple languages are heard daily throughout the theater."
For other divers who want to work a dive job full time, Soncini suggests plenty of training. "Train, train and train. Do whatever you can to make yourself more marketable and to give yourself that extra edge over the next person. As a PADI Master Instructor, I can attest firsthand to the benefits of continuing education in diving. Take as many classes as you can and create a portfolio that you can give to potential employers."
If you've ever considered a move to Sin City, it might just be where you'll find the perfect pro dive job, just like Soncini. "When you think of a diving job, you really do not think of Las Vegas.However, surprisingly there are many hotels that hire divers. Not only does the Bellagio have divers who are responsible for the "O"show, they hire a complete team of divers to maintain the fountains in front of the hotel. Additionally, the Golden Nugget, Mandalay Bay, Wynn, Silverton and Mirage hotels all use divers in some capacity."
Apparently even Lady Luck has a love for scuba.
Interested in learning more about jobs you could have as a diver or PADI Instructor?
Read more scuba career interviews.
To see more about Cirque du Soleil's "O" (including a video preview) visit cirquedusoleil.com