Our story begins on Instagram…
When looking through images tagged #padi on Instagram, we came across one of the best Hammerhead shots we've ever seen. We were able to connect with the shooter, Grant Johnson, to get the story behind the shot, as well as learn a few interesting facts about Bimini…
Grant Johnson has lived in Bimini, Bahamas since 2001, but his diving career began in Minnesota, Land of 10,000 Lakes.
"There is literally water everywhere," Grant says, "and while it might not be the same vibrant, clear water you find in the ocean, it's hard to see so many lakes and rivers and not become curious about what's below the surface." On the day Grant completed his Open Water certification dives, it was snowing.
After being offered a job in Bimini in 2001, Grant never left. "I spent the first 6 years managing the Bimini Biological Field Station (SharkLab), and since 2007 I've been the director of an eco-tourism program at the Bimini Sands Resort on South Bimini."
The story behind the shot…
"Back when I worked at the SharkLab a few friends and I discovered a site not far from shore where we could reliably attract and interact with big Great Hammerheads. For almost a decade we've been diving with these sharks every winter."
Grant's photo was taken in about 20 ft / 6m of water at a place he describes as "a natural intercept point" as the animals travel naturally around the island.
"Over the years, we've become very comfortable sharing the water with these Great Hammerheads, and despite any reputation they may have for being scary or dangerous, they are exceptionally intelligent and placid sharks when you create the proper situation to interact with them," he said.
"A decade ago, what started as a fairly tentative and cautious diving experience has now evolved into a remarkably accessible and almost tranquil adventure. After spending some time with these sharks, you can really get a feel for their individual moods and temperaments. Once everyone, including the sharks, has settled into the dive you can really get quite close to them without feeling like you're bothering them. They are curious and inquisitive sharks, and as you can see from the photo, they don't mind sharing space with divers underwater."
This post showcases some of Grant's other images. When asked if he has advice for aspiring underwater photographers he suggests:
"The best advice I can offer is simply, get in the water as much as possible. Even if you don't have access to the most highly-regarded dive sites or the most sought-after marine wildlife, you can still highlight what's unique and fascinating about where you are. And don't stress about not having the latest and greatest in camera equipment either. High quality underwater cameras are becoming more affordable than ever these days, but even some of the lower-priced 'consumer grade' options allow you to capture fantastic images. The more time you spend in the water, the more comfortable you'll feel exploring the infinite number of photographic possibilities."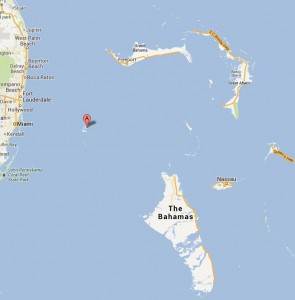 If you look at a map of The Bahamas, Bimini sits on the western edge of the Great Bahama Bank. The warm waters of the Gulf Stream carry an enormous amount of marine life and continuously wash the reefs and flats with crystal-clear water. Grant encourages anyone who enjoys being "in, on or under the water" to visit Bimini. He sets the scene:
"In less than 30 minutes from the dock, you can be diving with wild dolphins, spotted eagle rays, Caribbean reef sharks, southern stingrays, a variety of sea turtles, and Great Hammerhead sharks. We've also got fantastic reefs, historic shipwrecks, and amazing drift dives along the edge of the Gulf Stream. It's a little island, but if offers some seriously big adventures."
Grant is also a passionate advocate for protecting Bimini's underwater world, supporting the Bimini Marine Protected Area Campaign. The project would finalize protections for the North Bimini Marine Reserve, safeguarding a huge swath of Bimini's mangroves and inshore ecosystems. The North Bimini Marine Reserve is home to an array of creatures from tiny seahorses to rays and juvenile sharks. For more information, visit: facebook.com/Bimini.Marine.Protected.Area
Ever wondered why hammerheads have such an oddly-shaped head? Want to help ensure future protection for this species? Head over to ProjectAWARE.org to learn more and pledge your support with a donation.