Phuket is one of those unique destinations that a diver can find the perfect mix of adventure, excitement and natural beauty. Located in the Andaman Sea in southern Thailand, Phuket is a world-renowned dive destination in its own right with a vast array of sites teeming with marine life. It's also home to Thailand's biggest fleet of PADI liveaboards, so you can explore the Andaman Sea in style.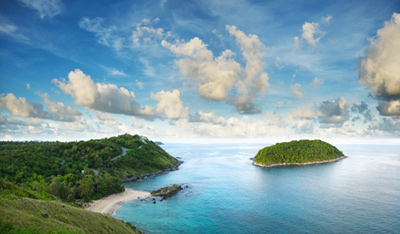 When you add into the mix, natural top side beauty such as the green mountain forests that flow into an endless array of postcard perfect beaches, you start to realize why this region is sometimes referred to as the Pearl of the Andaman. Phuket's top side attractions are also seemingly endless for travelling divers. From world-class restaurants, fashion houses and high-end clubs for jet-setters, all the way through to affordable beach bungalows, market-style food and reasonably priced bars for those on a backpacking budget.
Top Dive Spots:
Racha Yai – Most sites have sloping walls of hard corals that attract an abundance of marine life. The warm currents here are usually milder so it's an attractive place for certified divers to explore numerous sites or for travellers to learn to dive.
Racha Noi – Offering more soft coral diving sites than that of Racha Yai, the site of Racha Noi attract larger marine life including manta rays. These sites may have stronger currents that are more suited to experienced divers.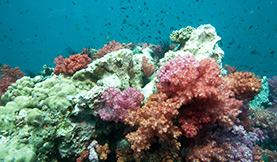 Shark Point – A marine sanctuary easily recognizable by one of its three pinnacles that rises out from the surface. Its home to a vast array of marine life includes lionfish, nudibranch, and of course, leopard sharks. The colorful soft corals really bring this site to life.
Koh Doc Mai – Well known for being an excellent wall diving site, this is an underwater photographer's paradise too. Here you can spot scorpionfish, nudibranch, seahorses and other unique marine life. Barracudas also frequent this dive site.
The above dive spots are just the tip of the iceberg. Phuket offers a vast range of exciting sites for divers to explore and the top side treasures make it a must-visit destination.
Want to know about diving in Phuket or Thailand?
Check out the Vacation Spotlight on Thailand and locate a PADI Dive Shop in Phuket!