While tropical waters and coral reefs have their rightful place among must-visit dive spots, cold water scuba destinations offer an amazing opportunity for divers, too.
In fact, some of the world's coolest climates have some of the most spectacular diving. Here's what you need to know about planning your next dive trip to the brisk waters of New Zealand, Canada, or the UK and Ireland.
You'll find a wide range of dive temperatures in New Zealand, from subtropical in the north to temperate in the south. You will need a passport and may need a visa to visit New Zealand, depending on your home country.
New Zealand is full of awesome dive sites, including Milford Sound, a fiord that has a freshwater layer on top of the seawater, which allows species typically seen in the deeps to live shallower. Look for black and red corals and spiny sea-dragons. Aramoana Mole is another great spot just a 30-minute drive from Dunedin, with beautiful marine life, exquisite sponge gardens and fascinating kelp forests – home to sea dragons.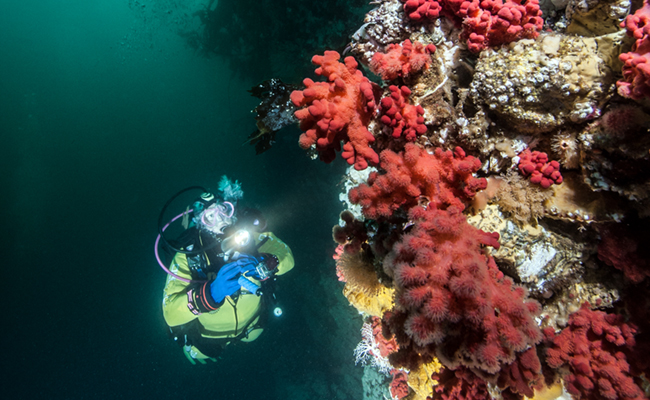 British Columbia, Canada
Just a 40 minute ferry ride from West Vancouver, Canada you'll find some of the most beautiful diving in the Pacific. The Sunshine Coast, named for the extra hours of sunshine they get each year, is an 80 kilometres/50 miles emerald green wonderland.
Numerous islands and sheltered bays are home to shipwrecks, drift diving and Giant Pacific Octopus dens. Well-travelled divers will appreciate the Powell River Mermaid – a sister to the one found in Grand Cayman. Divers of all skill levels, and especially underwater photographers, will find something to write home about after a dive on The Sunshine Coast.
The waters that surround the United Kingdom and Ireland are bursting with opportunity for fearless cold water divers. Between the main land masses and hundreds of smaller islands, there are almost 24,000 kilometres/15,000 miles of coastline begging to be explored. With passport in hand, it's easy to travel to one of the more than 270 PADI Dive Centers and Resorts located in the U.K. and Ireland.
The cool waters here are full of surprises, from tiny seahorses to gigantic basking sharks, but perhaps the biggest draw of braving the waters of the area is unparalleled access to many fantastic wrecks. With the area's rich military history, you'll be able to pick and choose the wrecks you'd like to discover. The Scapa Flow Historic Wreck Site is one of the best wreck locations to dive in the world.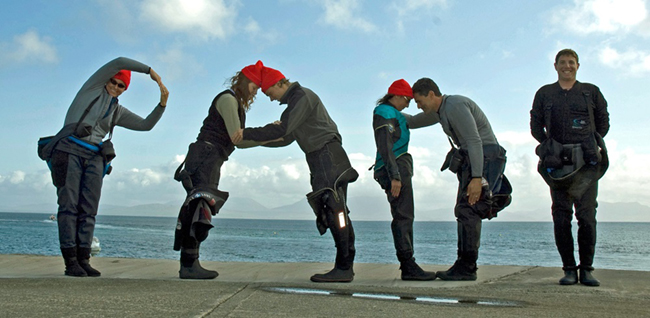 There's no need to be intimidated by cold water diving, especially if you have a quality dry suit to keep you warm. Learning how to dive with a dry suit gives you the key to longer dives and access to dive sites you otherwise wouldn't be able to visit.
Take the PADI Dry Suit Diver Course to learn more.
For more on cold water diving, check out our next article: Cold Water Diving Hotspots Part II.