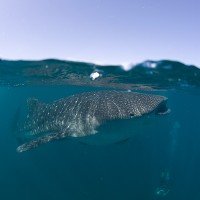 It's pretty common for divers to view smaller underwater creatures during their scuba adventures. While you probably appreciate all marine life regardless of size, wouldn't it be nice to stray from the ordinary and get the chance to dive with large marine life instead? Seeing marine megafauna up close is an experience like no other and one every scuba diver should have the opportunity enjoy. Change it up this year and visit one of the top three destinations where you can see large marine life.
South Africa – Safaris aren't the only reason to visit South Africa. The underwater experience in South Africa is just as exciting with opportunities to see the Great White Shark, Dolphins, Octopus, Rays, Sea Lions and so much more. Popular dive spots include Aliwal Shoal and Sodwana Bay. Find a PADI centre nearby with our PADI store locator.
Baja – Baja may be mostly uninhabited, but its waters are filled with unique and large marine life. The Sea of Cortez offers plenty to see including Whale Sharks, Leatherback Sea Turtles, Sea Lions, Humboldt Squid and Manta Rays. Mantas are often a diver's favorite marine life to see in Baja, some having wingspans greater than 15 feet.
Fiji – Marine life you might see while scuba diving in Fiji includes Maori Wrasse, Great Hammerhead Shark, Lionfish, Blue Ribbon Eel and various species of sharks. Besides fascinating marine life, divers will also enjoy a colorful underworld due to the soft coral.
Ready to plan your next scuba vacation? Visit padi.com and locate a PADI Dive Shop.