You don't always need salt water and sandy beaches to have an amazing dive. While many people primarily think that the ocean is the best and/or only place to go scuba diving, many other locations offer pristine conditions and budding aquatic life in fresh water. Lakes, springs, rivers, sink holes and quarries can offer unbeatable dive experiences that you won't want to miss.
If you are used to taking the plunge in salt water, you may need additional training for some freshwater dives. The difference in buoyancy requires fewer weights, making the majority of freshwater dives very accessible. Dives that include caves, extreme altitudes and ice will require further training due to the technical nature of the dive. Other differences include temperature, visibility, flora and fauna. Just like any other dive site, though, it all depends on the location.
Check out these breathtaking and refreshing dive sites across the world:
Mount Gambier in South Australia
This chain of ponds and sink holes offers divers many opportunities to take a refreshing plunge. Many of the sites require a permit because they are on private property, but the clear water and white limestone cathedrals are certainly worth it.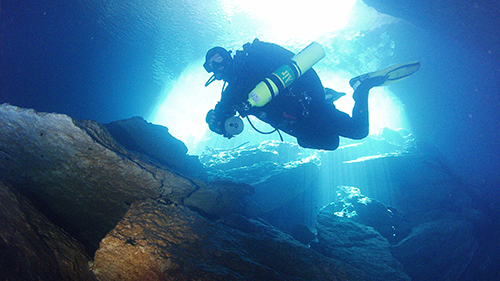 Photo courtesy of Matthew Skinner
Riwaka Caverns in New Zealand
No matter how experienced you are with diving, you will appreciate the beauty New Zealand has to offer. After passing through a large chamber, you can take a break from your dive and explore the stalactites and stalagmites of the cave. You should take the PADI Cavern Diver course prior to attempting any cavern related dives.
Playa Del Carmen in Mexico
The spot has earned the name "Pet Cemetery" because there are animal bones from the last Ice Age in the caves. The cavern is only about 20 feet, and a PADI Cavern Diver certification is necessary due to the delicate stalactites and stalagmites. It requires pinpoint buoyancy skills.
Silfra in Iceland
It may be chilly, but the Silfra fissure, known as the "Big Crack," is one dive you don't want to miss. The cold water offers impeccable visibility. The glacier-fed water carries you between the two jagged rock walls, stretching to about 330 feet. Truly an amazing experience.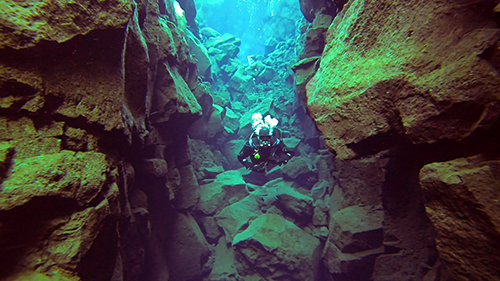 Photo courtesy of Brad Diaz
Mermet Springs in Southern Illinois
This stunning site is the final resting place for the Boeing 727 passenger jet used in the 1998 film, 'U.S. Marshals'. You will also be able to dive amongst two sunken Cessna airplanes, a school bus and semi-trailer!
Contact your local PADI Dive Centre to learn more about freshwater diving near you or to contact a PADI Dive Centre in any of the locations above.