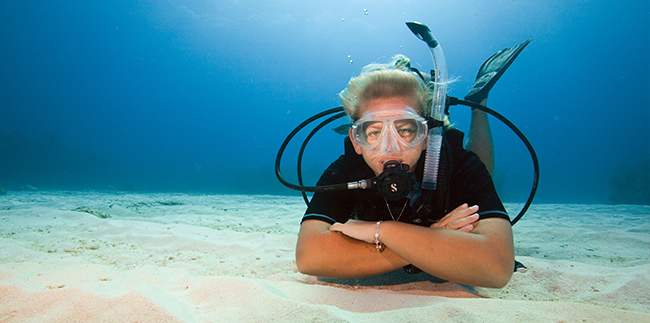 Are you bored at work? Do you find yourself staring out the window, wishing for travel and adventure? It's not easy to wake up and go to work every day when the movie Office Space seems more like a documentary about your life than a comedy film.
If you have thought about turning your love of scuba diving into a profession, you'll want to keep reading. Becoming a PADI Open Water Instructor is a great way to add job skills that can help you escape the nine-to-five grind.
Here are 7 Reasons you should become a scuba instructor:
Wear a wetsuit and booties to work, not a suit and tie
Every job has an associated uniform that goes with it. If you dislike wearing a tie, shorts and flip-flops are the chosen ensemble for scuba instructors.
Giant Stride off a dock instead of riding up an elevator
Some people spend 15+ hours a week sitting in a car, bus or train commuting to work. If you want to escape the daily grind, consider the fact that scuba instructors can ride to work on a boat.
Swim in circles – literally
Instead of attending boring meetings, scuba instructors teach classes. This is perfect for people who like to share the underwater world with others. There's nothing better than seeing passion grow in the eyes of a new diver.
Explore coral tunnels instead of wandering through office halls
Scuba instructors often add "travel guide" to their resume. Booking and leading group dive trips to exotic dive locations will help you get out from behind a desk and cure your wanderlust.
Share your love of the ocean with others
When you love your job, the line between work and play diminishes, and others say you're one of the luckiest people in the world. Who wouldn't want that?
Be surrounded by curious fish, not bossy co-workers
Working in the scuba industry means that your colleagues and customers are about to go diving. By default, they are generally happier than people who, say, aren't planning to go diving.
Work on a dive boat, not in an office building
Scuba instructors have a job qualification that allows them to work not only on tropical islands, but also anywhere in the world. If being outdoors, in nature, sounds better than sitting under fluorescent lights that drain your soul, remember, enrolling in the PADI Divemaster Course is the first step towards becoming a scuba instructor and living an amazing lifestyle.
Make the ocean your office space; click here to learn more about becoming a PADI Instructor.
Need more proof? Check out this video and you'll see what we mean.