Abyss Scuba Diving, a PADI 5 Star Career Development Centre at Ramsgate, NSW, commemorated their fifteen years in business and fifteen year milestone as a Member of the PADI International Resort and Retailer Associations at the Sea Life Sydney Aquarium on Saturday 13th June, 2015. The venue provided a stunning backdrop for 85 attendees, including the Abyss team together with their invited customers and friends who celebrated well into the night.
PADI Asia Pacific was represented at the event by Danny Dwyer, (Vice President – Marketing, Sales, Field Services & Business Development) and Ian Cumming (Regional Manager) who presented the PADI International Resort and Retailer Associations' Fifteen Year Membership Award in recognition of the symbolic milestone.
Abyss Scuba Diving became a PADI Dive Centre in May 2000 and before two years had passed, owner Peter Letts and his team had achieved PADI Five Star Instructor Development Centre status.
Abyss accomplished their long term goal of becoming a PADI 5 Star Career Development Centre (PADI CDC) in April 2010 and are currently the only PADI CDC in Sydney and in the state of NSW. PADI 5 Star Career Development Centres are businesses which offer professional development beyond regular instructor training.
Always enthusiastically embracing the PADI system of diver education, the team effectively adopted the concept of PADI eLearning when it was introduced in 2007 allowing PADI divers to complete the knowledge development sections of selected PADI courses online.
This week, Danny Dwyer (Vice President, Marketing, Sales, Field Services & Business Development – PADI Asia Pacific) commended Peter and his staff, "I thoroughly enjoyed the evening and Ian and I felt privileged to join the original Abyss staff members and long-term customers to celebrate the occasion. You have a great team at Abyss and everyone at PADI looks forward to working with you for the next fifteen years. Congratulations to you all and well done!"
Abyss has achieved significant success over the years to become one of Australia's leading dive operators.
"Fifteen years ago, I had a mid-life crisis and opened up Abyss; it was one of the best decisions of my life," Peter Letts reflects. 
"Abyss is about divers having fun and enjoying diving and it was so rewarding to see so many people celebrating our fifteen-year birthday."
Winners of multiple PADI awards and dive industry accolades throughout the years, Abyss also support their local community in many ways by donating dive courses and dive experiences. They have raised funds for charities such as Canteen and recently worked with local Lions Clubs providing a diving program and fund raising effort to benefit paraplegic and blind associations. Abyss are also actively involved in annual underwater clean-up days in and around the Sutherland Shire.
PADI Asia Pacific congratulates Peter Letts and the Abyss Scuba Diving team for their commitment and hard work and for providing great customer service over the past fifteen years.
For more information visit the Abyss website at www.abyss.com.au.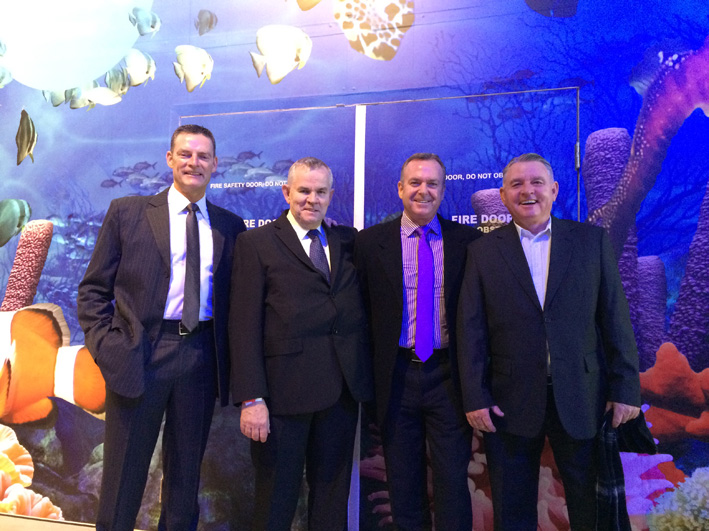 Danny Dwyer, Peter Letts, Ian Cumming and Peter Brackenrig celebrate at Abyss Scuba Diving's Fifteen Year Anniversary dinner at Sea Life Sydney Aquarium.