The Philippines government has announced that Boracay will close to tourists from 26 April 2018 for up to six months to allow for environmental rehabilitation. Check your local travel advisory board or department for travel advice and updates.
Boracay is a small but bustling island in the Western Visayas in the Philippines. It also happens to be the number one holiday destination in the Philippines, and it's easy to see why.
At just 7km in length, Boracay is famous for its white, powdery sand, beautiful resorts and array of aquatic sports. Diving, surfing, parasailing and kiteboarding are all available in this little paradise. Boracay is also the location of the iconic White Beach, a stunning 4km stretch of white sand and coconut trees commonly snapped by tourists and travel journalists.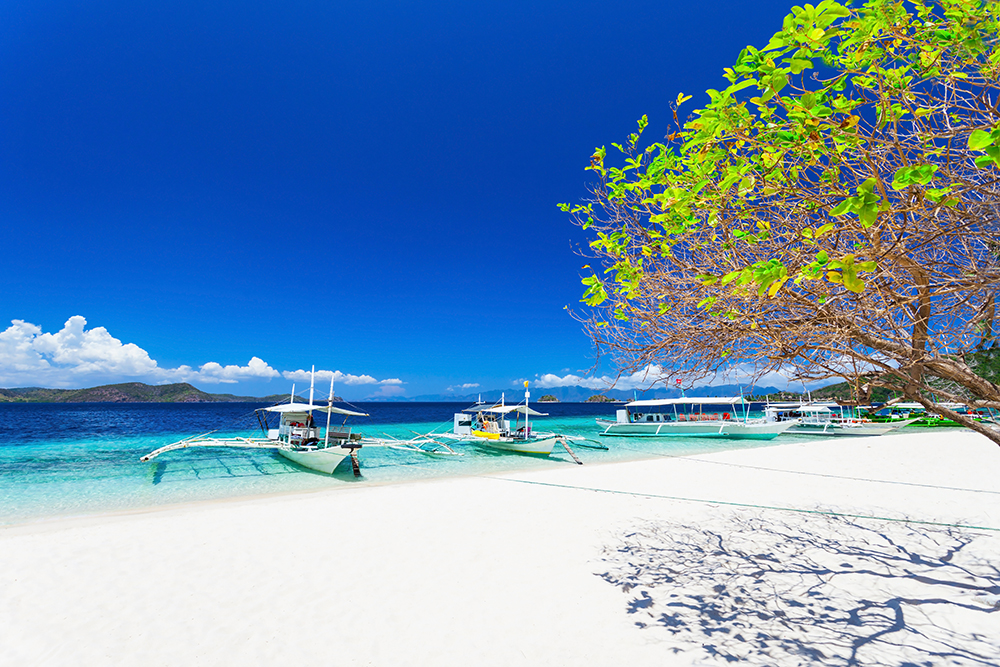 Getting your PADI in Boracay
From calm waters to the abundance of marine life, Boracay provides you with the perfect place to learn to dive – and get your PADI. With PADI Dive shops literally right on the beach, you won't have any troubles finding a PADI centre; you'll just need to pick which one to do your training with! Regardless of who you choose, you will be provided with the highest level of training and support throughout the duration of your course. Your PADI Instructor will guide you through the steps to becoming a certified PADI Open Water Diver and, before you know it, you'll be in the water ready to explore! Simply contact or visit one of the PADI Dive Shops listed below to get started.
Diving Boracay
Boracay's underwater world is magnificent. The variety of marine flora and fauna makes it an ideal setting for new divers as there is so much to see and experience. Read on to learn more about the amazing creature you'll meet whilst diving in Boracay.
Anemonefish are the cute little clownfish we all know and love from the movie 'Finding Nemo'. You'll find them hiding and playing the in sea anaenome, poisonous polyps which protect the clownfish from predators.
Did you know octopus are highly intelligent? They are known to build forts and traps and are quick to hide, expel ink and camouflage themselves when threatened. Keep your eyes peeled for these clever little creatures in the nooks and crannies of the coral gardens.
Eagle Rays and Manta Rays look like elegant birds gliding through the reefs of Boracay. These gentle creatures truly are awesome and will be a highlight of your dive.
Reef sharks are commonly spotted in the waters of Boracay but don't worry they are harmless. You may even be lucky enough to see a hammerhead shark!
Barracuda – With their long bodies and solitary natures, Barracudas feed on other fish – sometimes as large as themselves! Keep your jewellery away from these fast-movers as they have been known to mistake shiny objects for food.
Cuttlefish are amazing chameleon-like creatures which can instantly alter their colour to hide from predators and to aid in sneaking up on their prey. Keep your eyes peeled for these masters of disguise!
Groupers are one of the largest fish you'll experience in Boracay. Often you'll spot them lying in wait on the seabed with their mouth and gills open sucking in prey such as fish, octopus and crustaceans.
Boxfish – These cute little fish are easy to spot due to their unusual shape and bright hexagonal patterns. Boracay is home to 25 different species of boxfish, cowfish and trunkfish are easy to interact with due to their slow movement.
Turtles – These 'ancient mariners' are frequent visitors to the waters around Boracay. Unfortunately all species of these graceful creatures are either threatened or endangered so you'll truly appreciate your swim with these graceful beauties.
Corals are the palatial homes for the reef's marine life and are vitally important to the marine ecosystem. In Boracay you'll see beautiful hard and soft corals, as stunning sea fans.
Nudibranchs, Lionfish, Seahorses, Sea Snakes, Starfish, Wrasse, Squid, Moray Eels, Garden Eels and Ribbon Eels!