Seven years ago, I traveled to Koh Tao to get my PADI Open Water certification, the first step in a long road – er, swim? – that led to me becoming PADI's newest AmbassaDiver. While I can now rattle off more than a dozen countries I've been lucky enough to dive in, Thailand will always be my spiritual scuba home. My time there has introduced me amazing PADI Pros from around the world I that have been my teachers, colleagues, and friends; a reminder that the people I meet are as important a part of my journey as the places go.
Yet after six years of diving in Thailand and blogging my almost every move, I've never spilled the secret of my own favorite dive site there. Luckily, my fellow dive enthusiasts aren't so tight lipped! Read on for the most memorable scuba experiences in Thailand, according to the divers that live and love there.
Sail Rock, Gulf of Thailand
What The Local Dive Pros Say
"Three years ago I dove the infamous Sail Rock for the first time. I'd heard rumors of bull sharks around the dive site, and for the duration of two surreal dives we had seven 3.5 meter bulls casually circling the pinnacle with us. I'll never forget it."
— Paddy Peach Steele, an underwater photographer on Koh Tao since 2012 who cheekily claims his camera and strobes are more important than his regs.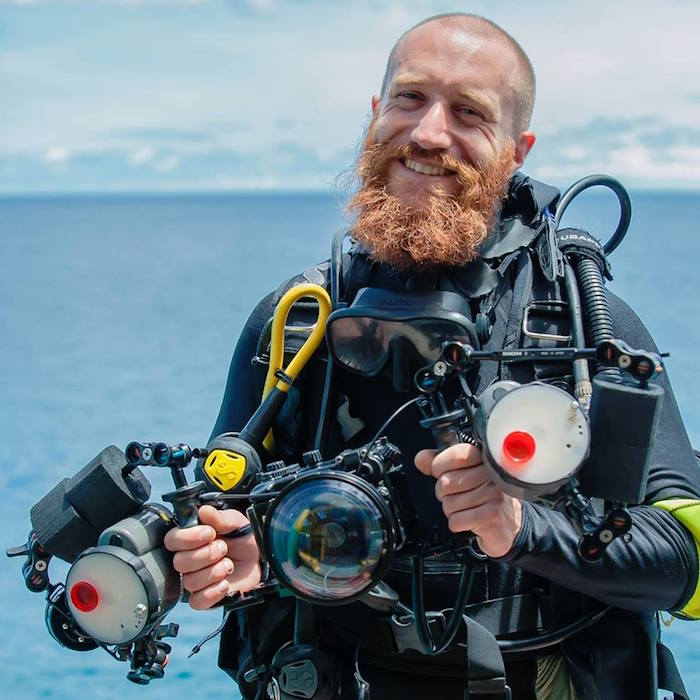 How You Can Do It
Unfortunately, bull sharks haven't been sighted at Sail Rock in about two years. But schools of barracuda, rivers of jack fish, balls of bat fish, giant moray eels, the occasional whale shark and an an otherworldly chimney cave continue to make Sail Rock the most lusted-after dive site in the Gulf of Thailand.
Most dive shops on Koh Tao take a weekly trip there that includes breakfast, lunch, and two to three dives – pick a flat day to make the two-hour journey to the dive site pleasant. Dive shops on Koh Phangan make the one-hour trip more regularly.
The Similan Islands, Andaman Coast
What The Local Dive Pros Say
"My most memorable Thailand dive was the manta dance at Koh Bon in the Similans. We hovered and watched while multiple rays spun, twisted, and appeared to put on a show for us. When their ballet was over, we surfaced and returned to a boat straight out of James Bond."
— Chris Pearson, a Dive Medic and PADI Elite Instructor since 2009 with over 17 years diving experience and over 5,000 dives.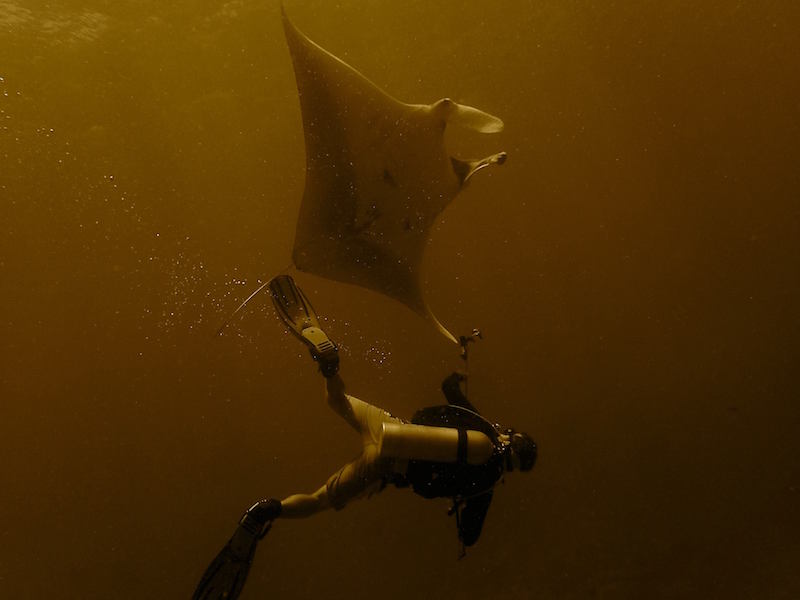 How You Can Do It
Use your time in Thailand to sign up for the PADI Sidemount Diver Specialty. The two-day course will introduce you to a new way to streamline your dive configuration, reduce strain on your lower back, and teach you to take advantage of an increased gas supply, resulting in longer dives. Just imagine what you'll see with that extra time underwater!
Use your newfound knowledge and skills to replicate the "James Bond experience" by signing up for a Similan Islands liveaboard, allowing access to the most remote reefs of Thailand's must-dive destination. Trips leave from various access points along the countries west coast between October and mid-May, though February is the month for prime whale shark sightings in the Similans, the unofficial whale shark encounters capital of Thailand.
Mergui Archipelago, Southern Myanmar 
What The Local Dive Pros Say
"The best diving I've done in Thailand was technically in Burma. The best to access the Mergui Archipelago, however, is via Ranong, Thailand. There, you apply for a visa at the border, board a vessel, and sail north into the Burmese West coast. You can guarantee you'll be the only divers on every dive site. No divers, no fisherman, no other boats. With four dives a day on completely untouched reefs, swimming alongside mantas and spotting guitar sharks, this has been the pinnacle of my diving career."
— Gordon MacBride, a PADI Instructor with a passion for introducing new divers to the underwater world and educating them to the importance of our oceans.
How You Can Do It
There are less than a handful of liveaboards offering access to this remote area – The Smiling Seahorse liveaboard gets rave reviews from dive professionals across Thailand who flock their for their own vacations. Experienced divers can also look forward to exploring the region's many underwater cave systems if the weather cooperates. The conditions can be challenging, with strong currents, swells and surges – it's not for the faint of heart.
King Cruiser Wreck, Andaman Coast
What The Local Dive Pros Say
"I'm not a wreck junkie, but I enjoy a refreshing change from reef sites. The King Cruiser was a passenger ferry that sunk off the West coast of Southern Thailand in 1997. All passengers and crew were safely evacuated, so don't worry, it's not a ghost ship! The wreck itself is now teeming with life and covered in soft corals with plenty of nooks, crannies and passageways to shine your torch down."
— Linzi Trafford, a PADI Instructor and dive center owner with a love for random fishy facts and a seemingly endless list of locations on her diving bucket list.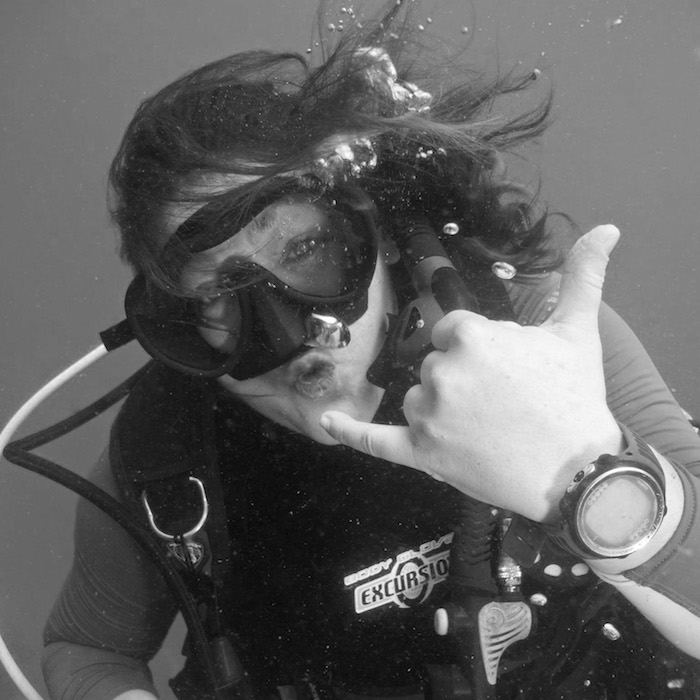 How You Can Do It
Sitting upright on its sandy grave at 16-30m depth, the King Cruiser Wreck requires an Advanced Open Water or above certification. The wreck can be accessed from dive centers in Koh Lanta, Koh Phi Phi and Phuket. You may need to specially request it as it's not a regular fixture on most dive center's schedules – but it's worth the trouble.
Becoming a Divemaster, Koh Tao
What The Local Dive Pros Say 
"Nothing could ever top doing my divemaster training on Koh Tao. Those were the good old days of super early morning dives at Chumpon Pinnacle, one of the best dive sites on the island…I never got bored of leaving just before sunrise and jumping in the water just with the first hint of daylight. Going Pro was one of the best things that ever happened to me."
— Anna Q., Spanish native and a PADI Divemaster since 2011, sees diving as the world's healthiest addiction… and one she never wants to quit.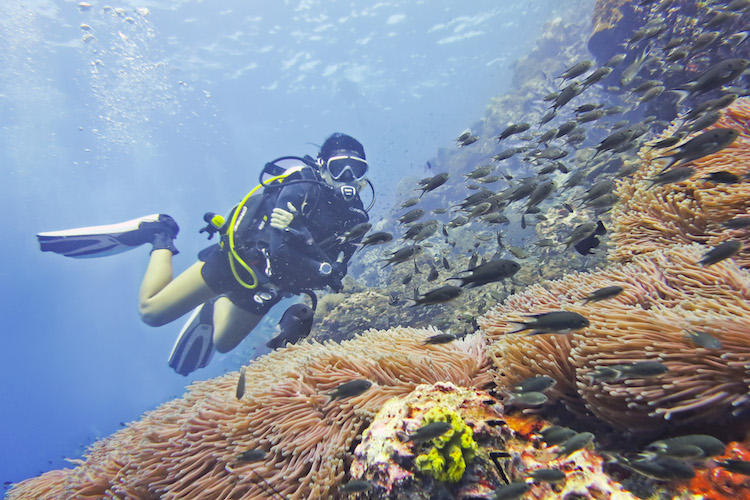 How You Can Do It
Home to over a dozen PADI IDC centers, Koh Tao is one of the most popular places in the world to complete Divemaster training. Research carefully and take your time choosing which shop is the right fit for you based on your learning style, passions, and preferences.
Have you been diving in Thailand? What's your favorite underwater memory?