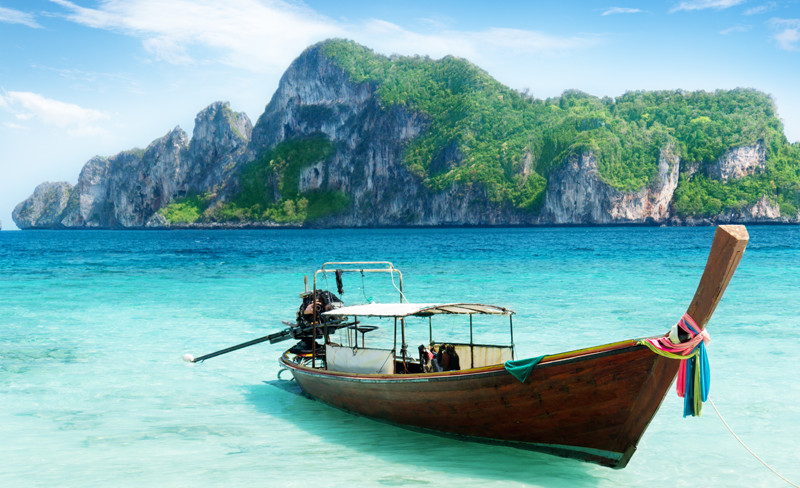 Koh Lanta, is increasingly becoming the destination of choice for many divers – and for good reason. The main island, Koh Lanta Yai, is home to long stretches of white sandy beaches, laid back hospitality and countless beautiful spots to relax and recharge. However it's Koh Lanta's proximity to a range of spectacular dive sites with great visibility, warm water temperatures and rich marine life that makes it the perfect base for divers with all levels of experience.
If you're just starting out, or newly certified and looking to continue your diving, take your pick from the many PADI Dive Centres and Resorts who offer PADI Open Water Diver courses, all of whom will offer courses or stunning dive sites nearby.
Koh Haa, which means 'Five Islands,' in Thai, is just a short boat ride away from Koh Lanta and is a great spot for novice divers. The Central Lagoon here is the perfect place for to ease into your first diving experience alongside beautiful reefscapes and a wealth of marine life. The Cathedral, is another highlight of Koh Haa, and boasts a series of caverns to explore. In the centre cavern, divers can take a moment to surface and admire the stalactites hanging from the ceilings.
For more advanced divers, there's a range of PADI Specialties to take on as well as some more challenging dives including The King Cruiser, Hin Muan and Hin Daeng.
Now a popular dive site, the King Cruiser was originally a car ferry which hit the Anemone Reef and sank. The wreck has since evolved into a natural reef that is home to a huge variety of marine life. This dive site is accessible from Koh Lanta however it's only available to more experienced divers, and provides a great opportunity to complete a PADI Wreck Diver course.
Advanced divers can also explore the deepest drop-off in Thaland at Hin Muan. This site, along with nearby Hin Daeng, is well-known for the manta rays and sharks who inhabit the water as well as the stunning corals.
For more information, or to start planning your next dive, locate a PADI Dive Centre in Koh Lanta today.