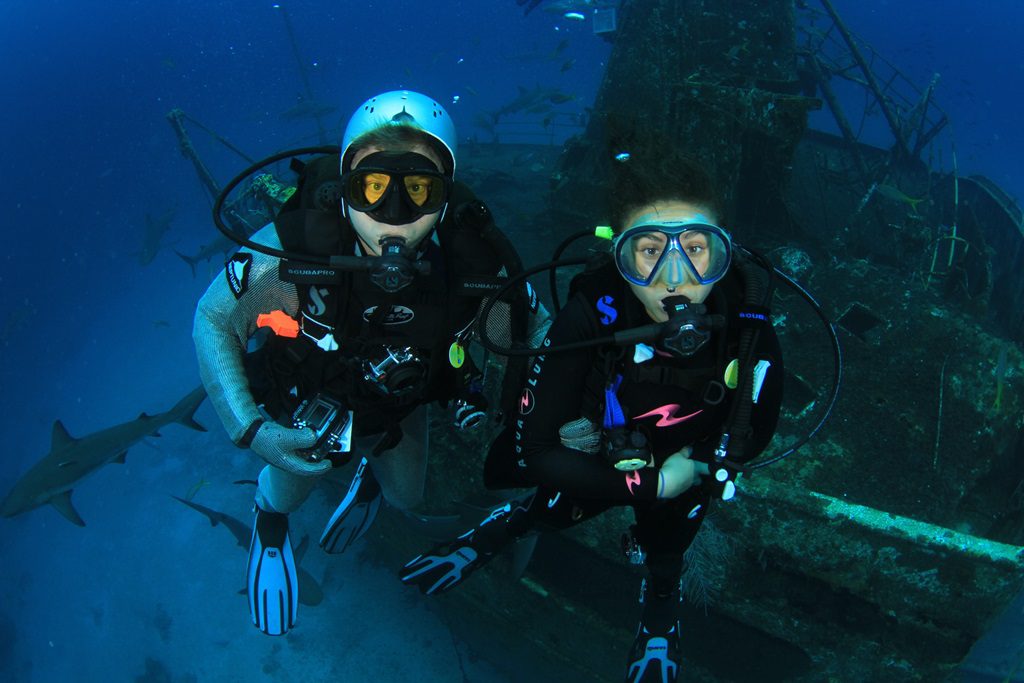 Roger J. Muller is an avid PADI Diver with an amazing 86 PADI certifications. Read on to find out his favorite dive destinations, dive sites and PADI courses – and find out if he has any recommendations for you!
When did you start diving?
My best friend, a commercial diver, had introduced me to the diving in his pool in 1986. However, I didn't really start diving until March of 1998, when I established a personal lifetime goal to get one scuba certification – and then set out to conquer that goal. I completed the PADI Open Water Diver course with PADI Five Star Dive Center Unique Sports of Aruba – and loved it! From that moment forward, I was hooked on diving. Thirteen months later, I went on a vacation and completed the PADI Advanced Open Water Diver course with PADI Five Star Dive Center Red Sail on Grand Cayman. I loved it so much that on that very same trip also completed the PADI Underwater Digital Photographer course and then signed up for ten future PADI courses with Red Sail!
Fast forward to this year, on the 18th anniversary of my first dive in Aruba (which was also my birthday), I was in the water at night in six-foot waves off the Kona Coast of the Big Island of Hawaii doing the Manta Ray Night Dive with PADI Five Star IDC Jack's Diving Locker. It was awesome!

Why did you decide to pile up the PADI certifications?
When I do something, I do it to the max! I kept the chart of all the PADI courses in the back of my dive log and scratched out each course I completed. By continuing to take PADI, courses, I figured out when and where I loved diving most. I got to travel to many interesting countries and I discovered some really cool dive sites. In fact, I've experienced many countries and cultures that I never would have been exposed to but for PADI.
Along the way, I developed a deep PADI connection and made friends at different PADI Dive Shops all over the world!
Why did you select PADI as your dive training organization?
I spent a lot of money on my PADI courses but it was worth every penny because I learned how to dive the right way. I was with true dive professionals who were watching out for me, so I felt safe, and my confidence grew with every dive. You're only as good as your instructors, and PADI instructors are the best!
Last but not least, PADI's training materials are far superior to any others – well organized and easy to understand. They highlight the most important information so you know it's important and pay attention.
What course would you most recommend to other PADI divers?
I think the most important certification is the PADI Peak Performance Buoyancy Diver course. It makes it so much easier to be a good diver because it teaches you how keep your balance and stay off the bottom, thereby avoid damage to coral or other sea life there.
What is your favorite out of all the courses you've completed?
My hands-down favorite was the PADI Digital Underwater Photography Instructor course, because the student diver version has become my favorite PADI course to teach! After all, it's one thing when students see all the cool stuff that's underwater, but it's quite another to be able to show people what they saw. In this case, a picture is worth more than a thousand words – and my students and I all have a lot of absolutely awesome underwater pictures!
I've also shot some great underwater videos. One day, while diving in Curacao, I saw an octopus that was moving during the day. I grabbed my video camera and recorded as the animal blended with everything it passed over as it tried to camouflage itself. I had never seen anything like it, but you can watch it below:
Lately, I've been obsessed with diving to hunt lion fish. Winnowing out this invasive species – which has damaged the underwater environment I have grown to love so much –  is very satisfying to me. Perhaps it's because I have a college degree in environmental science that I've never made use of in my career, and this is one way to do that. So far, I have hunted lion fish in Cuba, Aruba, Panama, Bonaire, Curacao Florida and St. Croix, and nowadays I tend to plan my vacations around this activity.
What was your most challenging certification?
Completing the PADI Ice Diving certification was one of my more challenging certifications. The outside temperature was 9 degrees but the water was only 33 degrees! On the plus side, I had the opportunity to dive with a bunch of great guys from the New Jersey and New York Port Authority Police Rescue teams.

What is your favorite destination/dive site?
For me, it's always back to the beginning: Aruba, where I learned to dive. I love the accommodations, the food and the especially the people there. I have my PADI Wreck Diver certification and I'm familiar with both the currents and the local wrecks, so I truly enjoy wreck diving there because I can go inside the 365-foot-long Antilla wreck. 
I've also observed that some people think they need to go deep to see anything good. However, I think that the deeper you go, the less light there is, so it is harder to see and many of the colors are swallowed up in the dark. In my experience, the best diving takes place between five and 25 feet.

Does your family share your love of diving?
Yes, absolutely! My wife, Andrea, has four PADI certifications. She learned to dive in Pennsylvania, where diving is cold – so maybe that's why she isn't as enthusiastic about it as I am. We both completed the PADI Aquarium Diver course, and I took her diving in the Baltimore aquarium, which was great — until a 6-foot Moray Eel came cruising by!
I am extremely proud of my daughters, Kelsey and Taylor. Both of them entered the PADI Seal Team course at age eight and both became PADI Master Seal Divers.
Kelsey is now 24. She completed over 200 dives with me from age ten until age 12, when she became a Master Scuba Diver. She holds about 35 different PADI certifications and recently completed the PADI Divemaster, Assistant Instructor and EFR Instructor courses with PADI 5 Star Instructor Development Center Joe's Gone Diving in Bali, Indonesia.
Taylor is now 19 and holds about 35 different PADI certifications and recently completed the PADI Divemaster, Assistant Instructor and EFR Instructor courses in Bali with her sister.
Diving is my favorite sport ever and I am so happy that my children are able to participate with me and have such great memories diving, including some spectacular family dives: Shark Cage Diving on the coast of Guadeloupe Island, Mexico and the Jules Underwater Hotel in Key Largo, Florida, where, at the time, Taylor was the youngest diver ever to stay 24 hours.
I notice you include Zombie Apocalypse Diver in your list of certifications. Can you tell us about that?
Yes, I took the course with Taylor, from Woody Tinsley, who wrote it – a police officer. This is not a joke of a course. Yes, it was fun, but parts of it were like the Rescue Diver course and there were also elements of Search and Recovery Diver. However, the kids loved it and we got to dress up like zombies for our certification card pictures!

You recently received an award from Drew Richardson, President and Chief Executive Officer of PADI Worldwide, in recognition of your achievement in garnering 86 PADI certifications. What did it say?
Congratulations to Roger J. Muller, Jr. for your outstanding dedication, commitment and achievement in diving and lifelong diver education with 86 PADI certifications. Presented on this 11th day of April, 2016.

Inspired to get your next PADI certification?  Continue the adventure here.