PADI AmbassaDiver, Manuel Bustelo, recounts his early years on top of the Argentinian mountains to his eventual descent beneath the waves.
---
Under doctors' advice, my parents regularly brought me to the mountains during my childhood to alleviate the symptoms of asthma. Born in Mendoza, a city in the Argentinean Andes foothills, it was just an hour journey to reach the pure air at a height of 2,000 metres/6,561 feet.  I have countless memories with my family on the mountains. Altitude became my natural playground and I ended up climbing most of the highest Andes mountains by the age of 18.
A few years later, I became the first man to mountain bike downhill from 6,800 m/22,310 ft. A documentary shown in nine mountain film festivals brought me to Central America to promote mountain bike races. It was at the age of 28 when, while sitting in a bar in Granada (Nicaragua) and chatting about my endeavors, someone asked me why I hadn't tried scuba diving yet. Although all of my adventures so far were done at high altitudes or riding a mountain bike, I felt the call immediately!
With knowing comes caring, with caring comes change.
I took my PADI Open Water Diver course in Roatan (Bay Islands, Honduras). My immediate thoughts were almost mathematical. I said to myself: 'Boy, 70% of the beautiful planet you know is underwater. The oldest ecosystems were formed underwater. Thus, there's plenty to explore beside the mountains you are used to. Get underwater now!'
I haven't stopped scuba diving since and this has made me the man I am today. I have explored the world's oceans and seas, had close encounters with healthy and not so healthy reefs, spent hours observing new marine species and witnessed the hugely damaging effects of plastic on our oceans. The changes I have witnessed in myself are a direct result of the catalog of memories and first hand experiences.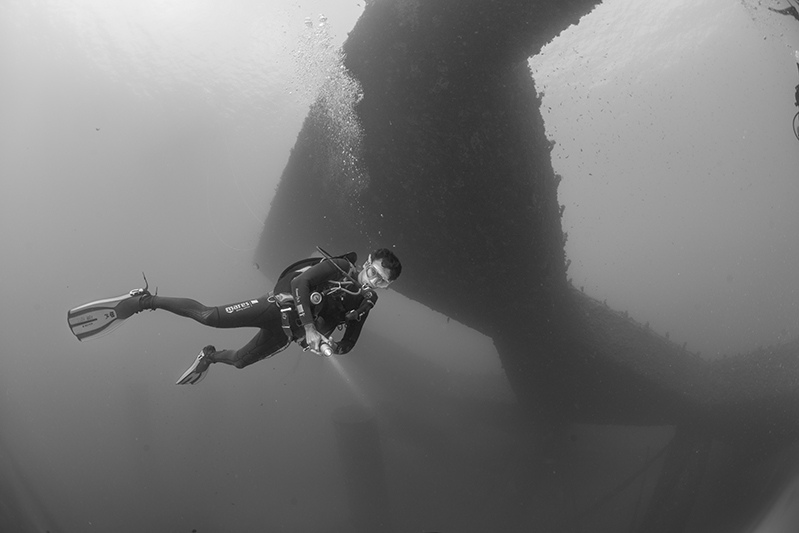 I could already see glaciers melting while contemplating the astonishing beauty of remote mountain ranges. It is what I have seen underwater though that has given me a much more deeper connection with Mother Nature. In the Great Barrier Reef I heard countless whales and dolphins whilst surrounded by so many fish that I could hardly see my buddy. In Roatan, I spent many safety stops with trumpet fish digging into sponge corals, turtles peacefully swimming and eagle rays in pods.
With knowing comes caring, with caring comes change. The PADI Open Water course pushed me closer to nature than I had ever been. My mission is to change perspectives about our oceans, marine species living in it and their much-needed protection.The oceans need our help and scuba diving is the tool to drive that help.