This week's post from guest blogger Lowri James, focuses on how and why she and her husband took their PADI Rescue Diver course…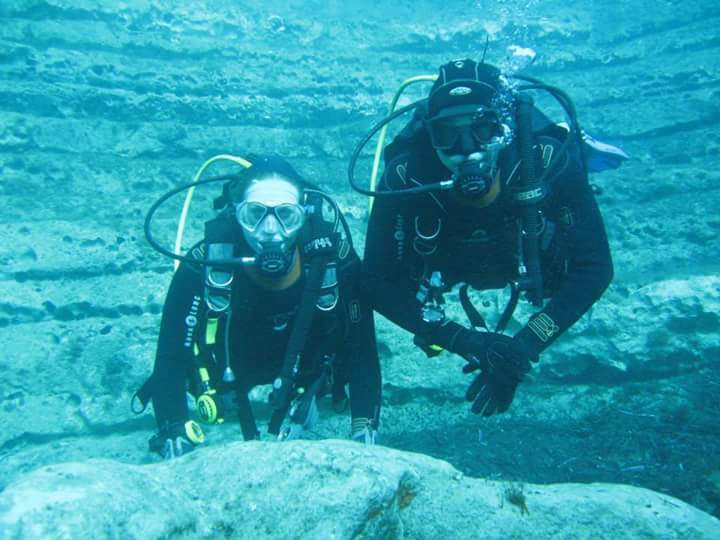 Having gained more experience in a range of diving, progressing to PADI Advanced Open Water Divers in Dahab, Egypt in 2013, and completing our Deep Diver specialty course in 2014, Oli and I were excited to be embarking on becoming PADI Rescue Divers prior to starting our Divemaster course with Cyprus Diving Adventures in 2015.
I feel that the PADI Rescue Diver course improves confidence in the water and gives such an understanding of diver safety and how to deal with any emergencies that may arise.  We completed most the course at a dive site in Paphos with Steve, our instructor, and a diver called Alan (who has since become a friend here in Cyprus).  We focused on a variety of scenarios and problem solving skills. Working as a team was a must and being introduced to new equipment such as a pocket mask opened our eyes to a whole new world of diving.  Even with the concentration and hard work, we had fun, role playing the different scenarios on and below the surface.  One of the key elements of the course is learning how to rescue an unresponsive diver, providing rescue breaths and equipment removal as you tow them towards the exit point.  We practiced every scenario many times until every aspect was correct and ended the days chatting about what we had learnt.
The PADI Rescue Diver course is certainly challenging, both mentally and physically, but Steve and his team ensured our enjoyment and development throughout, enabling us to become better and more educated divers.  There is certainly something very rewarding about knowing that you are properly trained and equipped to assist other divers if needed.  Having the ability to recognise diver stress in others and how to help them overcome this, ensures safe and enjoyable diving to all involved.  The course also encourages and develops professional and role model behaviour, as well as ensuring that you are adhering to safe diving practices at all times.  It definitely prepares you for your next big step; becoming a PADI Divemaster and/or a PADI Master Scuba Diver, and was a turning point for Oli and I in our scuba diving careers.
Now into month two of our Cyprus adventure, I am very excited to be observing and assisting Cyprus Diving Adventures with two PADI Rescue Diver courses over the coming weeks.  I am looking forward to being part of these students diving career development and offer the same support, advice and enthusiasm as I received during my course.