Written by Toni Norton, founder of Purple Turtle Diving, London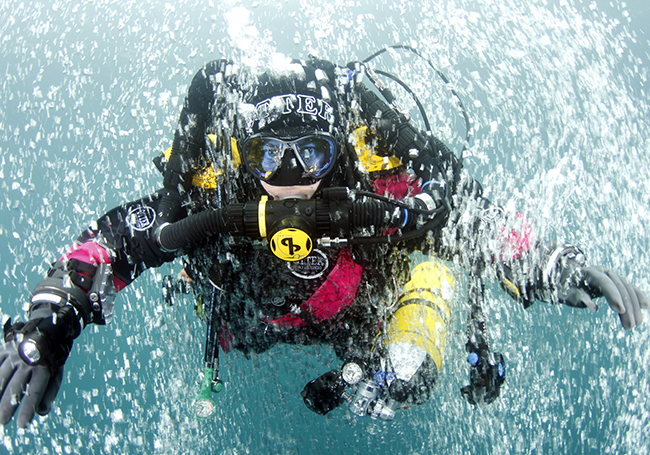 You know when you first meet someone and at some point the conversation is bound to turn to what you do for a living?  That's always an interesting conversation for me.  When I answer "I'm a diving instructor", I tend to get one of 3 reactions: confusion "really? A dive instructor? In London?? But… Why?", admiration "wow! Scuba instructor? That's so cool!" or disbelief "haha really?  What do you really do?".  Regardless of the initial response, the majority of conversations then go down a similar route.
The questions I generally then get asked are: Why in London? Is there anything to see?  How much diving do you actually do, especially if you run your own business?  It must be great to do all that travel to exotic places?  Are there a lot of women in the industry?  Well, let's address each of these in turn.
Why in London?
To this day, I love working in a domestic market, especially in a city such as London.  The majority of our customers live and work in London, and diving is a release for them.  A lot of our divers come to us as complete novices or having done an entry level course abroad.  We are lucky enough to work and dive with these divers as they progress through their training and become more confident, experienced divers.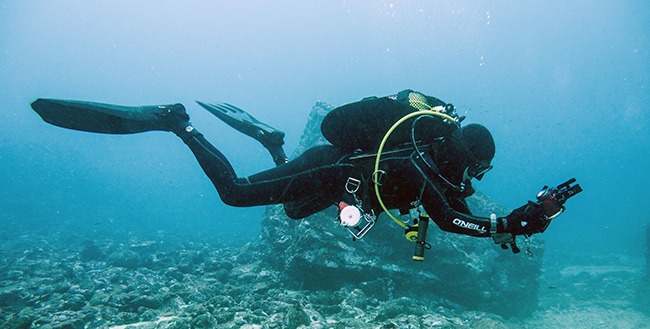 Is there anything to see?
We're an island nation with some of the best wrecks in the world (from the German WWI fleet in Scapa Flow to the plethora of wrecks on the south coast) and some amazingly diverse marine life.  Between two world wars, a number of other wars, our own ships and other ships that crash into our coast (as well as our knack of sinking our own boats), we have an amazing number of wrecks at a variety of depths from very accessible (less than 10m) to well into the technical ranges.  The marine life is unbelievably diverse, from seals that play as if they were puppies to the graceful basking sharks, the cute tompot blennies and the amazingly colourful lobsters.  In our inland lakes and quarries, we have all sorts of life from crayfish to a huge variety of fish, eels and mussels! So, in summary, it's not all muddy puddles and submerged shopping trolleys – in fact, I don't think I've come across a shopping trolley yet…
How much diving do you actually do, especially if you run your own business?
Personally, diving is my passion and I truly believe that continued education is key.  In the last week I have completed my own normoxic mixed gas rebreather training, assisted on an PADI Open Water Diver course, been diving off the south coast with friends and worked in the shop.  In the next week I am doing a private open water course, a refresher, being assessed for an instructor level course, planning for the next few months and assisting on another entry level course.  My diving is varied and interesting and I love it!  To be honest, I don't think I have spent more than 4 days (in a row) out of the water this year and I am looking forward to trips to Lundy, Brighton and Scapa in September alone.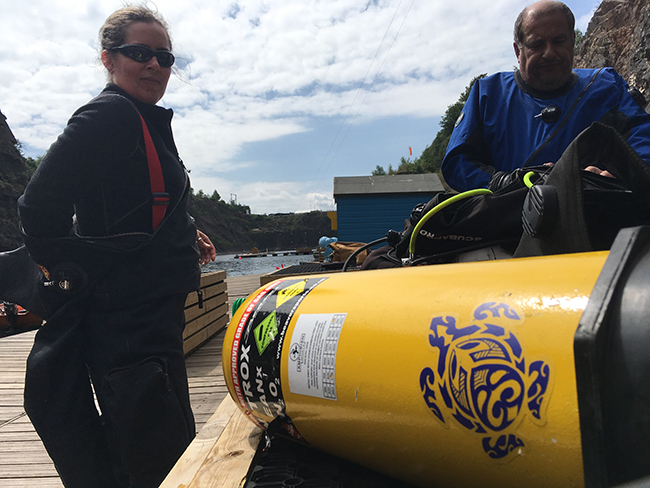 It must be great to do all that travel to exotic places?
Well, yes!  But while it is a definite perk, the main diving I love is the UK diving.  When I still had an office based job (yes, a 'real' job!), my diving was my release.  After a tough week there was nothing better than putting my dive kit into my car and going to any dive site with a group and get underwater where no one could phone me, fax me, text me or speak to me!
Are there a lot of women in the industry?
Well, yes.  Actually there are!  And they are becoming better known and more prominent.  Gone are the days of "I was expecting Tony" and my response of "I am Toni" being met with some doubt.  It doesn't matter what level the training is either – from Discover Scuba Dives to Trimix training (although people do tend to research their instructors more at this level).  I have heard of sexism in the industry, but I have to admit I haven't really seen it.  I work with and know a lot of very well respected instructors and, whether we're female or male, it doesn't seem to make a difference!  Using a massive generalisation, as female instructors and divers we tend to have some advantages and disadvantages – we can be more compassionate, we may not be as strong (I know I can't walk around wearing a 12 litre steel twinset with 4 Ali 80s, so I don't even try!), we can be more patient… But on an individual basis I think we are just the people we are, and our sex is irrelevant to our ability to deliver fantastic training!
So, all in all, I love working in the UK dive industry and running my own school.  I get lots of exciting opportunities and have a hugely varied day-to-day job.  There are definitely some challenges – the hours can be long and if there's an issue on a dive, without careful management it can quickly turn into a major incident, and there's a huge amount of paperwork and legislation – but in my opinion this is one of the most amazing and rewarding careers that I could ever wish for!