Written by Asutay Akbayir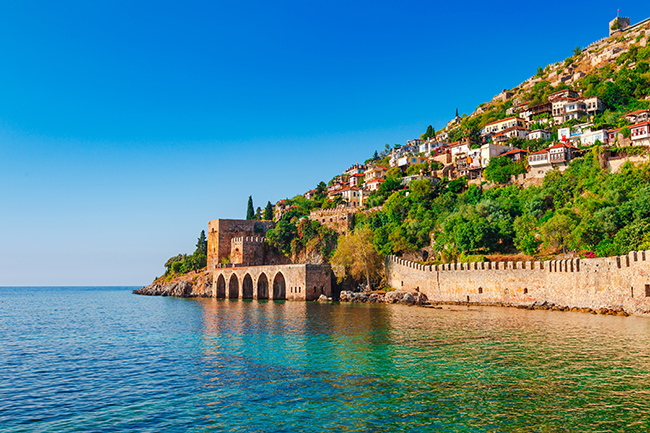 Turkey offers many great diving and holiday opportunities with its breathtaking nature, clear and warm waters, and variety of diving environments. Not to mention the famous Turkish hospitality! The country is one of the top summer holiday destinations in the world for good reason: Our coastline is more than 8000 km in length with more than 397 blue flag beaches. We are bathed by four seas which are all suitable for diving: the Mediterranean to the south, the Aegean to the west, the Sea of Marmara between the European and Asian land masses, and the Black Sea to the north.
The most popular diving destinations in Turkey are mostly in Mediterranean and Aegean regions because of the warm climate all year round and stable water conditions. These include:
Alanya
Alanya is a lovely town in the province of Antalya which hosts millions of tourists every year. Besides its luxurious hotels and famous nightclubs. There are exciting underwater caves and caverns for experienced divers and warm and relaxing dive sites for recreational, student divers and Discover Scuba Diving participants. Some caves are inhabited by Mediterranean Seals, one of the world's most endangered marine animals. Dive centers and local authorities are cooperating to conserve their habitats and limiting the human exposure. However, some lucky divers may observe them outside their caves and even see these curious animals play underwater.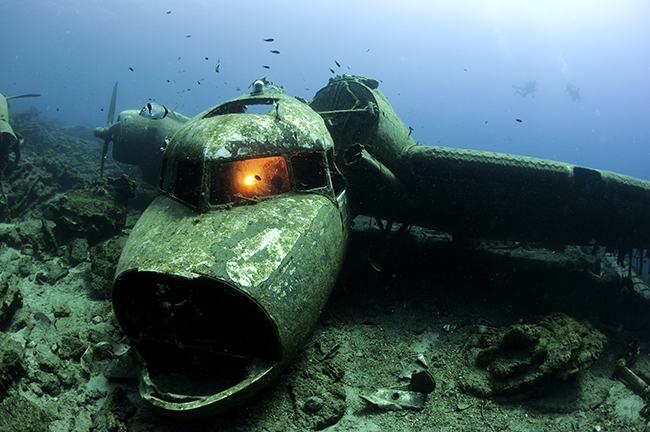 Bodrum
Bodrum is the home of legendary sponge hunters and where the first organized scientific studies in the field of underwater archeology in the world started. So it is not a big surprise that it is one of the most preferred diving destinations in Turkey. The season for dive operators starts around April and ends around November. With its colorful reefs, it's great for underwater photography. There are also shipwrecks and a plane wreck which host groupers and other underwater creatures. The underwater archeology museum in the ancient Bodrum castle is a must-see for divers.
Çanakkale
Çanakkale (also known as Dardanelles) is the city where Dardanelles and Gallipoli (Gelibolu) battles occurred during WW1 and is located in the north of Aegean Sea. The sites where the battles were fought are now the national historical park, with an extensive range of sunken ships, guns, and other war-related artifacts together with Turkish, Australian, New Zealand, English and French war graves and memorials. Most of the sunken ships are not suitable for diving due to naval traffic, currents in the strait and the ammunition on the ships, but the wrecks which you can dive to are more than enough to feel the century-old history of the war in the area. Make sure you visit the museums and memorials for a complete Çanakkale experience.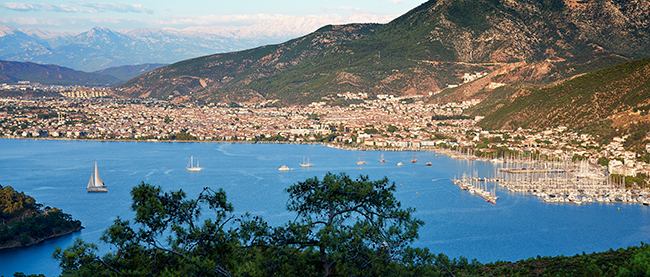 Fethiye
If you want to enjoy other activities as well as diving during your holiday, Fethiye (in the province of Muğla) is a great alternative. There are many colorful and exciting dive sites and caverns for divers from all levels, but Fethiye offers much more than just diving. You can try paragliding and Jeep Safari trips to see the town from another perspective. You could also take your backpack and visit Kelebekler Vadisi or Kabak Bay for a bohemian experience. Or, you can rent a sailing boat (or bring your own boat!) and sail to Göcek or Ölüdeniz and swim in the turquoise blue bays.
Read on to find out more great spots to visit in Turkey in the second part of this blog.
Interested about diving in Turkey? Find out more in our Scuba Guide.