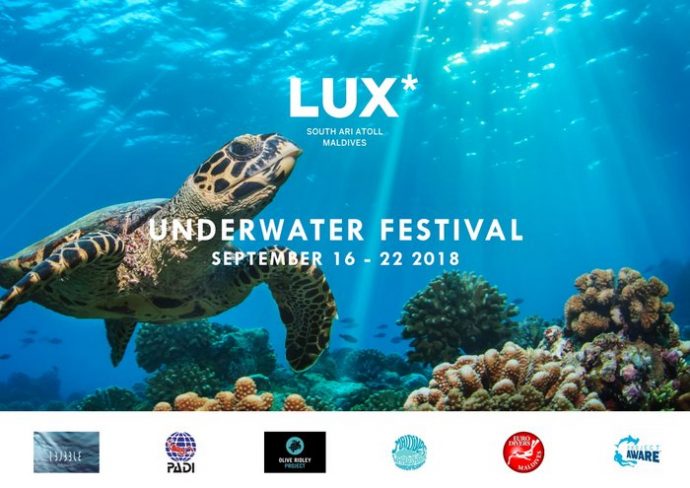 PADI® are proud to be supporting the LUX* Underwater Festival running throughout AWARE week 2018.
From the 16th to the 22nd September the days at LUX* South Ari Atoll will be packed with hands-on workshops, open air film screenings, talks, conferences, and lots of dives. The goal is to gather liked minded travellers, marine specialists, divers, activists, and those passionate about the marine world to share their knowledge and experience.
This year, our very own Dr Drew Richardson will be attending the event, and hosting a talk about the history of PADI. As founder of Project AWARE® and an avid conservationist and marine specialist he states,
'With plastic, pollution, and overfishing, there are many issues to address but it's not too late. We can reverse some of the damage that has been done by working together to conserve and protect marine resources.'
The resort, with its 193 stylish villas set on an immaculate beach and on stilts, is an all-time supporter of marine conservation: it houses a state-of-the-art PADI Dive Center and its very own Marine Biology Centre.
PADI Vice President, Territory Director and Regional Manager, Mark Spires, Rich Somerset and Matt Wenger, respectively, will also be in attendance hosting talks and dives throughout the week.
Among the interesting talks and events there will be be Coral ID Introduction talks and dives with the PADI and LUX* Marine biology teams, introductions to the latest in underwater drone technology with the iBUBBLE team, Whale shark conservation dives, Project AWARE workshops, underwater painting and sustainable turtle snorkeling.
If you're looking to attend this incredible event you can book your stay at LUX* South Ari Atoll for 7 nights during the Underwater Dive Festival and receive a
-10% Discount on Beach Categories,
-20% on Over Water accommodation,
-a 20% discount on all beginner level diving courses,
-20% Discount on LUX* ME spa treatments and 20% Discount on Food and Beverage.
Read more