Children need special consideration when it comes to scuba equipment. As well as their size, they are not as strong as adults, and get cold and tired much faster. If you're planning to share the underwater world with your kids, make sure they're using the best dive gear in terms of size, fit, and ease of use — and don't forget to keep it colourful and fun!
Wetsuit
A snug fit is essential for any wetsuit, but especially for children's (they don't have as much body fat to keep them warm). Don't go excessively thick either, as this will restrict mobility and cause discomfort. A full-length wetsuit with padded knees will help to protect limbs from scrapes.
Regulator
Choose regulators designed for travel or women, as they tend to be smaller and lighter and will make it easier for smaller mouths to hold the demand valve in place. Moulded mouthpieces will provide the best possible grip; keep a few spare, as kids are prone to bite through them. Shorter hoses proportionate to your child's size will help to reduce drag and snag hazards.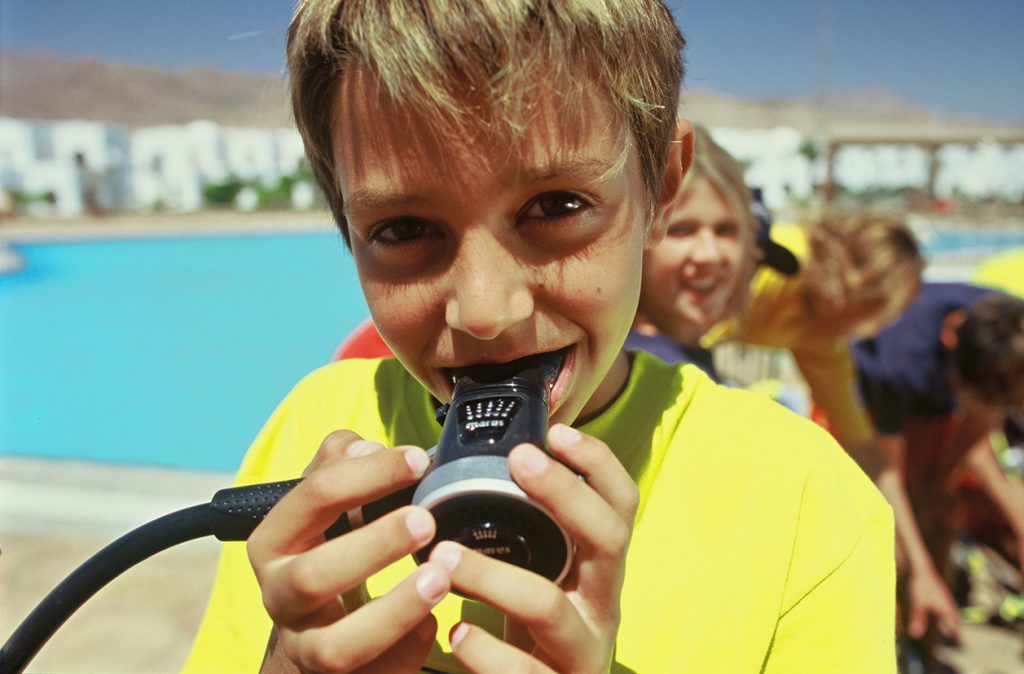 Cylinder
A 7L or 10L cylinder is usually compatible with a child's build. Adding a handle makes it easier and safer to carry, too.
BCD
Jackets with plenty of straps, bands and inserts will provide a secure fit without rising, and will expand to grow with kids as they get older. Make sure it's simple to operate; think quick-release buckles, velcro, and single-hand dumps. Integrated weight pockets also provide a more comfy option for smaller frames than weightbelts.
Mask
A child's mask will provide a proper seal on smaller faces, and designs with low profiles are lighter, and easier to clear. Look for a soft silicon skirt that's hypoallergenic (great for sensitive young skin) and quick-release buckles for easy adjustment. Or, try a full face mask; they feature a wider vision and an integrated regulator that allows easy clearing and a more natural way for kids to breathe without bitten mouthpieces or jaw fatigue.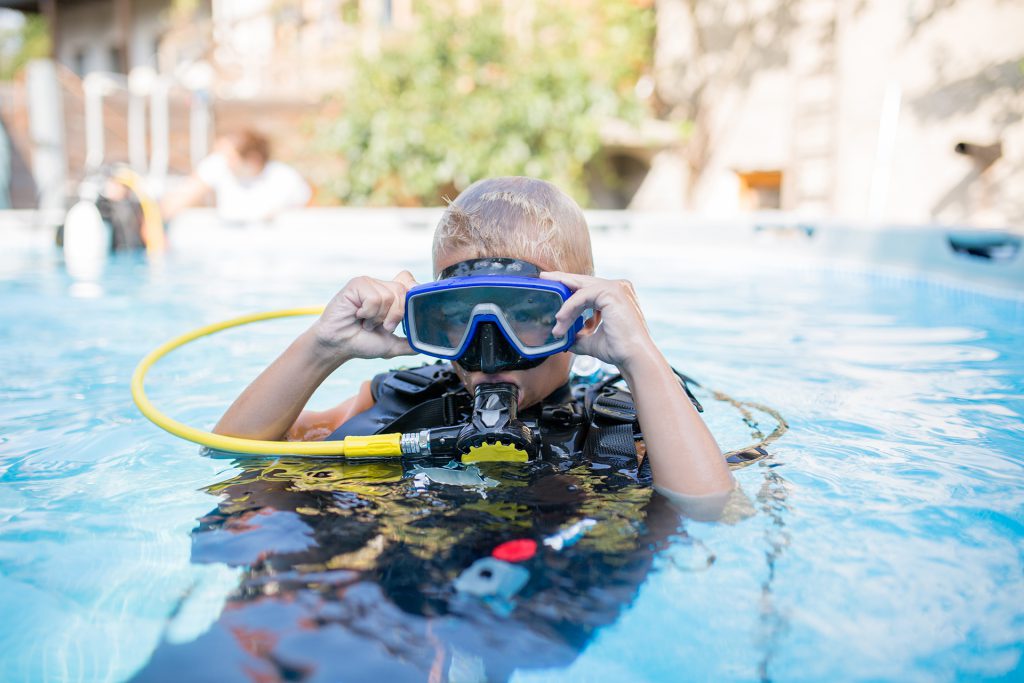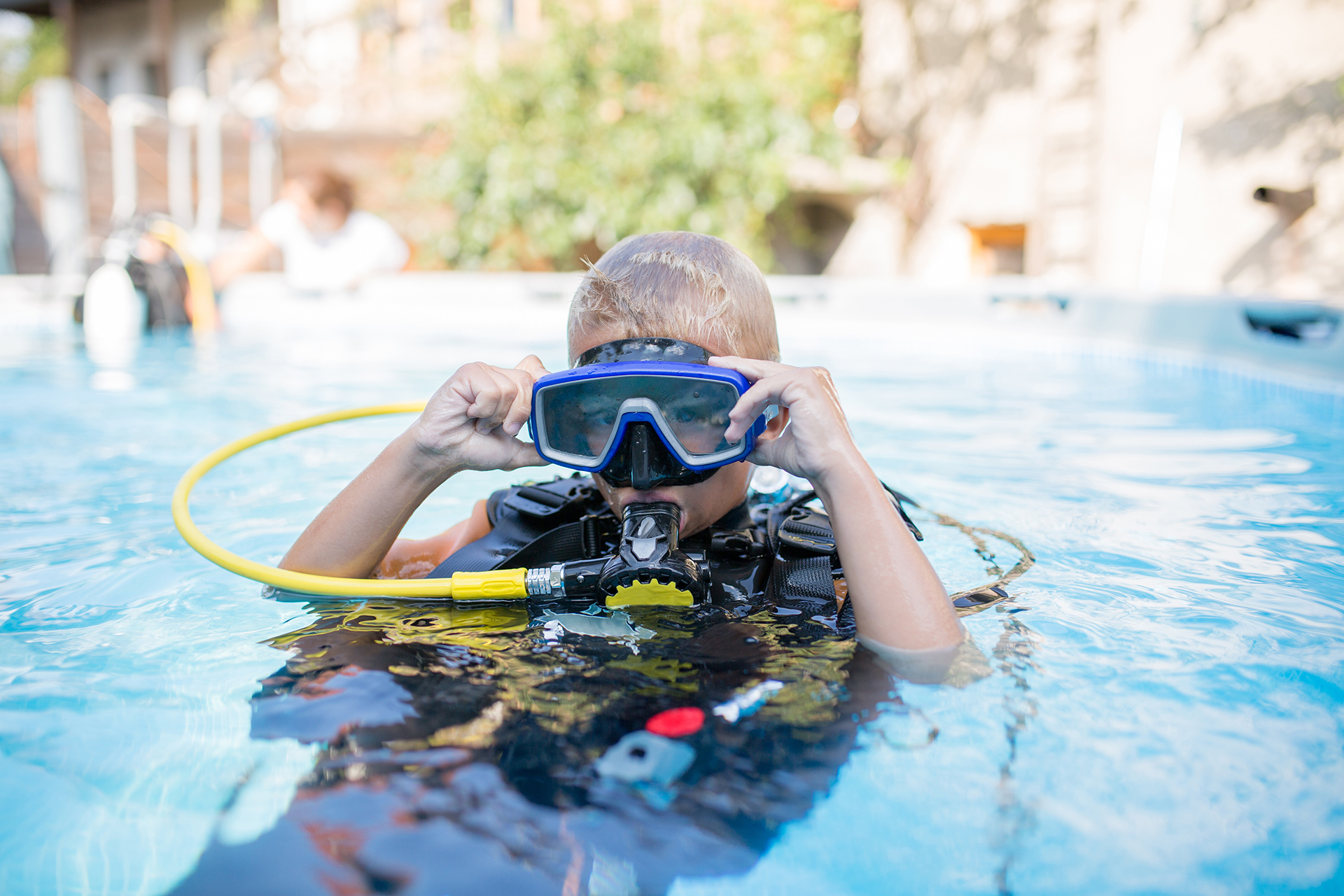 Fins
It's worth choosing an open heel design to allow more room for growth. Look for longer, softer blades, as they'll provide easier propulsion, helping to prevent tiredness and cramp in little legs.
Snorkel
A child-friendly snorkel is better suited to smaller faces and lungs, as well as being easier to clear. Look for splashguards to prevent water entering the snorkel on the surface.
Don't be tempted to buy bigger sizes because your child will 'grow into them'; having the correct fit at every stage is essential for enjoyment and safety. Many manufacturers offer child-friendly gear, for example:
Alternatively, consider hiring equipment until they're older; contact your local PADI Dive Shop for more advice.
Above all, make sure your kids are involved in choosing and maintaining their gear — it is, after all, part of being a diver!