Written by Shane Haumpton
Scuba diving is one of the most fulfilling activities you can start doing. To be where not many people go–that is, tens of feet below sea level while surrounded by all kinds of beautiful sea creatures–is an experience that you would want to do over and over again once you get started. Before you book your first dive trip or liveaboard, let's go over a few things to make scuba diving the best experience ever.
A big part of preparing for your first ever dive trip is determining the essential equipment and other things that you will need. Here are a few items that you will need for the best diving experience.
Essential Scuba Diving Gear for Divers of Any Level
Diving Cylinders – This is arguably the most important item in any diver's checklist of gear. Having the right kind of diving cylinders is vital for your safety as it is your main air supply while you are submerged underwater. Luckily, most dive centers/boats have these for you already to rent.
Scuba Buoyancy Compensator Device (Scuba BCD) – Having a functional Scuba BCD is key to your gear setup. Consider taking the PADI Peak Performance Buoyancy Course if you are looking to improve your buoyancy.
Scuba Regulator – Also known as a diving regulator, this device connects to the gas cylinder to allow the diver to breathe air from and is called a self-contained underwater breathing apparatus, or more commonly known as SCUBA.
Pressure and Depth Gauges – The human eye can only perceive so much information when it comes to how far a person is below sea level and how much air is left in your tank. You are going to need a pressure and depth gauge to keep track of this.
Fins and Booties – It's best to keep your fins as lightweight as possible since it is your primary source of propulsion underwater. You can also consider getting yourself booties, a kind of underwater sock that can help prevent your feet from getting blisters and keep your feet warm in colder waters. You may need a specific pair of booties depending on your diving conditions.
Mask and Snorkel – If you are planning to rent most of your diving equipment, this is one item we suggest you bring yourself. A mask that is too big or too small for your head and face can cause discomfort and distraction while you're underwater. Visit your local PADI dive center for a fitting and to purchase a set.
Dive Computer – A dive computer is a device that helps divers plan their dives, log dives, and also avoid a serious condition called decompression sickness or "the bends" by monitoring depth, time underwater, etc.
Wetsuit and Gloves – Wetsuits are designed to let water inside and then keep it in. The water will then be heated up by your body, and keep you warm for the remainder of your dive. Gloves, on the other hand will keep your hands warm and can protect against unintentional touching. Some local laws prohibit divers to wear gloves, so be sure to check with your dive center or guide before the dive.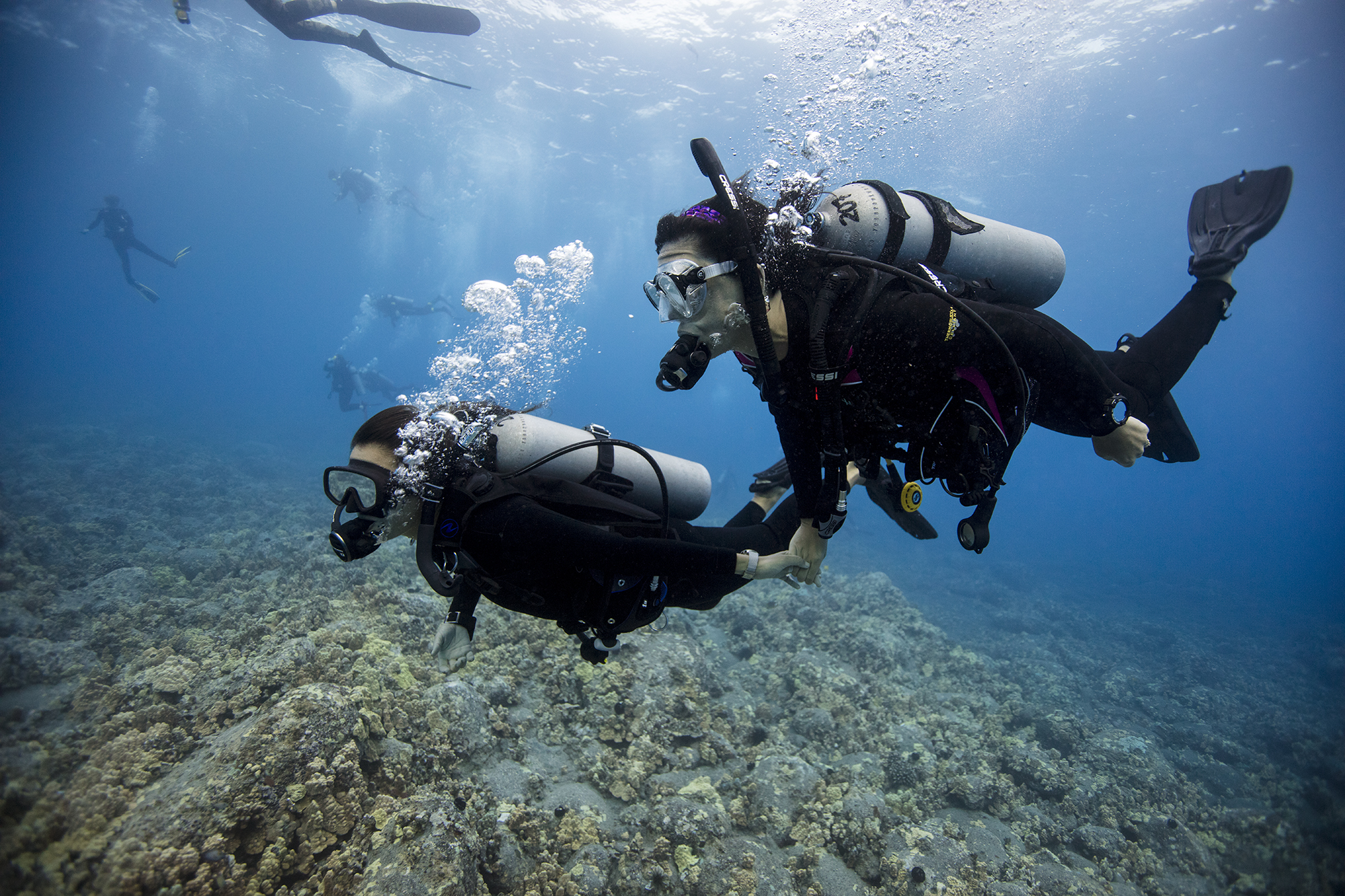 Capture the Moment with High-Resolution Underwater Cameras
At a time when sharing your experiences online is a thing that everyone is into nowadays, capturing your best moments is something that you shouldn't miss out on. When you start doing more experienced dives down the line, you are going to want to look back at those early diving memories and see what you did right and what you have improved on. The next thing you know, you'll want to continue your diving education to expand those memorable experiences!
Naturally, you are going to need cameras that can still function under depth. There are a few considerations to take when you are picking your first underwater camera. Here are some underwater cameras you can invest in for your diving adventures:
GoPro Hero 7 – This is the ultimate camera to get yourself if you're someone who loves adventure. Primarily a video camera, this tiny device is capable of recording ultra 4K video and features one of the most impressive stabilization features in the market.
Canon PowerShot D30 – Canon's only underwater camera so far is so light and compact that it is small enough to fit inside your pocket. The PowerShot D30 can also withstand depths of up to 82 feet.
Kodak PixPro WP1 – This is one of the cheaper underwater cameras in the market today, which makes it the perfect companion for casual diving or snorkeling trips.
Olympus Stylus Tough TG-870 – True to its name, this camera is one of the toughest underwater cameras out there. Not only is it shock-resistant and waterproof, but it also has a 180-degree flip up monitor, perfect for underwater selfies.
Ricoh WG-M1 Action Camera – If you are looking for an action camera but are working within a budget, consider getting the Ricoh WG-M1 Action Camera. This camera doesn't only have one of the most unique designs out there, it can also be submerged down to 32 feet and has large buttons that are easy to navigate around even if you're wearing gloves.
Preparation is Key for Any Dive
Remember to think like a diver and rely on your training. The more prepared you are, the safer you are during your dives. The ocean is a fantastic place, and to be able to explore its depths is life-changing.
Interested in learning how to dive? Here is how to get started.