Made up of thousands of islands, with a coastline that stretches more than 34,000 kilometers (21,000 miles), Japan is home to an incredible array of different landscapes, both above and below the surface. The vast distance between the northernmost and southernmost islands of Japan provides a variety of spectacular diving options – from ice floes to coral reefs – with a diversity of marine life, big and small, that will surprise and delight divers of all skill levels.
Brimming with unique history, Japan offers world-renowned mountains to trek, massive modern cities to explore, and endless ocean adventures to dive into. Here are five must-dive locations around Japan.
Izu Ocean Park, Izu Peninsula
Located on the mountainous and scenic Izu Peninsula of Honshu Island, this dive site is approximately 100 kilometers (62 miles) from Tokyo – only about two hours by car. Izu Ocean Park is a favorite of divers from around the world thanks to the many different sea floor environments to explore, including sand flats, soft corals, ancient lava flows, and drop-offs.
After divers enter the water with a beach entry, they can first glide over the shallows, admiring sea anemones and colorful fish. From there, divers can gradually descend to deeper waters as they swim along a wall covered in sea fans and soft corals, inhabited by a wide range of ocean animals. Izu Ocean Park is home to invertebrates like nudibranchs, urchins, and shrimp, as well as larger marine life like dragon moray eels, stingrays, flounders, wrasse, and groupers.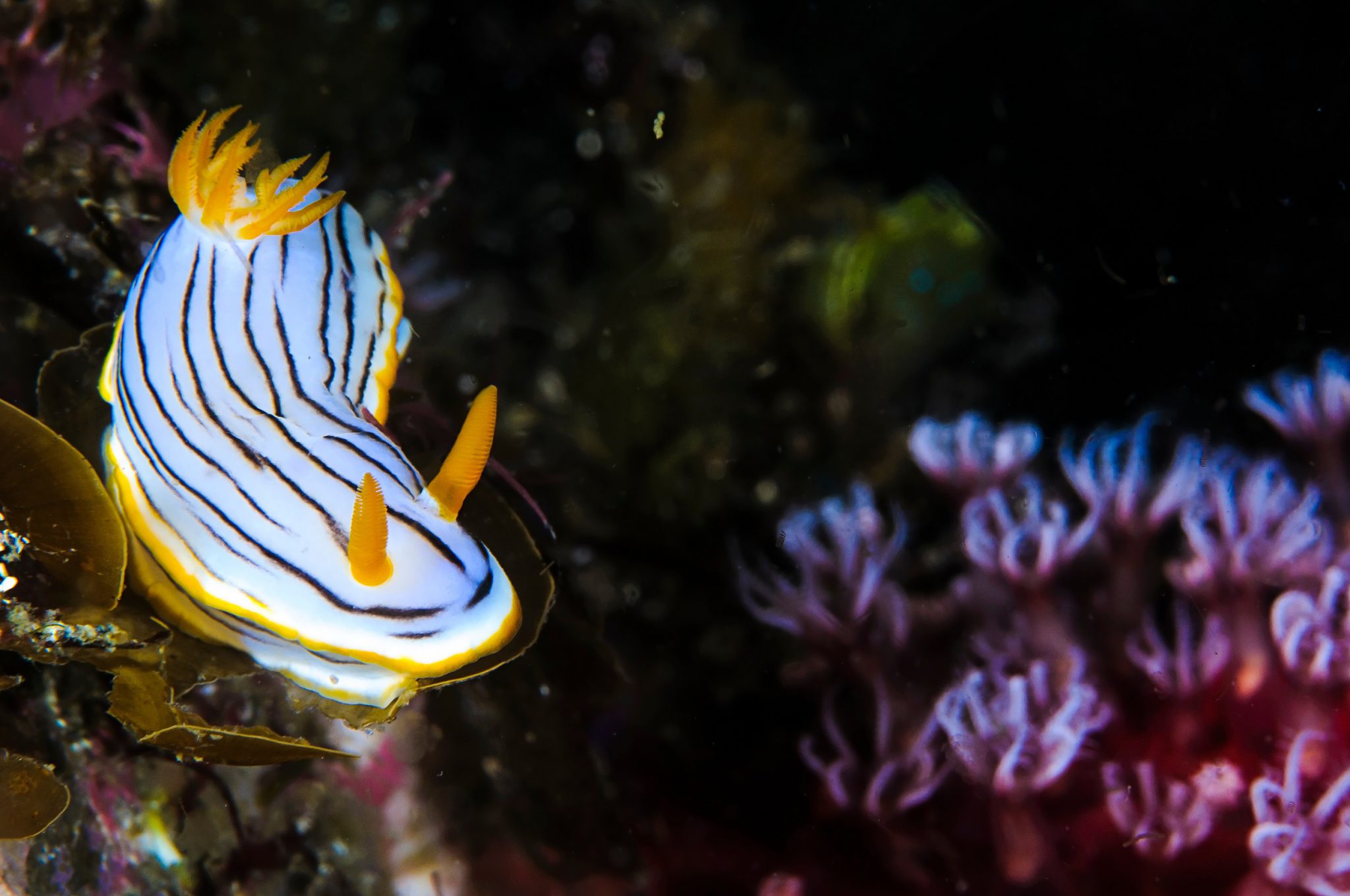 Shiretoko Peninsula, Hokkaido
In the northernmost reaches of Japan, the Shiretoko Peninsula of Hokkaido Island offers incredible opportunities for ice diving. From January to March, as the sea ice begins to break up, divers can slip beneath the surface of the ice floes for a unique diving experience that is both challenging and rewarding. With water temperatures just around freezing, the PADI Dry Suit Diver Specialty Course is highly recommended.
The counter-clockwise Oyashio Current, which brings cold water from the Arctic, also provides nutrients to the marine life that lives beneath the ice here. Divers will have the opportunity to see cold-water fish, sea anemones, sea urchins, shrimp, and starfish. Perhaps the most enchanting organisms to see while diving beneath the Shiretoko Peninsula ice are the the sea angels. Also called cliones, sea angels are small, transparent, free-swimming shellfish with 'wings' and very cute features. With typically 20 meters (66 feet) of visibility, and sunlight peaking through the ceiling of ice above, the underwater scene is sure to feel magically surreal. The Shiretoko Peninsula is even an official UNESCO World Heritage Site.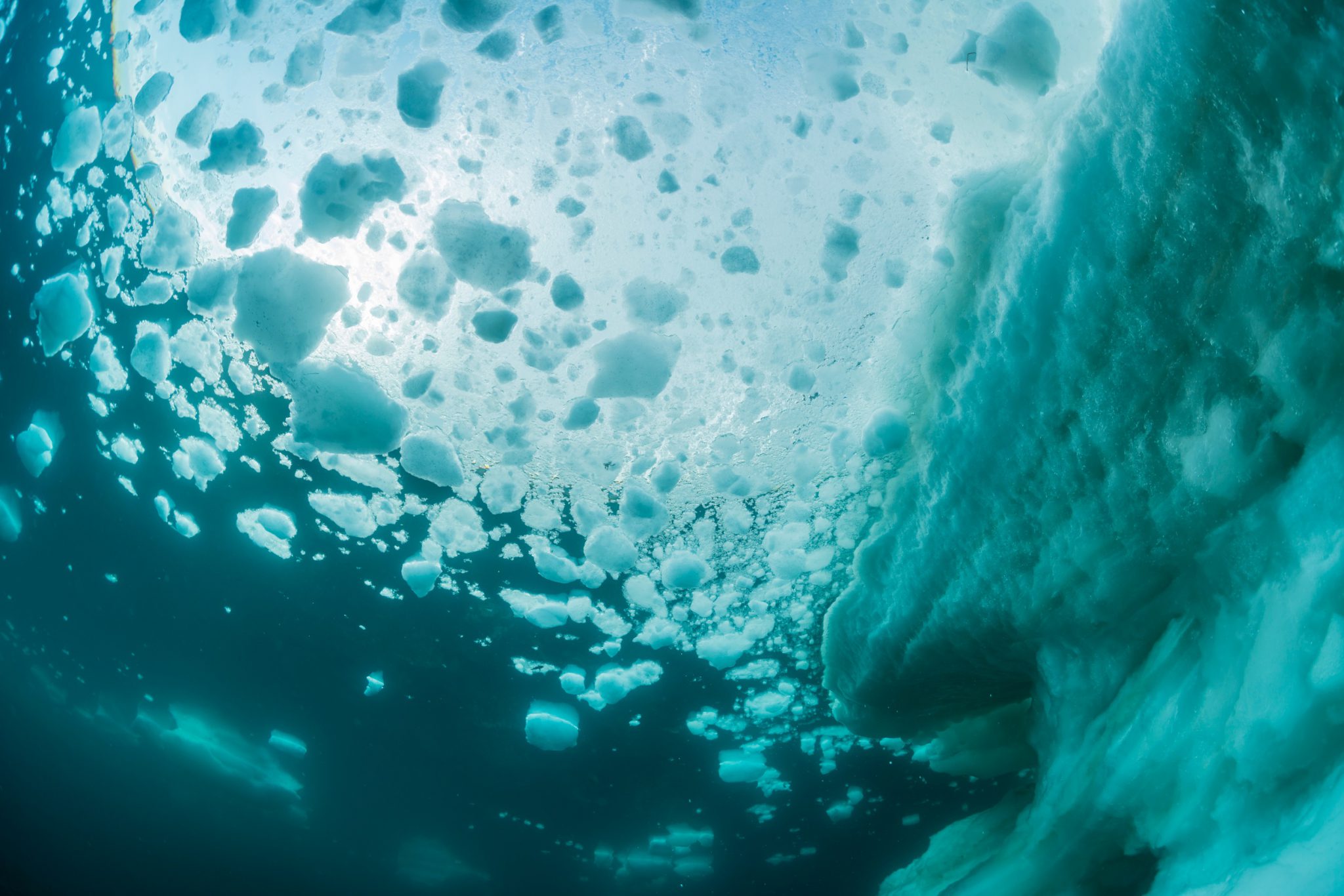 Ishigaki Island, Okinawa
Part of the Okinawa prefecture, Ishigaki Island is located approximately 300 kilometers (186 miles) northeast of Taiwan. This divers paradise is lined with breathtaking beaches, tropical coral reefs, and transparent blue waters. While a wide variety of exciting marine life call these waters home, the manta rays that frequent this area truly bring the magic of Ishigaki to another level.
Divers of all levels can descend to depths less than 16 meters (50 feet) to watch as manta rays glide gracefully over volcanic rock formations. Record numbers of mantas flock to this area to feed on plankton. While mantas are seen around the island all year long, the peak manta spotting season is from July through September.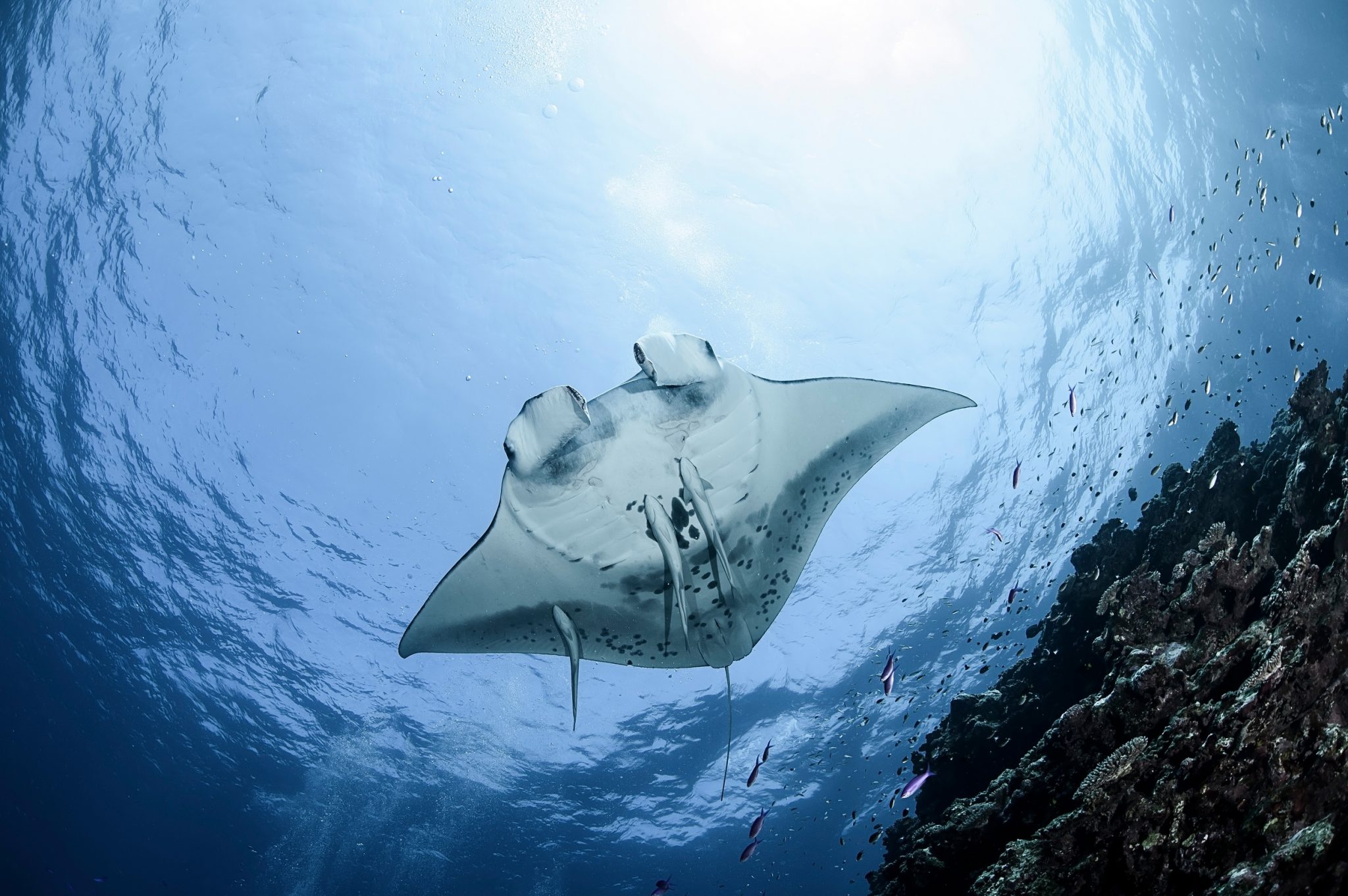 Yonaguni Monument, Okinawa
The westernmost island of the Okinawa prefecture, Yonaguni Island is located approximately 108 kilometers (67 miles) from Taiwan. A one hour flight from Okinawa's main airport, or a 4.5 hour ferry ride from Ishigaki Island will bring divers to Yonaguni – and its mysterious underwater monument that attracts curious divers from around the world. Controversy surrounds these stone ruins, as experts disagree whether the formations are man-made relics of an ancient sunken civilization, or if they are naturally occurring geological structures. Divers can form their own opinion as they explore the step-like rocks and formations that look like footpaths and amphitheater seating.
The Yonaguni monument is found at relatively shallow depths, with the top terrace at roughly 5 meters (16 feet), and the bottom of the main structure at about 25 meters (82 feet). It also has clear, sparkling waters that remain relatively warm throughout the year. However, due to typically strong currents present at this dive site, it is recommended that only experienced divers visit. Aside from the geological scenery, Yonaguni is also on the migration path of hammerhead sharks from November to June. Divers can also look forward to spotting sea turtles, moray eels, and butterfly fish throughout the year at this unique dive destination.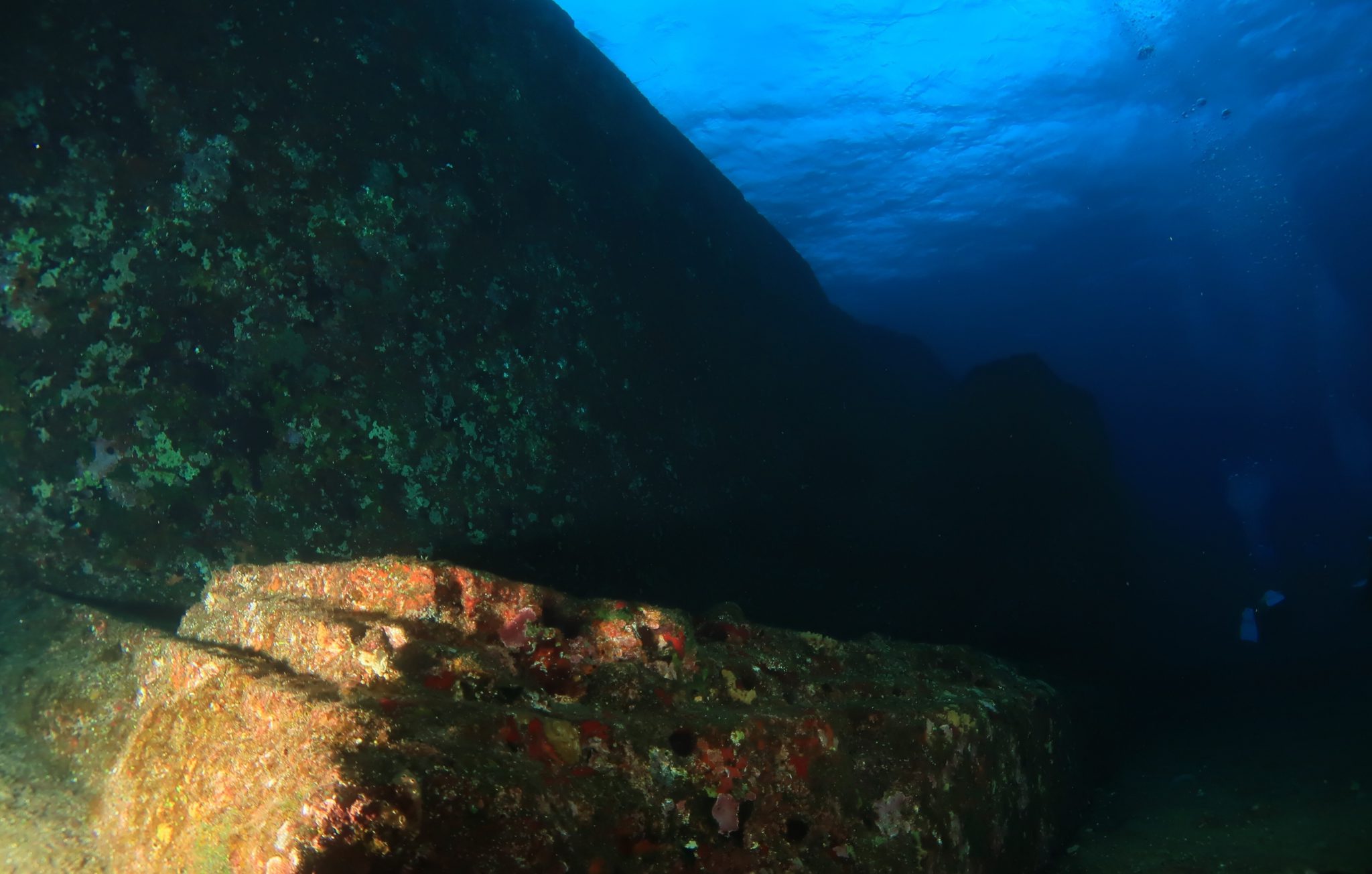 Chichijima, Ogasawara Islands
For the diver looking for a far-out adventure, a twenty-five hour ferry ride from Tokyo will bring you to Chichijima, located approximately 1,000 kilometers (621 miles) from Japan's capital. The largest of the four Ogasawara Islands, Chichijima is often referred to as 'the Galapagos of the Orient' because of its distance from any large continent and its mostly independent evolution over time.
Wreck diving enthusiasts will feel right at home as they explore the numerous sunken ships from WWII that lay just off the shore – we recommend the PADI Wreck Diver Specialty Course. Divers that visit this island will also have the opportunity to observe an incredible variety of marine life, including large schools of fish, graceful stingrays, and dolphins. From December through March, divers might even spot humpback whales as they migrate past this area. Chichijima is so spectacular that it was even declared as an UNESCO World Heritage site in 2011.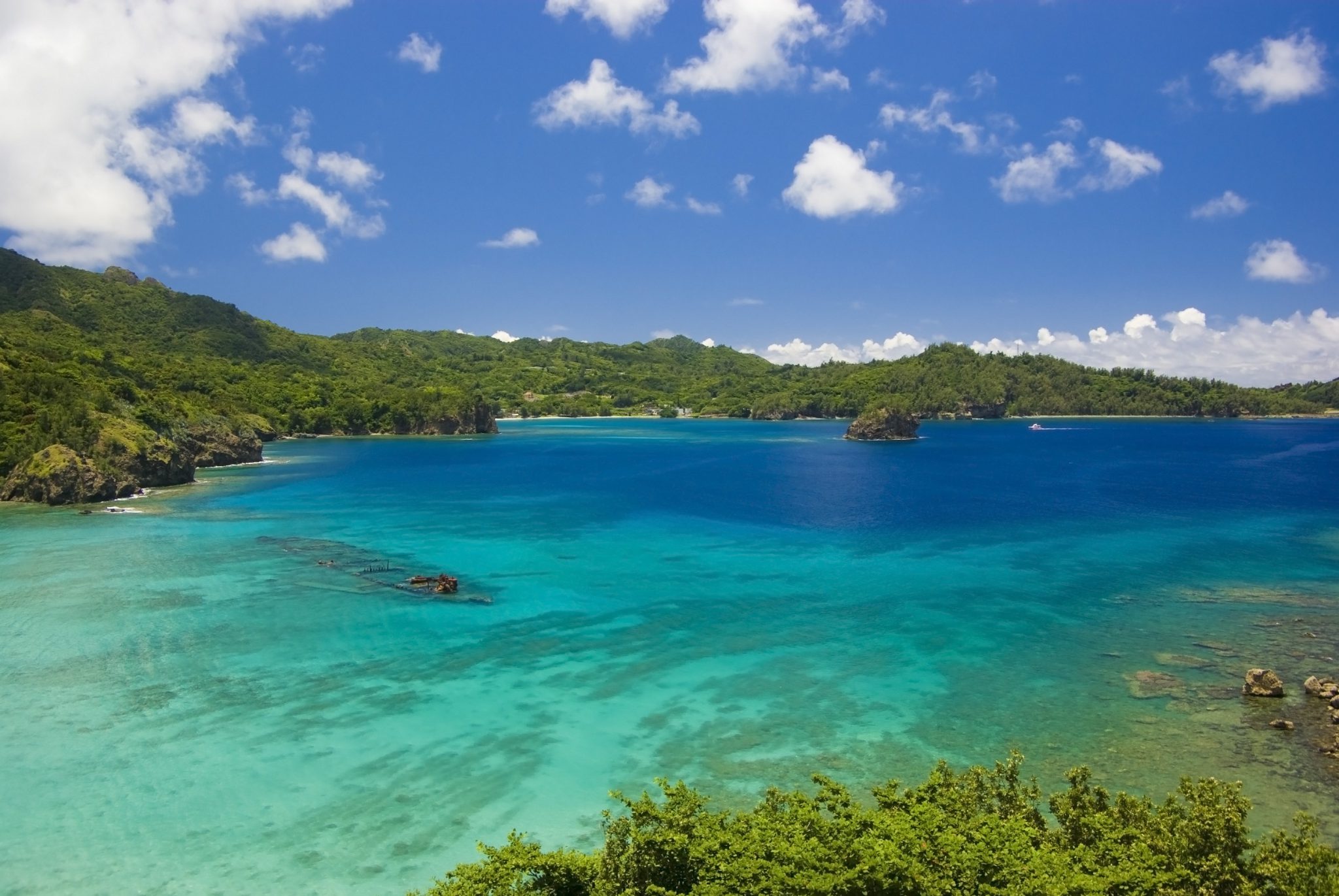 Want to dive in Japan? Make sure to visit PADI Travel when planning your trip. With so many incredible dive sites found throughout Japan, comment below with one of your favorites, if it's not mentioned in the article above.