Any diver that's had the opportunity to observe an octopus while exploring the underwater world knows how truly unique and incredible these eight armed invertebrates are. With so many remarkable characteristics – like eight arms, nine brains, three hearts, blue blood, and the ability to change the color and texture of their skin – it's no wonder that ocean-lovers want to dress up like octopuses for Halloween.
If you want to learn more about octopuses, here are 10 Curious Facts About Octopuses. If you or your loved one wants to be an octopus for Halloween, here are four octopus costume ideas that will certainly get you in the mood to celebrate an ocean-themed Halloween!
OctoBaby!
Looking for a Halloween costume that will transform your adorable baby into an even more adorable baby octopus? This DIY octopus Halloween costume is perfect for all you ocean-loving, scuba diving parents out there. Eight matching polka dot socks and some big googly eyes on a beanie will make for a low-cost, low-effort costume that will definitely yield maximum cuteness results.
OctoQueen!
Are you an ocean-obsessed adult that likes to get really crafty when it comes to your Halloween costumes? While there are many routes to take when creating a home-made octopus costume, this dark green octopus gown is truly extraordinary – she is most definitely the OctoQueen!
OctoReality!
Want to look as much like a real octopus as possible this Halloween? A store-bought costume like this orange and blue over-the-head octopus might have people actually thinking you're a real marine cephalopod. As a diver, you already know what it's like to be submerged in the underwater world, and with this costume you'll now also get to know what it feels like to have eight arms!
OctoPet!
Looking for a Halloween costume that will transform your adorable cat or dog into an even more adorable OctoPuss or OctoDog? Surprisingly, there are quite a few options when it comes to store-bought octopus costumes for pets. From sparkly pink headpieces with googly eyes, to ocean-blue full-body ensembles with long curly tentacles – your pet is bound to look like the cutest octopus you've ever seen (above the surface that is).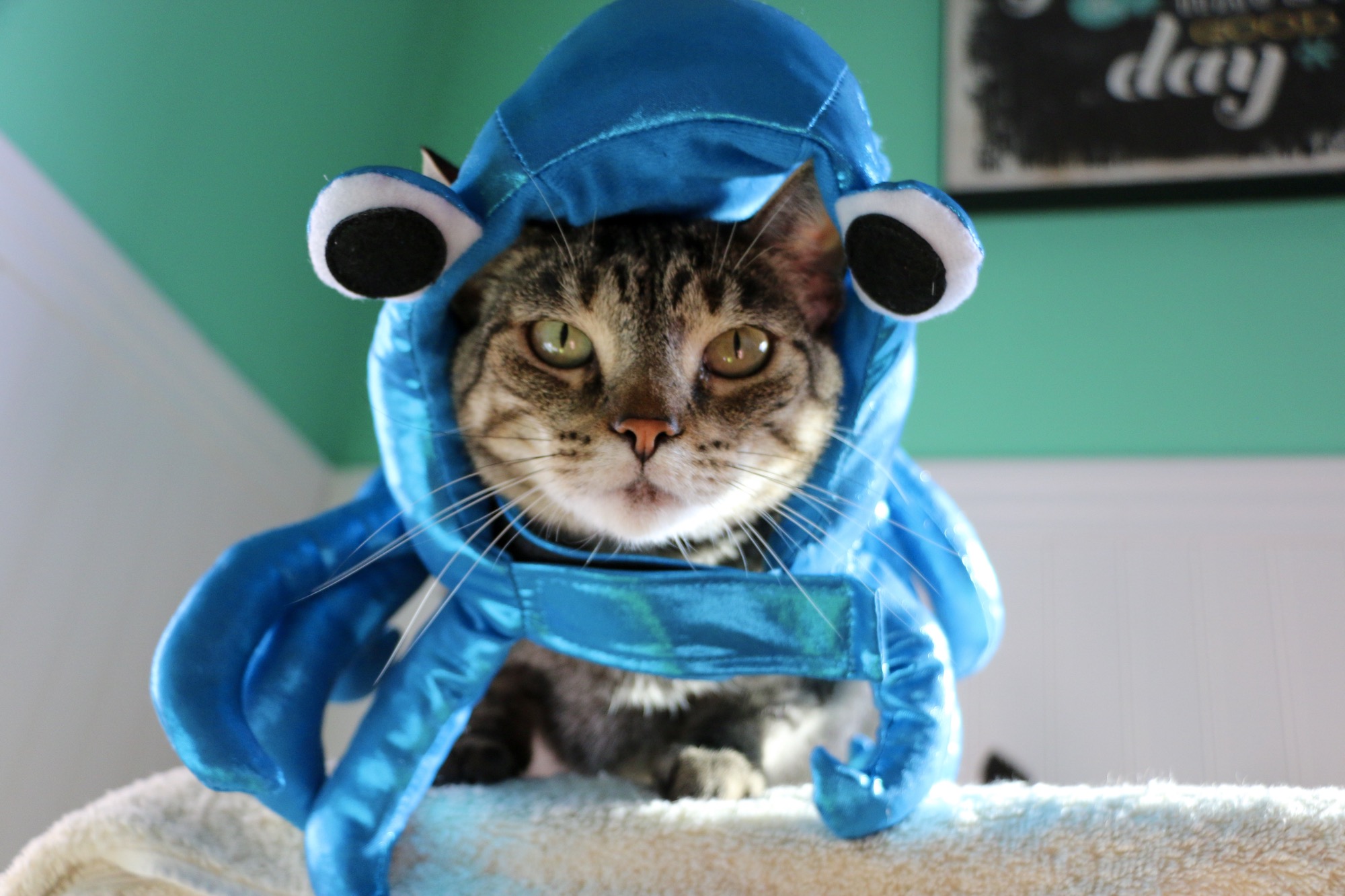 Happy Halloween to the global PADI diving community – we hope these amazing octopus costume examples inspire you to celebrate an octopus-themed (or at least an ocean-themed) Halloween! And if you haven't had the opportunity to actually observe an octopus while exploring the underwater world, it might to time to start the PADI Open Water Diver Certification or book your next dive trip.
Check out these Scuba-Themed Halloween Costumes.