We all know children love to dress up — whether it's for Halloween, school science days, or just because. But, often, it's down to the adults to craft, sew, and paint the head-turning outfits. If you're stuck for ideas, let our fishy friends come to the rescue! We've searched the internet to find the best ocean costumes for kids — read on for ten of our favourite DIY projects that will keep everyone smiling.
---
Table of Contents:
---
Octopus
With alien-like features, these eight-legged critters are certainly a popular and effortless choice for under-the-sea costumes. Firstly, stuff six long socks or tights and fix them to a waistband with safety pins. Then, glue on suckers and eyes, and you're done!
Giggles Galore and A Young Wife's Tale have helpful octopus costume tutorials, along with this video by Mummy Maker. If you've got more time and enjoy sewing, check out Natalina's suggestions to add more shape and curl to the tentacles.
This concept works for all shapes and sizes, so why not go one step further with an entire octopus family (even the dog!). Or, liven up your baby carrier with these impressive 'moving tentacles':
---
Mermaid
Kids and Disney go together like pumpkins and Halloween. So, if Ariel-inspired attire is on the wishlist, you're in luck — there are tons to discover on the web!
However, many mermaid costumes are only wearable when sitting or lying down. For that reason, we particularly like this creation from Make It Love It as it allows plenty of mer-movement. And not to mention the adorable mum-and-baby set by A Beautiful Mess!
These need time and stitching, though. If you're in a hurry, this no-sew felt design will do the trick, or these mermaid leggings (also a safer option if the bouncy castle's on the agenda!)
We also fell in love with the range of tutorials for crocheted newborn baby mermaid tails – how cute?!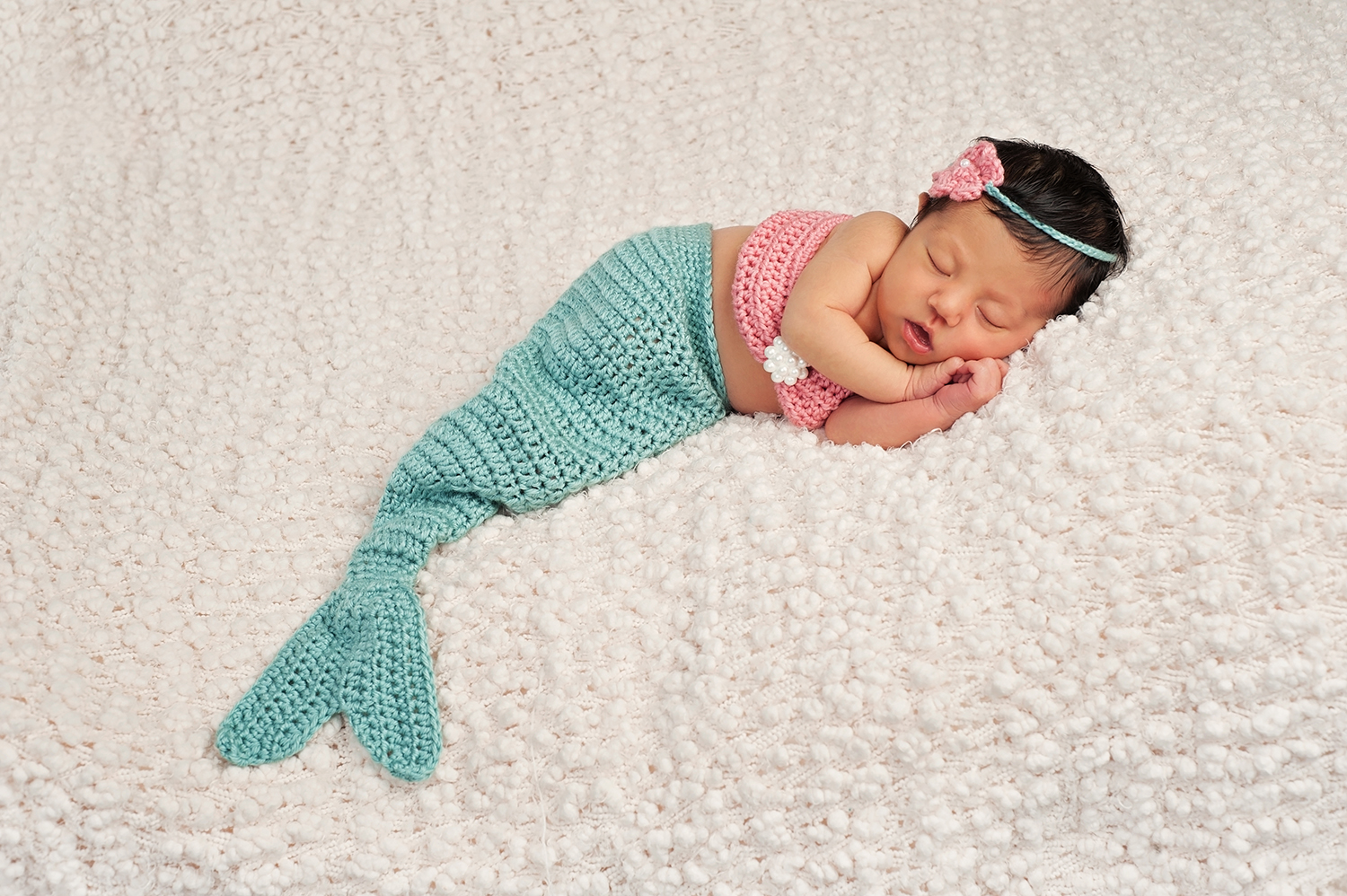 Of course, fashion is only part of mermaiding. Enroll your little ones on a PADI Discover Mermaid experience, and they'll learn how to shake that tail both in and out of the water.
---
Sea Star
Did you know sea stars don't have brains or blood and can also regenerate body parts? Perfect for Halloween, then! And, while scouting for ocean themed costumes, these two charming photos caught our attention:
As well as How To Heidi's YouTube video, Oh Happy Day's blog provides step-by-step instructions to recreate fabulous little sea stars like these. Meanwhile, check out Alpha Mom for a no-sew cardboard alternative.
For a ready-made and reusable option, how about a baby starfish suit? OK, it's not a DIY project (rather, just choosing a onesie with the right shape) — but it's pretty convincing and mega cute!
---
Shark
We know sharks aren't actually scary, but they're still one of the best ocean costumes for kids at Halloween. We've seen a few elaborate creations (from cardboard cut-outs to full-body suits) — but one of our top finds (by Make It Love It) only needs a grey sweatsuit, felt, and some canvas.
For another no-sew option, switch to fabric glue — as shown by Modern Sports Mum and this video by HGTV Handmade:
There's even a pink option by See Kate Sew — who is also the creator of our favourite whale shark costume. This one calls for some needlework skills and the right coloured undersuit, but the result is undeniably fin-tastic.
If you're unsure which of these will suit your child best, then use this quiz to help match their inner shark!
---
Manta Ray
This one's a less common costume choice. Still, we couldn't resist including it on our list after spotting the ingenious design by Yes You Can Costumes. This manta ray tutorial requires a fair bit of cutting, measuring, stuffing and sewing — but if the photos are anything to go by, it'll be worth the effort!
For something simpler, Izzaroo's stingray idea is equally endearing and a nifty no-sew alternative.
---
Scuba Diver
Of course, we couldn't do a round-up of the best ocean costumes for kids without including a mini scuba diving outfit. You can create a highly effective ensemble with foam, tape, spray paint, and an old water or soda bottle. Follow our step-by-step guide to make an impressive DIY scuba diver costume.
What's more, you'll be recycling single-use plastic into something that can be enjoyed time and time again.
If dressing up as a diver isn't enough, get those youngsters involved for real! Children aged 8 years and over can learn to breathe underwater with PADI Bubblemaker. And, from 10 years old, they can earn their first PADI (Junior) Open Water Diver certification.
---
Crustacean
Put your claws together for some of the internet's best crustacean costumes. Martha Stewart and Woman's Day both have excellent guides to crafting lobsters and crabs, complete with ping pong eyes and warm mittens. Likewise, Heather Handmade uses lots of felt and a touch of haberdashery to transform a plain red sweater into a DIY smash hit.
With a bit of tweaking, you can quickly turn these into a hermit crab. One parent's shared experience suggests using paper mache to make the shell; read more at Coolest Handmade Costumes.
Crustaceans also make a great last-minute or low-budget choice: grab a headband with springy eyes (easy to find at Halloween), paint it red, and add some red oven gloves. Simple but surprisingly effective, as proven by Maskerix.
---
Jellyfish
With a simple everyday accessory at its core, this fancy dress is fitting for rainy days. Take one umbrella, attach a variety of ribbons and mesh, and voilà: you've got an instant, wobble-worthy jellyfish costume. There are handy tutorials over at Good Housekeeping and Alpha Mom, and we especially love the addition of eyes on Hello Wonderful's example:
If your juvenile jellyfish will be out after dark, consider adding a few glow sticks — as shown by A Small Snippet. This creates an eye-catching glow-in-the-dark effect that's ideal for trick or treating!
Now for another round of cute babies. If you've already mastered the crochet mermaid tail seen earlier, why not turn your hand to this precious jellyfish hat: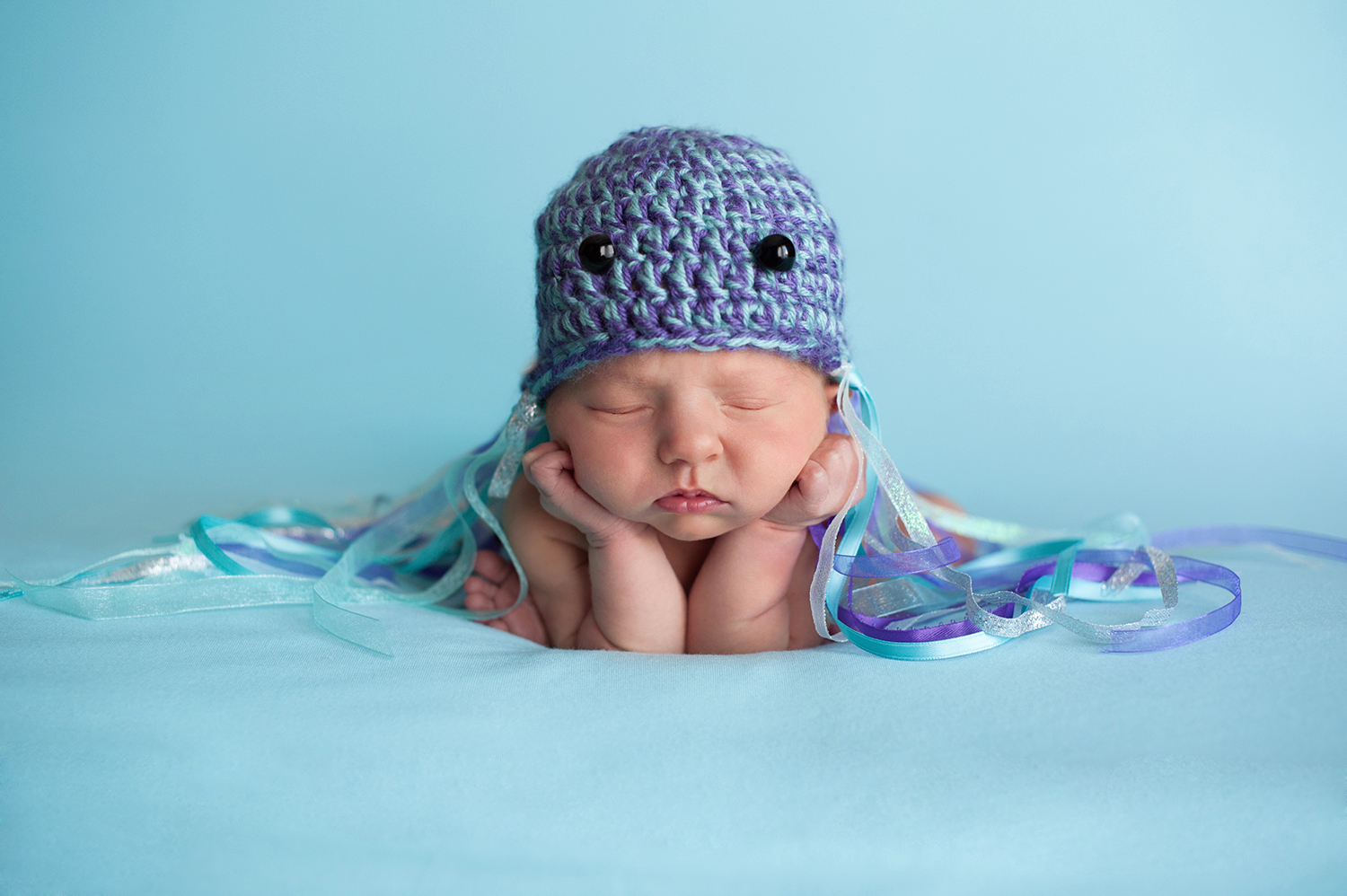 ---
Pirate
Yes, you can buy a pirate get-up in almost every party shop, but where's the fun in that? Instead, create one at home that's as individual as your own little buccaneer. A good place to start is AppleGreen Cottage's tutorial, which includes free vest and accessory patterns.
As Clever Pink Pirate shows, you can make the foundations of a swashbuckling pirate in only a few minutes with garments you probably already own: a shirt or white top, jeans, scarves, belts, cropped trousers, and so on. A few torn edges will also add to the effect if you've got older items you don't mind cutting up. Then, finish it with convincing props — an eye patch, hook, and face paint:
---
Fish
If you're searching for the best ocean costumes for kids, you'll undoubtedly come across a whole range of fishy fancy dresses. We like Tell Love and Party's non-flop design (visit Spoonflower for the how-to). Similarly, for a sweet and scaly DIY baby costume, try See Vanessa Craft or A Spot of Tea Designs.
Plus, a shout-out goes to Unoriginal Mom for her Flounder invention, which either works well on its own or as the perfect mermaid sidekick for duo costumes.
Finally, if you're short on time, cash, or just don't need a full-blown outfit, then individual accessories are a great way to go. How about this fish mask by Living Porpoisefully or these brilliant Finding Dory hair bows.
---
The best ocean costumes for kids
So, there you have it: ten enchanting ideas for your child's next DIY ocean costume. But, if you want more inspiration for the rest of the family, head over to our blog on scuba-themed Halloween costumes for kids, adults, and even pets!
Don't forget to share your photos and creations with us – tag #PADI on social media.