Divers that visit the Caribbean island of Bonaire have the unique opportunity to blend the power of mindfulness with the magic of scuba diving during the Mindful Diver PADI Distinctive Specialty Course. Combining scientifically supported mindfulness skills that traverse the body, breath, and mind, with the world of underwater exploration – this course invites you to 'Dive in the Now'.
The two-day, four dive experience is designed to help divers gain a more mindful state of moment to moment awareness, as well as increase overall awareness, each time they enter the marine environment. With an immersive adventure into the ocean and into the self, the benefits of becoming a Mindful Diver are present both above and below the surface.
Mindful Diver was developed by Sarah Wilner. Sarah holds a Master's Degree in Experimental Psychology, is a certified Iyengar Yoga Instructor, and a PADI Scuba Instructor. She has spent the last decade studying, practicing, researching, and teaching mindfulness, and is also highly committed to ocean conservation and sustainability. Below, Sarah provides additional in-depth information on being a 'Mindful Diver'.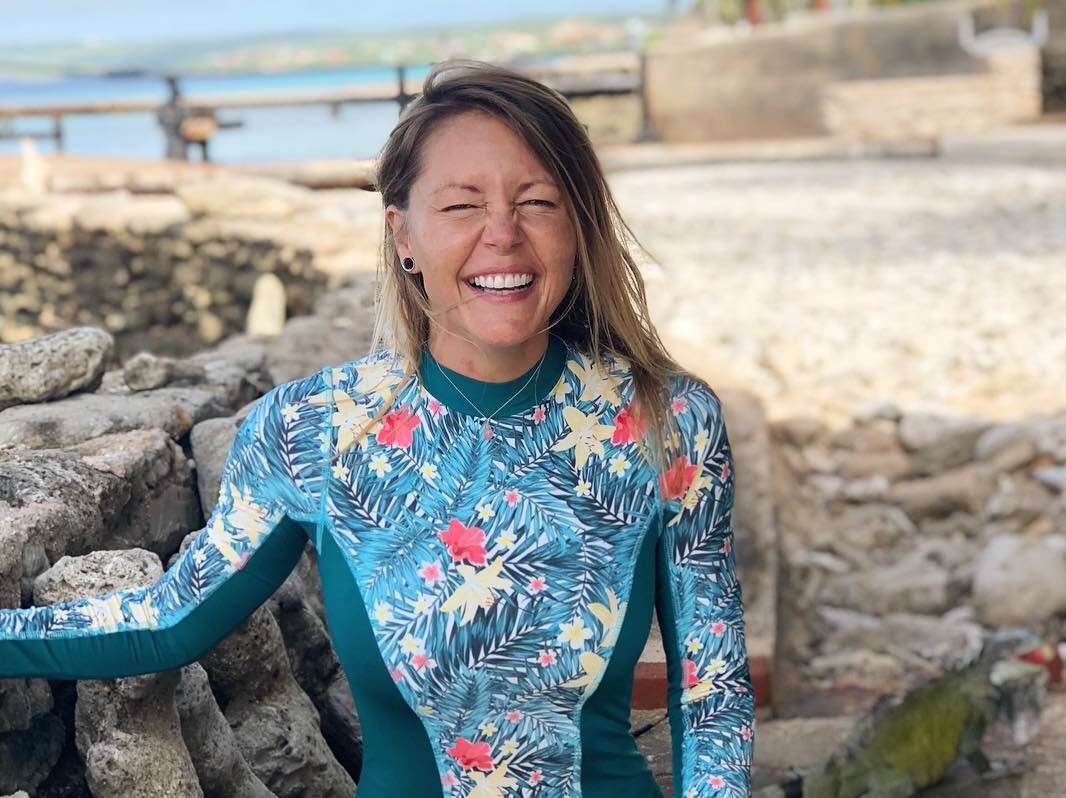 Question: When did you first become a PADI scuba diver?
Sarah: In 2015, while planning a trip to the Hawaiian island of Kauai with my friends Kevin and Darin, they encouraged me to get certified as a PADI Open Water Diver before we traveled. Both PADI certified divers themselves, I remember clearly Darin saying to me, "…diving is going to change your life!". He was right. I was certified in Northern California and did my first open water dives in Monterey Bay.
Question: What inspired you to develop the Mindful Diver PADI Distinctive Specialty course?
Sarah: I had been practicing, studying, and teaching mindfulness for nearly a decade when I first became a diver. Upon my first descent, listening to the sound of my breath through the regulator as I swayed gently on the bottom of my instructor's home pool, I was captivated by the silence and the overwhelming feeling of calm. I never wanted to get out. This is what meditating feels like, I thought. The feeling intensified in open water; now I was swaying with Mother Nature, on another planet, surrounded by creatures and colors that have inspired humans globally for hundreds of years. I knew from my first experiences, and from talking to other divers, that SCUBA was inherently a mindfulness practice. A year or so later, 50 or more dives in, I traveled to the island of Bonaire for the second time. This time to do my PADI Divemaster training. It was on Bonaire that the idea for Mindful Diver was born.
For two months I was living and working on Bonaire, involved in the dive community, loving every moment of it. However, the longer I was there the more I noticed something that struck me as unfortunate; many people who came to dive were so caught up in their heads they weren't able to fully experience the benefits of the mindfulness that is inherent in the dive experience. As if they were setting timers to meditate but spending the entire time thinking about the day's to-do list. Would we call this meditation? This is a more complex question than I can entirely elaborate on, but the short answer is no, not really.
This was what I was seeing with divers: agendas, busy minds, unhealthy habits, expectations, etc. Here was a community of people engaged deeply in one of the most naturally mindful activities the planet perhaps has to offer, and yet many were missing out on the event. They were going home sick, exhausting themselves, eating poorly and forcing experiences. Towards the end of my two-month Divemaster training a question emerged; what would it be like if I took mindfulness training and taught it in conjunction with diving? From this question Mindful Diver developed. I signed up for a PADI Instructor Development Course and spent the next few months taking myself on Mindful Dives, practicing what I was intending to share and observing what impacted me the most. Over the length of those months I used what I learned to create the Mindful Diver curriculum.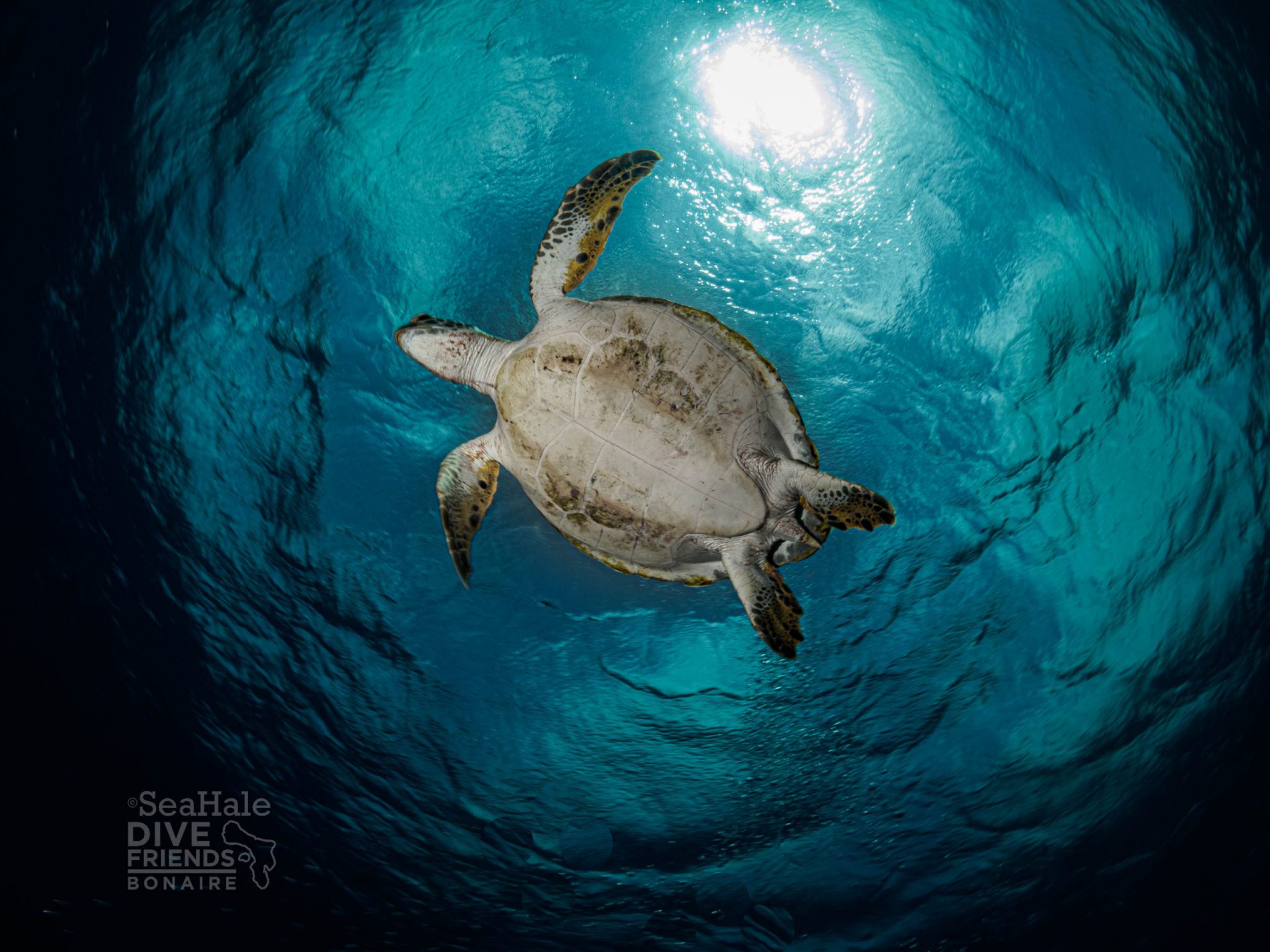 Question: How does Bonaire's unique underwater environment lend itself to being a prime location for this PADI Specialty?
Sarah: Bonaire is truly a destination for Mindful Spirits. Home to one of the oldest protected reef systems on the planet, Bonaire is also considered the shore diving capital of the world. On the island there is an abundance of ease and peace, some may say our main commodity is nothing. And this is why Bonaire makes such a special location to learn mindfulness in conjunction with the underwater world.
The waters are calm, the white sand is expansive, and because of the protection of the reef, Bonaire is home to many small species of underwater life that require close attention and awareness in order to spot and enjoy. Shallow water on Bonaire is filled with some of the most beautiful creatures on the planet; peacock flounders, nudibranchs, turtles, octopus, sea horses, rainbow parrot fish, and so much more.
Divers can learn and practice mindfulness in a ritualistic way, preparing their gear in quiet as they listen to the sounds of the soft moving waters before walking slowly and consciously towards the sea. Stepping off the shore, into another reality, the ease of entrance allows a diver to feel comfortable as they begin the slow swim towards their descent point. Once immersed in the water, the clarity and calm make practicing the skills taught in the Mindful Diver experience gentle and stress free.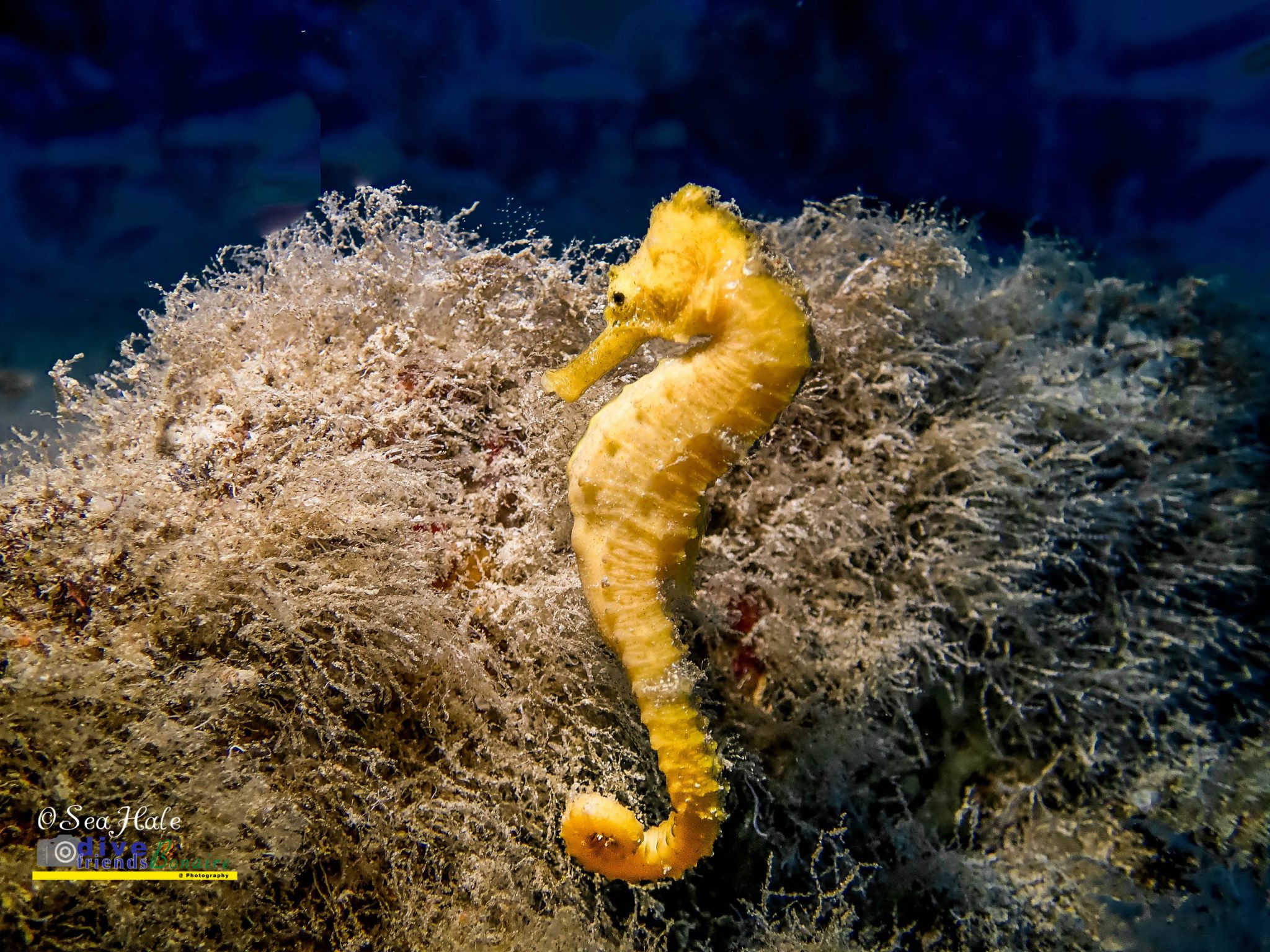 Question: In what ways can becoming a Mindful Diver help divers to optimize their experience underwater?
Sarah: To be clear, mindfulness is not about changing anything. Change is a natural by-product of awareness, and mindfulness practices are simply meant to help an individual become more aware. Mindfulness is not a therapy, while it may make a person better if they suffer from a specific ailment, this is just a side effect. Mindfulness is a way of being in the world. And this is as much the case on-land as it is underwater.
While Mindful Diver may help with the stress and anxiety of diving, decrease air consumption, support a healthy body that feels good pre and post dive, the real benefit of the Mindful Diver course is that it will wake a person up to what they have been missing; the reality of their experience. According to research conducted at Harvard University, the average person misses out on nearly 50% of each day due to mind wandering. This is unintentional thinking about anything but the present moment: the past, future, imagination. Time, not money, is our most valuable resource, and to lose time in daily life is bad enough, but to pay thousands of dollars for a dive vacation, and show up stuck in the mindset of modern living, missing out on even a second of your experience is a tragedy at best.
Mindful Diver was developed to wake up a diver to themselves, their body, their breath, their mind. To see what each of these aspects of themselves are doing in each next new now moment. This is how this specialty optimizes the dive experience, and translates over to other domains of life as well. Who are you when you dive? Some driven personality focused on expectations and outcomes? Out of shape and unhealthy, ignoring the stress the equipment places on the body? Mindful Diver gives divers a chance to know themselves. To know their experience. To see each dive clearly. And to let go of the conditioning from society of what a dive should be, to simply enjoy what each dive is. Research at major universities all over the world have shown that this amount of presence helps reshape our relationships, to ourselves, each other, and our environment. At a time of global crisis due to human impact on the planet, to give ourselves the gift of waking up is, in my opinion, the greatest gift we can give. Not just to ourselves, but to the whole world.
Question: How can divers sign up for the Mindful Diver PADI Distinctive Specialty course?
Sarah: Currently, the Mindful Diver PADI Distinctive Specialty is taught exclusively at Beyond the Corals, a PADI Five Star Dive Center, on the Island of Bonaire. To book your experience, contact info@mindfulisland.com or info@beyondthecorals.com. For more information, visit www.mindfulisland.com/dive.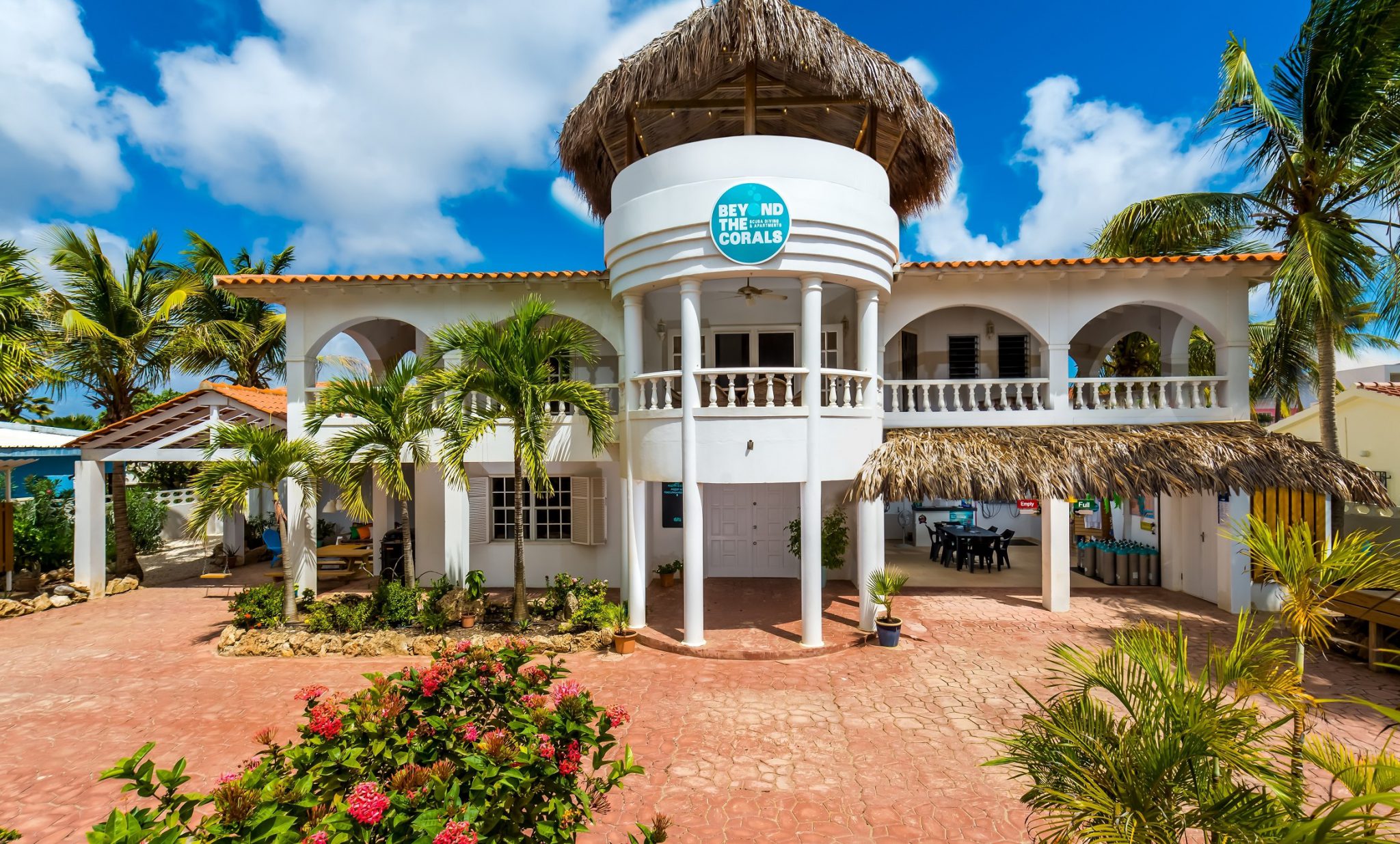 The Mindful Diver Distinctive Specialty Course is clearly a unique experience that should not be missed when traveling to Bonaire. Before you go, learn more about diving in Bonaire by visiting PADI Travel.
If you're looking for an incredible way to develop a deeper sense of connection to yourself and our blue planet – become a Mindful Diver with Sarah Wilner in Bonaire.