If you want to experience some of the best dive sites and most incredible marine life in Thailand, then Koh Phi Phi is a must! And it's not only the diving that makes Koh Phi Phi such a popular spot – on land it's a picture postcard tropical island bursting with flourishing flora and fauna, and the warmhearted friendly locals make you feel at home from the moment you arrive.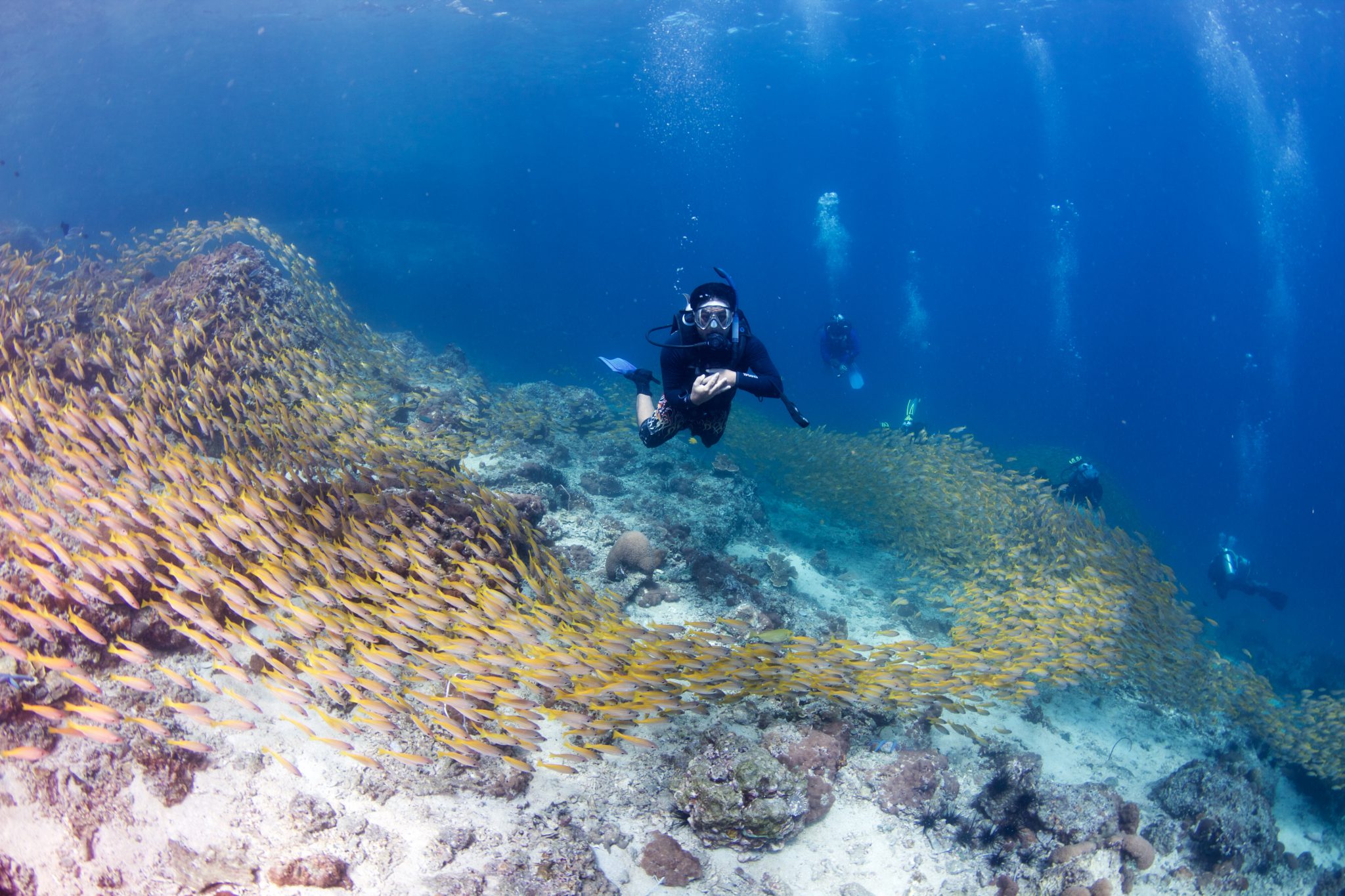 Here are some of the highlights of the diving around the Phi Phi Islands to give you a taste of what's in store for you:
Kled Gaeow Wreck Dive
This is one of Phi Phi's most exciting dives and an absolute must if you are a fan of wreck diving. It's not only wreck divers who will love this site though – marine life enthusiasts and anyone with a sense of adventure and a love of discovery will enjoy this dive.
The HTMS Kled Gaeow was scuttled in March 2014 by the Thai Department of Marine and Coastal Resources. She now rests upright at 26 meters/85 feet and has become an oasis for the thousands of fish that have made her their home. The wreck itself has large compartments which make penetration into the hull easy for those just getting started in making penetration dives. You do not need any previous wreck diving experience to dive here, the Kled Gaeow is suitable for all levels.
Hin Daeng and Hin Muang
Approximately one hour away from the Phi Phi islands by speedboat are the two mid-ocean sites of Hin Daeng and Hin Hin Muang. Hin Daeng and Hin Muang are the two deepest drop-offs in Thailand and are well known for providing excellent opportunities to see large marine species. Here you can expect to see manta rays, leopard sharks, occasional grey reef sharks and even the mighty whale shark. Among the reef you'll find a plethora of critters with plenty of opportunities to see a wide variety of reef fishes – not just the bigger fish for which these sites are famous for. Hin Daeng and Hin Muang should be on the "must dive" list for anyone who is planning to go diving in Thailand.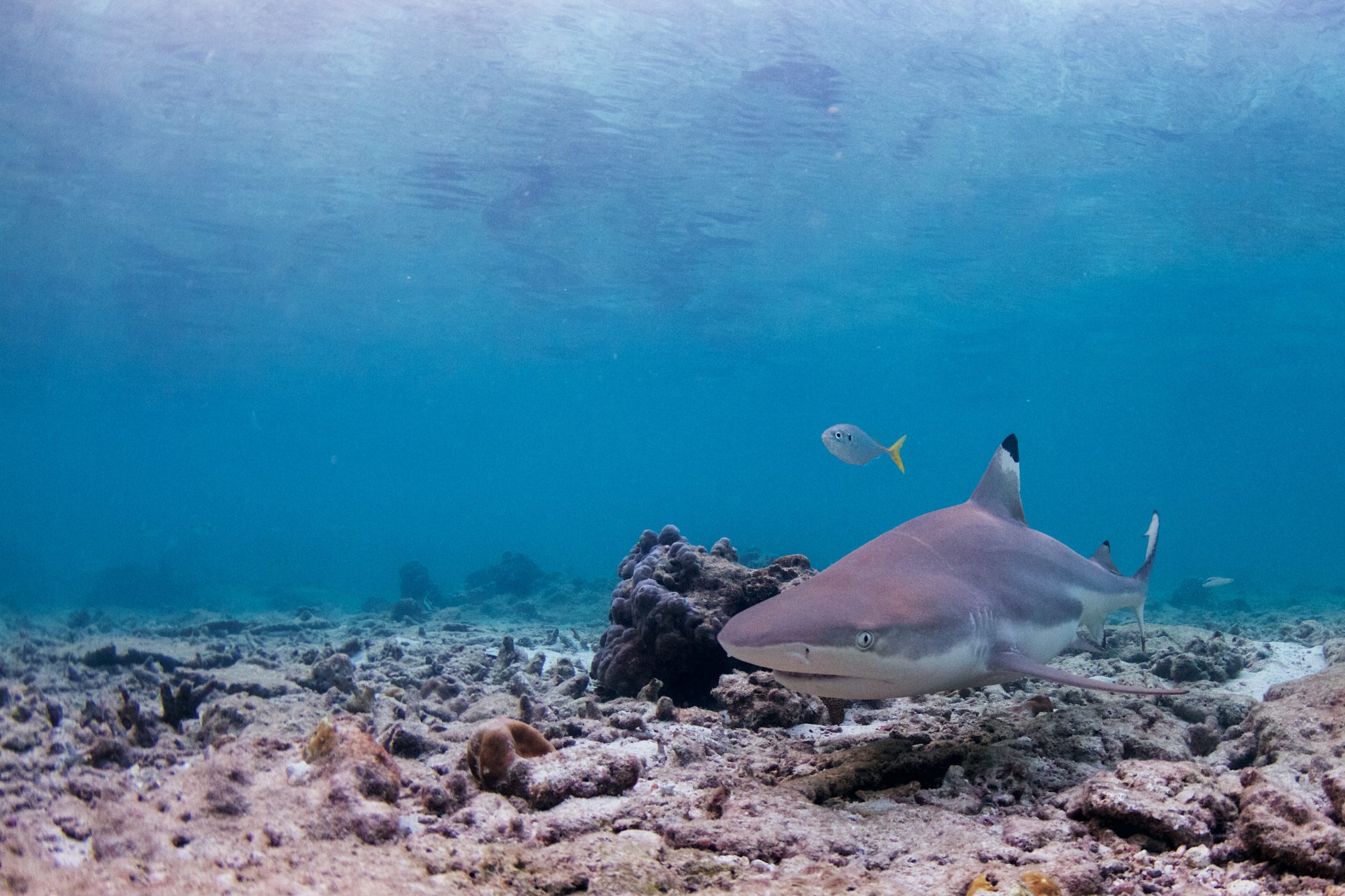 Bida Islands (inc. Phi Phi Leh)
These twin rocks, which are located to the south of Phi Phi Leh Island, offer some of the most famous dive sites in the Phi Phi area. Divers come from as far away as Phuket, Krabi and Koh Lanta to dive here so even if you are not staying on Koh Phi Phi, you may still be able to explore this impressive area. There are numerous dive sites here which makes it possible to make two or even three dives around one island without seeing the same area twice!
Phi Phi Leh
Maya Bay put Phi Phi Leh first on the map when it was featured in the movie "The Beach" starring Leonardo DiCaprio. Today, Phi Phi Leh is recognized for its impressive diving, snorkeling and topside beauty. You'll be blown away by the stunning corals and varied marine life on offer. From resident sea turtles to patrolling leopard sharks, there is someone here for everyone.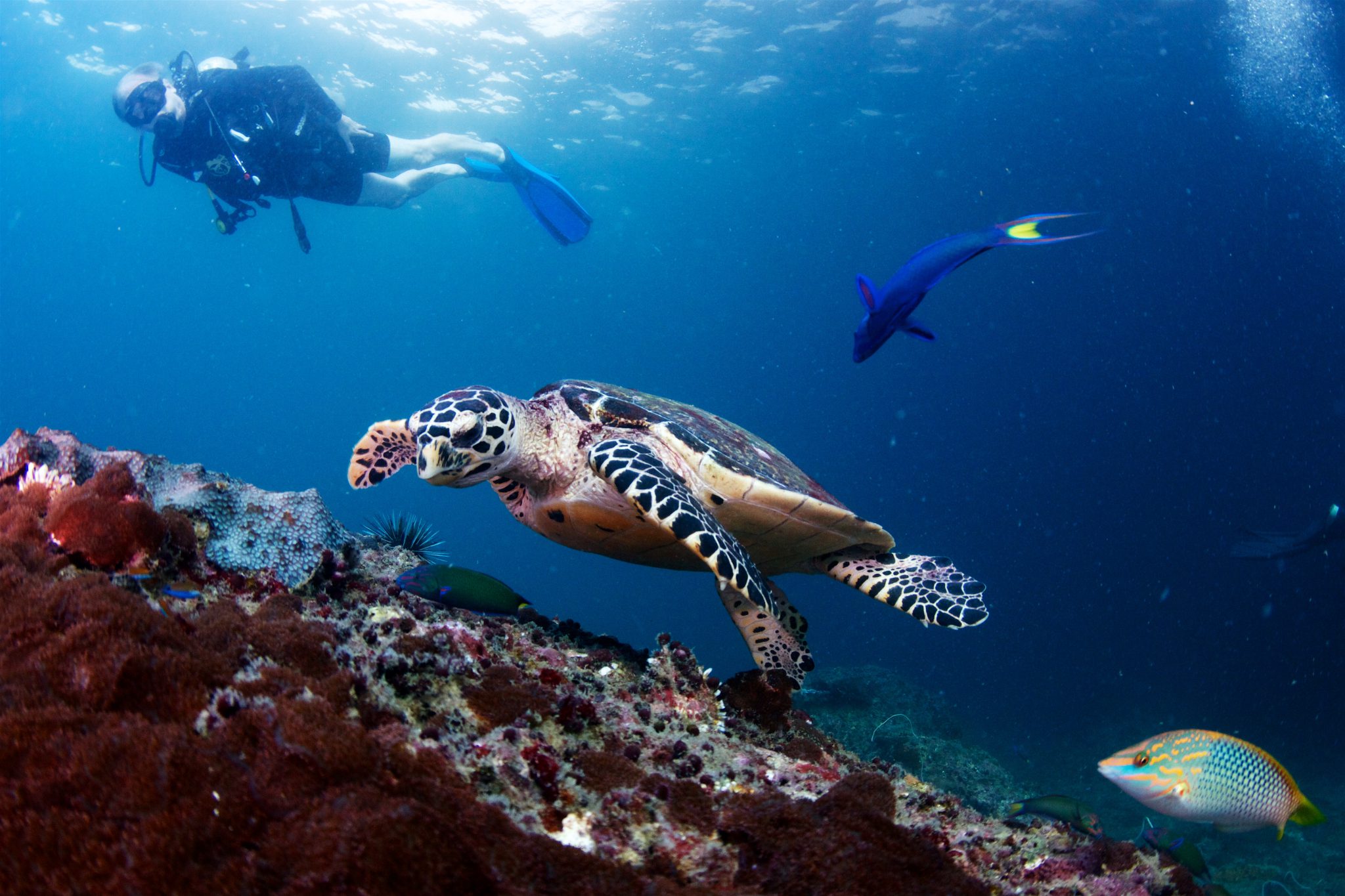 Hin Bida
Hin Bida is also known as Phi Phi Shark Point as it is a great spot for seeing Thailand's famous leopard sharks. This site is an underwater pinnacle which just breaks the surface and is packed with interesting marine life including large schools of fish, reef octopus and several species of moray eels. It's not guaranteed but it's also not unusual to see a passing whale shark or eagle ray here – another awesome highlight of diving in Phi Phi!
Bida Nok
Bida Nok has a beautiful shallow bay that allows you to dive around the island in all directions. Here you'll discover steep vertical walls, small pinnacles and fields of healthy, stunning soft and hard corals. Bida Nok has a sandy bottom which is excellent for finding blue spotted sting rays and resting leopard sharks. Make sure you also keep a look out for black tip reef sharks in the shallows.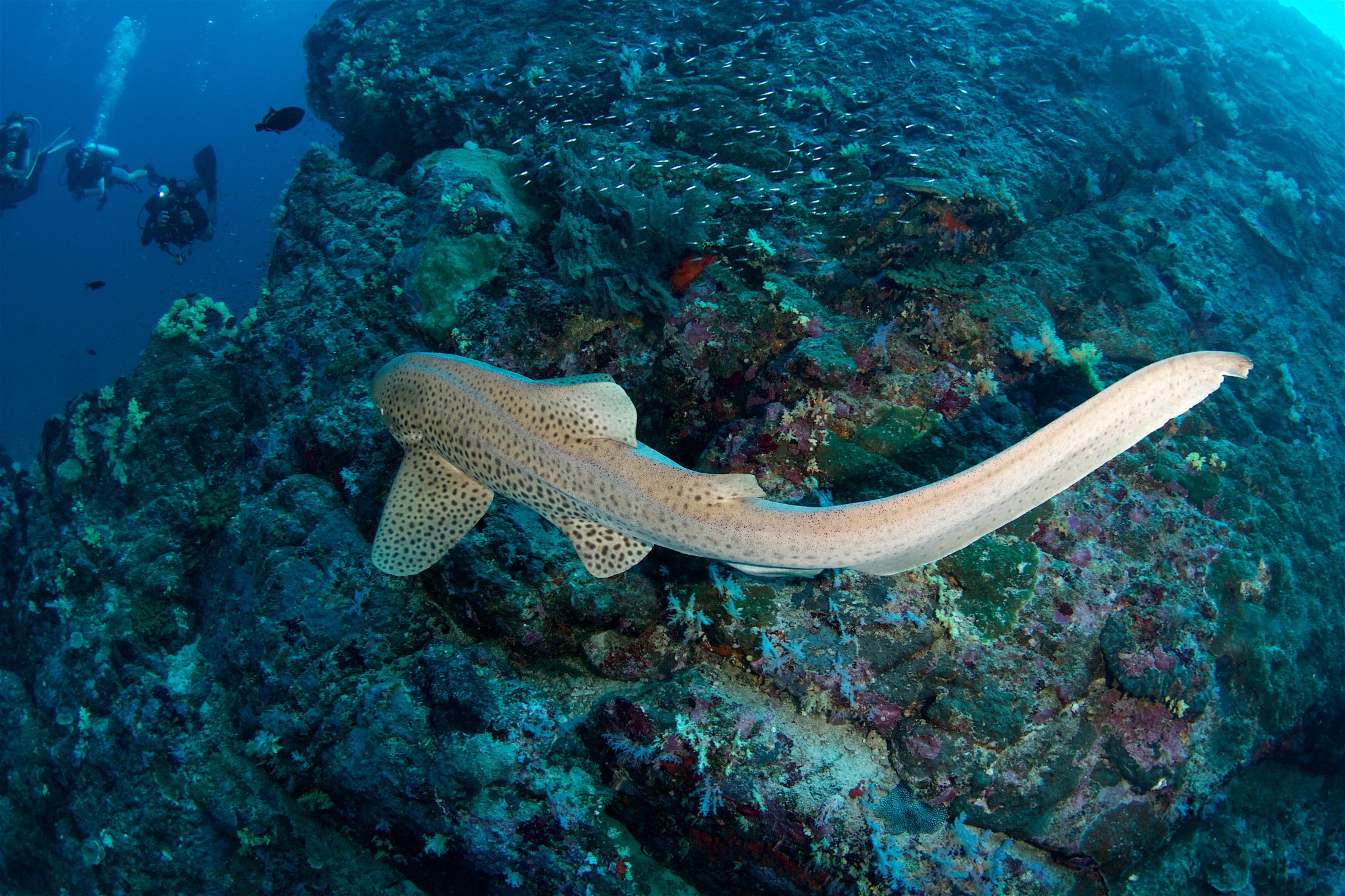 Bida Nai
Bida Nai is best known for its walls, pristine corals and large schools of barracuda and yellow snappers. If you like macro life and interesting critters, some of the smaller highlights here also include ghost pipefish, cleaner shrimp and seahorses.
Malong Bay
If turtles are on your bucket list, then so should be Malong Bay. This is where it's possible to see turtles on almost every dive! Malong Bay's productive reefs and shallow coral gardens are rich with diverse corals, macro life and critters. Seahorses, cleaner shrimps, porcelain crabs and moray eels can all be found among the reef, while in the water column a plethora of reef fish can be seen darting in and out. Don't forget to pay attention to the wide variety of corals, from Gorgonian sea fans to barrel sponges and vibrant soft corals which open up in the current.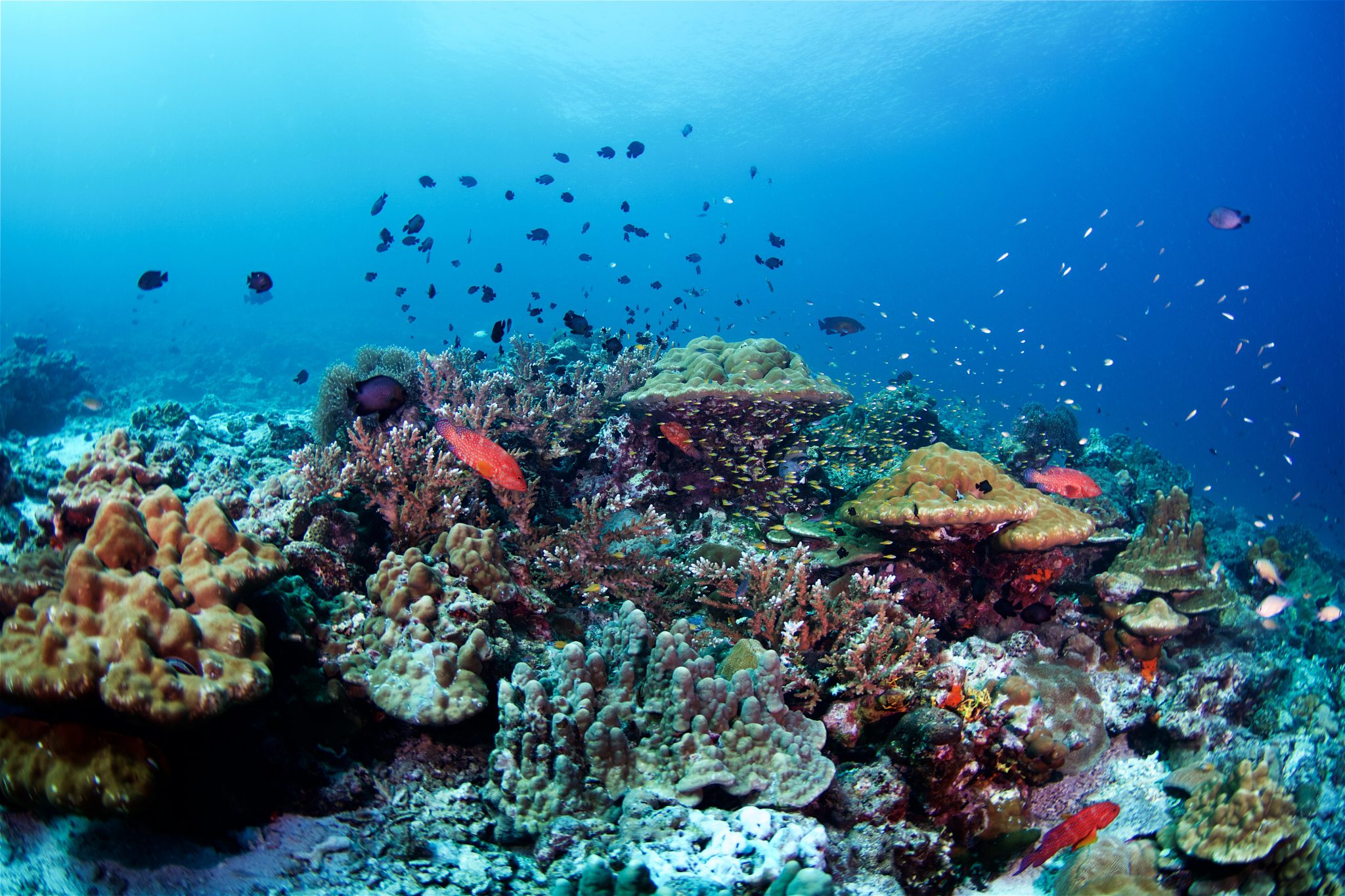 So what are you waiting for? Dive into action and locate a PADI dive shop in Koh Phi Phi so you can start your next Thai scuba diving adventure.