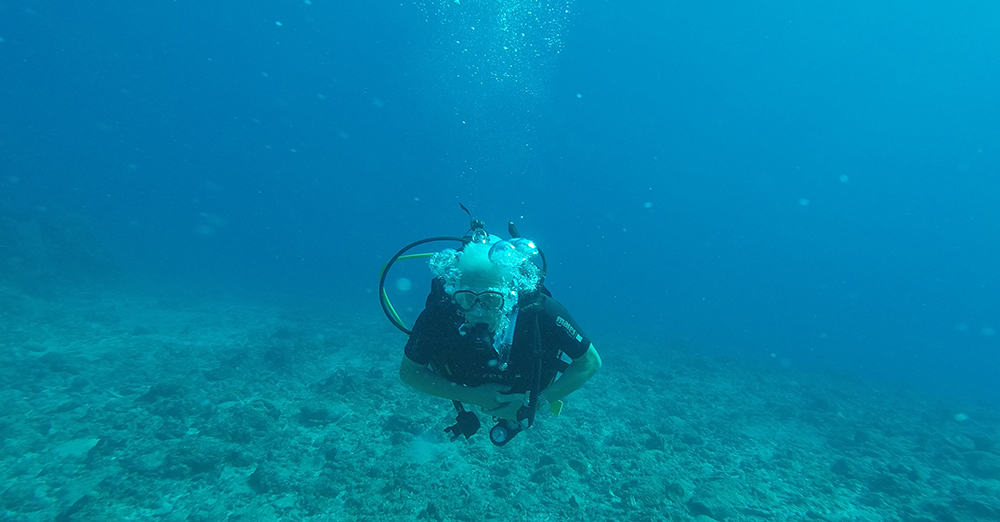 Some people use age as an excuse to slow down – but not George Aitken! The 74 year old recently got his PADI while on a family holiday in Fiji. We asked him a few questions about his experience and whether he plans to continue diving in the future.
What inspired you to complete your PADI Open Water Diver course?
In 2015 my wife Sue and I had our first holiday to Castaway Island and even though I'd been factory and office bound throughout my working life, I tried snorkelling on that trip. It was while I was snorkelling that I decided I would try scuba diving, so, under the guidance of PADI Divemaster Eric, I completed the PADI Discover Scuba Diving experience.
We always intended to return to Castaway Island for another holiday, and after my DSD experience (and thanks to the support of the Divemasters) I wanted to do more dives, but I never had any intention of taking the PADI Open Water Diver course. That changed when my eldest grandson Zac and his family came on holiday with us. One thing led to another and Zac and I decided to get PADI certified together.

Have you always had a taste for adventure?
My job always meant I put most of my time into work, but after work, Sue and I devoted a lot of our time to seeing the world – Europe, Canada, USA and New Zealand – the kind of trips that required constant travel.
One skill from my work life that benefited me during my PADI training was being able to trust in experts – in this case, PADI Pros.
Tell us about something you learnt during your PADI course.
It was clear to me from the start that being 74 years old would mean some aspects of the course would be difficult. It was important for me to put full confidence in my Instructors and to trust their opinions and advice.
At the end of the course I was able to achieve things I didn't think would be possible and will be able to achieve others in the future.
I know that that with support I can become a better diver and enjoy the sport more. I know there will be some limits with my age, but will continue to get increasing enjoyment from diving.
Were there any highlights during your course?
The biggest highlight was my success! It was a great feeling not only to pass the course, but to do so alongside my grandson Zac. Another highlight was the huge variety of coral and fish that I got to see, as well as small sharks, turtles, eagle rays, sting rays and lots more.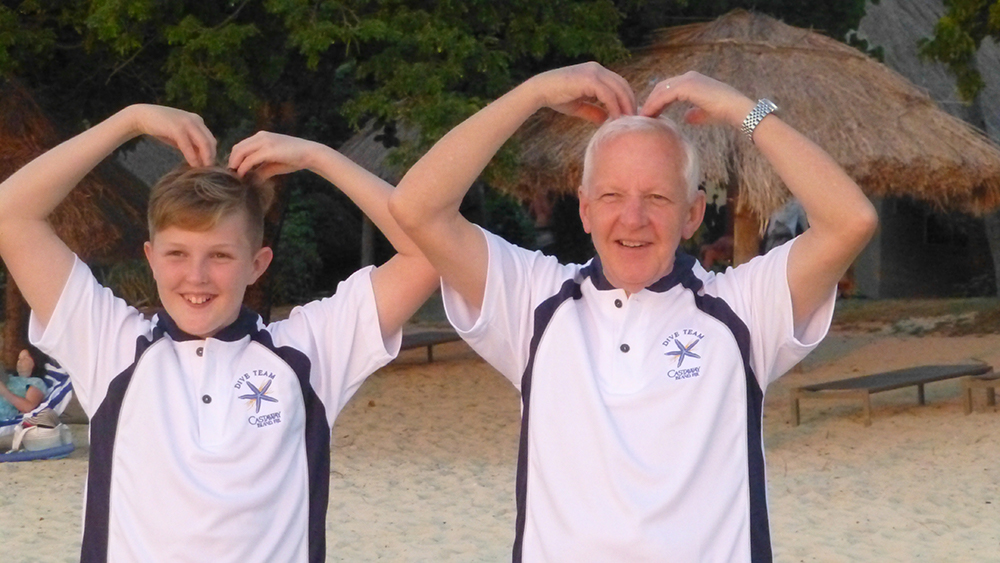 "I've worked with people of different ages – from 8 to 50 years of age – but never a 74 year old. It was a proud moment for me and the Castaway Dive team. The whole team contributed towards making George's certification successful." – PADI Instructor Iliano Vakalelevesi
Will you continue to keep diving? Do you have any diving trips planned?
I'm sure that all going well I will continue to dive. I hope to improve my skills back home in Melbourne by continuing to dive with PADI Instructors and again during our next holiday to Castaway Island.
What's your advice for anyone thinking about becoming a PADI Diver?
To all those people who have wanted to scuba dive and have been close as they watched people train – give it a go! It's definitely worth the effort and even though it may have its challenges, it certainly has great rewards. Age doesn't need to be a barrier and there's so much to see and also so much fun to be had. The experience of weightlessness and swimming amongst the fish and coral is truly fantastic.
Want to become a PADI Open Water Diver like George? Find your local PADI Dive Shop and sign up today.