Leo Morales – Beats Cancer, Sets World Record, Inspires the World from Wanderlust Industries.
Guest Blogger: Jo Walters
PADI history is full of people whose lives have been transformed by diving, but examples as dramatic as Leo Morales Cervantes are truly remarkable. We asked Leo to share his tale of triumph over adversity with his fellow PADI divers and to tell us why he considered himself "dive-abled" and what "my PADI" means to him.
Inspiration to Become a PADI Diver
When Leo Morales Cervantes lost his leg to cancer in 2008, he thought his life was over. "I was very depressed," says Leo. "Before I lost my leg, I had a great job: I was a successful bank director who had worked at the same company for 10 years – a young professional on my way up the corporate ladder." However, when Leo was diagnosed with cancer, the bank fired him! This seems shocking, but Leo explains that throughout much of Latin America, disabled people are often discriminated against. "My employers thought I would no longer be productive, and dismissed me," says Leo. Needless to say, this only deepened Leo's depression and he reached the point where he actually attempted suicide.
Fortunately, he did not succeed, because a life beyond his wildest dreams awaited him. He found it when his friend, William Lotz, encouraged him to try scuba diving. "That experience changed my life – completely and forever," says Leo. Now, he had reason to live again! "I became a PADI diver. In diving, I found freedom: freedom from depression; freedom from a wheelchair; freedom from crutches and freedom to be myself again," he says. "Diving gave me a new life, a new outlook and the desire to take on new challenges."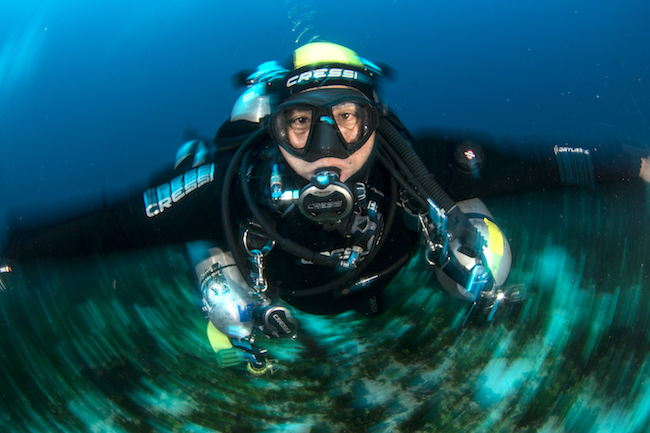 How did PADI Change Your Life?
"PADI helped me stop feeling sorry for myself and meet new challenges head-on," says Leo. "First, I challenged myself to develop scuba skills. Within three years of that first dive and with the help of the Handicapped Scuba Association (HSA), I worked my way up to my current rating; I became a PADI Open Water Scuba Instructor in 2013!" (Note: With more than 4000 underwater educators, scuba divers with disabilities and supporting members in 45 countries, the Handicapped Scuba Association's mission is to "improve the physical and social well-being of people with disabilities through the sport of scuba diving." Visit hsascuba.com for more information.)
Leo feels honored to be a PADI Professional, but his story doesn't end there. It is only just beginning. Leo's zest for living motivated him to take on many new challenges. He became a technical diver and Tech Rec instructor. Then, he set out to break several world records: In 2012, he established a new deep diving world record for persons with disabilities when he dove to 410 feet (125 meters). In 2013, he broke a second scuba diving world record for distance when he traveled nine miles (15,600 meters) underwater; he remained underwater for more than eight hours using a rebreather system.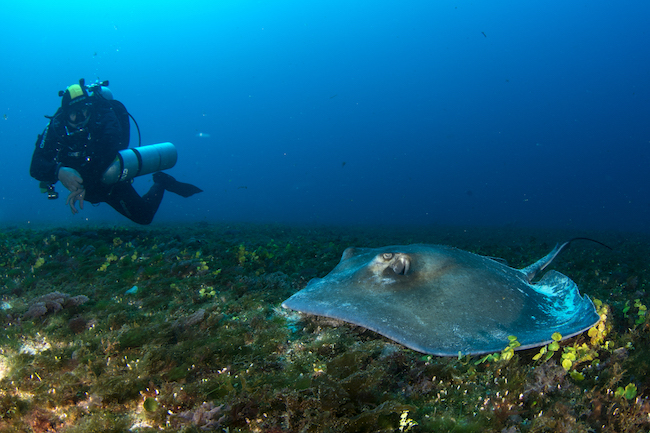 Leo is planning to challenge himself again in March 2017 by setting a new 'disabled' diver depth record in one of the Yucatan Peninsula's famous Cenotes (pronounced say-NO-tays). Cenotes are vertical, fresh-water filled shafts carved from coral limestone by geologic forces over many millennia. These are like sink-holes, but they link intricate systems of submerged caves, pools, passageways and underground rivers. How deep will Leo go? He doesn't know – because no one knows how deep some of the Cenotes really are! However, some are so deep that Mayan civilization thought they were sacred entrances to the underworld, where the gods lived and where their own spirits went after death. The important thing for Leo is that – with every meter down – he will raise more money for charity. (Note: So far, Leo is supporting two charities with this dive: Rotary International and *Grupo Van Volando AC. However, he seeking out additional charities to support, especially those that help veterans or wounded warriors.)
Opening a New PADI Dive Center
Leo is also opening up a new PADI Dive Center in Playa Del Carmen, Mexico in June 2016. Called "A Mar Abierto Scuba". (There are two ways to translate this from Spanish to English: "Open Sea Dive Center" and "To love everyone".) Leo's new dive center will offer training for all divers but will specialize in training divers with disabilities, making use of the innovative new technologies now available to help people move from disabled to dive-abled. "I want to transform the lives of others through diving, as my own life was forever transformed," says Leo.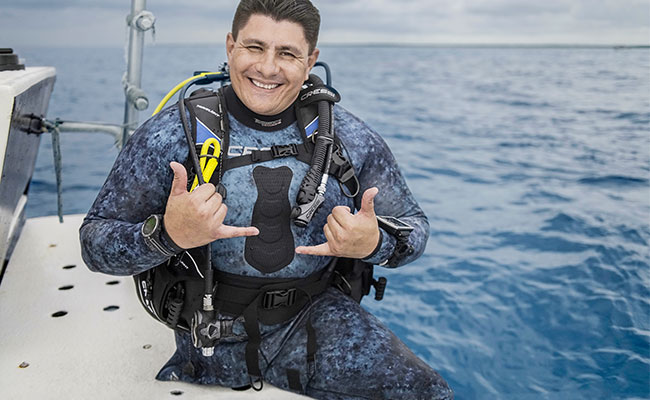 Biography to be Published Later this Year
Leo is currently working on his biography with writer Eric Douglas. Eric also authored the book, Scuba Diving Safety, along with the Mike Scott Adventures series, the Withrow Key short stories and, with Jean Hanna Davis, Keep On Keepin' On: A Breast Cancer Survivor Story.
Leo's biography, titled Dive-abled, The Leo Morales Story, tells Leo's inspiring tale: how he was first misdiagnosed with Sciatic nerve pain and experienced increasingly excruciating pain for nearly three years before finally finding out he had cancer… how he took a leap of faith the day he submitted himself to the surgeon's knife and then woke up feeling that he didn't just lose a leg: he lost a big chunk of himself…his identity. Then, a friend took him diving – and he found a life worth living for, became a PADI Professional and now dedicates his life bringing others from "disabled" to "dive-abled". The plan is to have the book ready in time for the 2016 DEMA show.
What does My PADI mean to you?
My PADI is to create a better world.
My PADI is how I discovered my new self.
My PADI transformed my life and helps me transform the lives of others.
Visit mypadi.padi.com to hear more stories from other PADI divers.