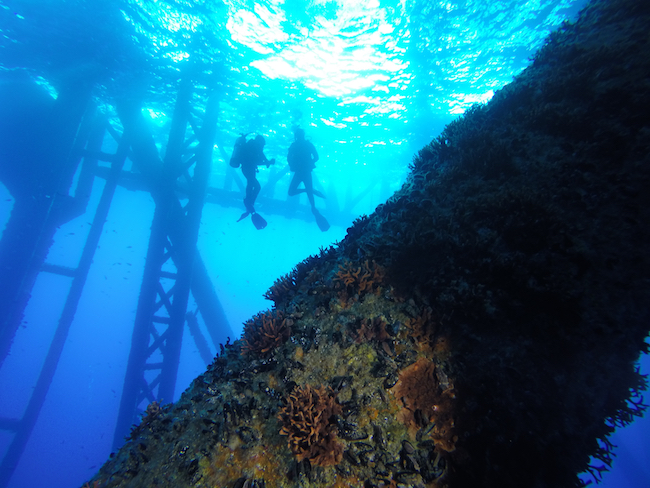 To many people, an offshore oil rig is nothing more than an eyesore. But that bad rep is changing thanks to the efforts of visionaries Emily Callahan and Amber Jackson who are working hard to unveil what really lies under the surface of these giant metal beasts: a healthy ecosystem free of pollution and some of the best diving around.
In 2011, a year after the Deepwater Horizon oil spill caused an outpour of havoc in the Gulf of Mexico, Emily Callahan, then an undergrad in Environmental Science, went to work as a field technician on the BP oil spill cleanup in almost every state surrounding the Gulf including Mississippi, Louisiana and Florida. But no matter where she went she noticed that the local fishermen couldn't stop talking about getting back on the oil rigs – so they could fish.
"The fishing on these platforms is some of the best in the country because there is less runoff and pollution due to its location so far offshore," Callahan says. "The local fisherman can just pull up next to the platform and drop a line in the water. It's some of the best fishing because there aren't any contaminants. Essentially, the fish aren't exposed to pollution so they are healthier. The platforms are major producers of red snapper and other species."
In 2013, when Callahan went on to pursue her master's degree in Marine Biodiversity and Conservation at Scripps Institution of Oceanography in San Diego, the fishermen's tales of a healthy ecosystem stayed in her mind. She finally found a way to put that information to good use when she met Amber Jackson while getting certified as an AAUS Science Diver at Scripps – a requirement for researchers. Jackson, born and raised in California, not only shared her major, but also her passion for ocean conservation.
"It is rare to meet someone who not only shares your passions, but shares the same drive and has a blast doing it!" Callahan says. "Amber and I are a team, and we certainly couldn't do what we have done thus far without each other. In this way, we are dive buddies in life, not just under the water."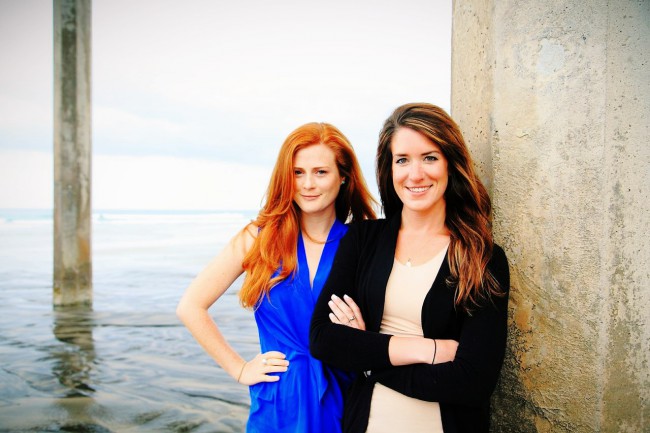 "We were in the same masters program but we really bonded when we took the AAUS Science Diver course because you have to be very physically and mentally present in the water not just with the other scientists but with the equipment that you are using and your measurements," Jackson says. "It was the challenge of that course that brought us together."
It was that shared passion for the ocean that not only created a friendship but an outlet in which the pair could work to preserve the underwater environment they care so deeply about. Thus, Blue Latitudes was formed.
Working in conjunction with Dr. Sylvia Earle's non-profit organization, Mission Blue, Blue Latitudes is able to share the science behind a wide variety of research projects and expeditions. The women have their own YouTube miniseries "ScienceSea TV," they are part of The Explorers Club and they write for National Geographic's Ocean Views blog.
And while both women spend most of their time invested in researching, diving, education and outreach, the one project that is closest to their hearts is the Rigs-To-Reef program – inspired by the fishermen that Callahan had met at the BP oil spill.
"Our main focus is the Rigs-To-Reefs Exploration project," says Jackson. "Not all oil platforms were put here to produce oil forever. When they are done with the rigs the oil company can remove them or convert them to reefs through our program."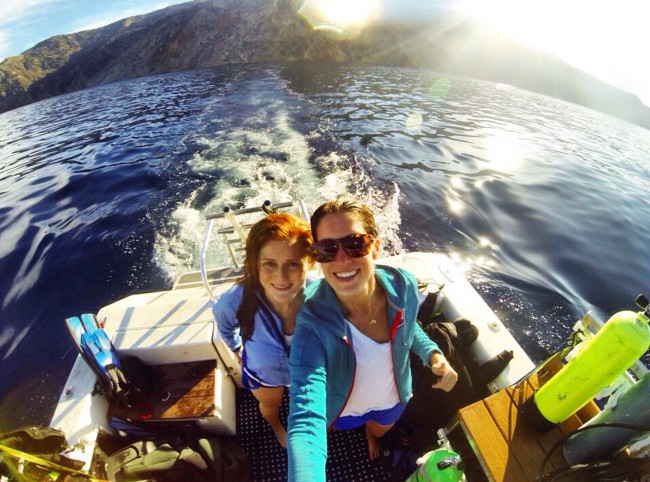 A typical Rigs-To-Reef project consists of cutting the rig at a depth that is safe according to Coast Guard regulations and then maintaining the reef. In general, costs for the oil companies are almost cut in half. The result is not only a protected ecosystem but also a great dive site because the fish are healthy, there isn't any runoff from pollution and no big fishing companies are trolling for fish.
How do the oil companies feel about this? Surprisingly enough, it's the people in the community that look at oil rigs as eyesores that are causing the biggest challenges for Blue Latitudes.
"We receive some hesitancy from the oil companies because the status quo is to completely remove them," says Jackson. "After understanding the process and the costs, the oil companies want to be supportive but they get a lot of pushback from the community. People see a dirty oil platform and that's all they see. A lot of people don't understand the abundance of life that lies beneath the surface."
And while Callahan and Jackson have already taken great strides to prove to local communities in the Gulf of Mexico and California areas that retired oil rigs can actually be good for the environment, their eyes are set to the horizon and their big picture is global.
"There are oil platforms in every ocean," says Jackson. "California and the Gulf of Mexico have taken notice but it's the rest of the world that remains silent on these issues. Our goal is to raise awareness around the world and inspire not only oil companies but the local communities about the importance of protecting these rigs and the life that flourishes on them."
Next on the agenda: In celebration of PADI Women's Dive Day on July 16, the women, along with a group of fellow female scientists and divers, have planned a dive expedition to Coronado Island off San Diego.
"Amber and I get comments about how refreshing it is to see women scientists in the water and it's just not true," Callahan says. "The majority of our friends are divers and women. It's definitely something to celebrate."
Want to participate or donate to the Rigs-To-Reefs Exploration program? Find more information at rig2reefexploration.org.