The island of Bali in Indonesia is without a doubt one of the most famous scuba diving destinations in the world. However, diving in Bali means different dive spots all around the island. If you are a first-time visitor to the island of the Gods, you may have directly put on your itinerary the Liberty shipwreck in Tulamben and meeting the mola-mola near Nusa Penida. However, for people who have time and like to go out of the beaten track, there is an underwater paradise less visited than other dive sites, simply because it is further away on the north-west tip of Bali. Let me introduce you to Menjangan Island.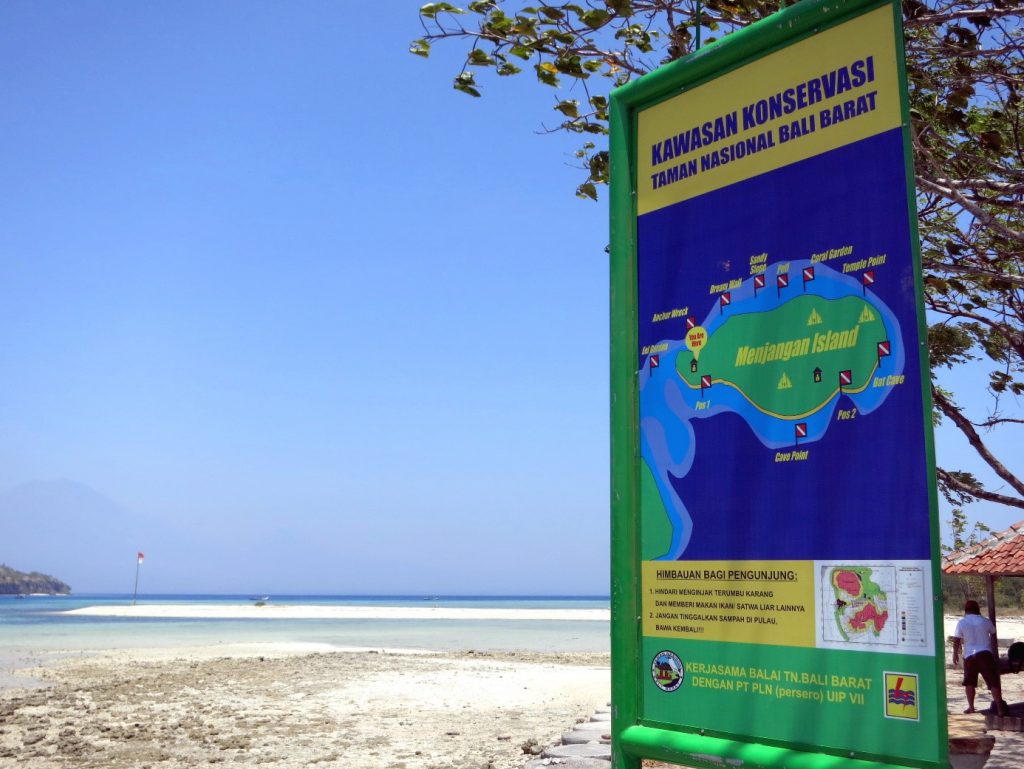 Initially created in 1917 as a regional nature park, Bali Barat became in 1941 one of the very first national parks in Indonesia. The West Bali National Park covers 190 km² which represent 5% of the surface of the island of Bali. Menjangan Island is only a tiny part of this fragile protected area. Thanks to its early protection, the coral reef of Menjangan Island offers rare biodiversity of coral species with more than 110 identified!
The tiny island is surrounded by 11 sites that are all exciting dives including drift diving, wall diving or deep diving. On the day I went diving in Menjangan, I explored Eels Garden and POS II. It was frustrating to only be allowed to do two dives, but I understand this is a reasonable measure to protect the reefs of the island. Between our two dives, we had lunch with plenty of fresh fruits and an incredible view on the volcanoes of the island of Java which is only 20 km away when you are in Menjangan.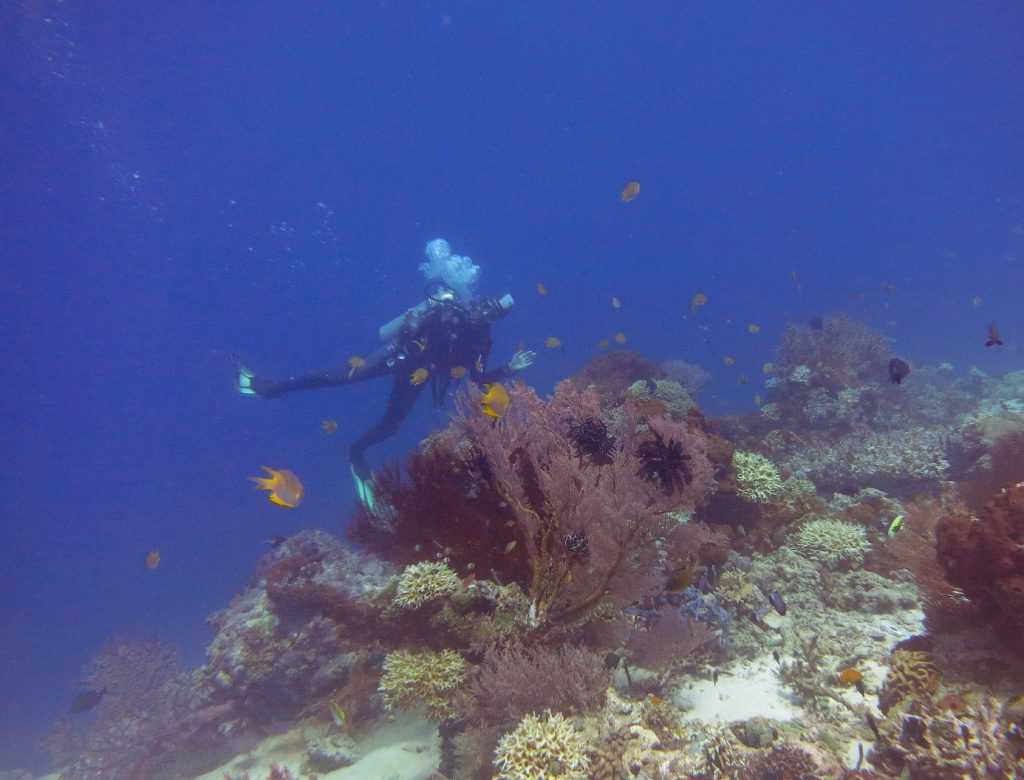 My first dive was at Eels Garden with a maximum depth of 25m. We enjoyed a gentle drift dive for 58 minutes. With an average depth of 15 m, you can admire the coral reef with plenty of sunlight. At our second dive site, POS II, we remained at shallower depths and could extend our dive to 73 minutes. Beyond the colourful hard coral and soft corals, there were plenty of marine critters to look for: frogfish, crocodile fish, clown fish, trumpetfish, razorfish, scorpion fish, magnificent anemone shrimps and Doris nudibranchs.
From Ubud, you can drive to Pemuteran in about 4 hours. This is where most of the scuba diving centres are. It is recommended to stay overnight in Pemuteran, at least after your diving day due to the high altitude of the road between Ubud and Singaraja. Top Travel tip: stop at Pura Ulun Temple on your way back, it is one of the most iconic views of Bali.
Find dive shops in Bali here. And search for resorts on PADI Travel.
---
Author Bio
Florine is a PADI Divemaster and a Dive Travel blogger at World Adventure Divers. She dives in tropical to extreme cold waters, selecting her destinations when both adventure diving and cultural discoveries are part of the journey, and showing you how to do it without breaking the bank.