Home to the UK's highest mountain, nearly 1,000 islands, and the Loch Ness monster, Scotland's wild and diverse landscapes are unforgettable above and below the surface. Here are a few Scottish highlights that you'll want to add to your scuba wish-list:
Scapa Flow, Orkney Islands
Scapa Flow is one of the world's most famous wreck diving destinations, after the WWI German navy scuttled 52 of its vessels in 1919. Today, seven remain, including three monumental battleships: SMS König, SMS Kronprinz Wilhelm, and SMS Markgraf — but with depths of 38-45m/125-148ft, they're reserved for experienced divers only.
But Scapa has something for everyone. Blockships (like the Tabarka), old sailing ships, fishing vessels, and the Churchill Barriers provide a shallower foray into wreck exploration for newer divers. And there's plenty of scenic diving around the Orkney Islands too (such as North Shoal and Old Man of Hoy) where you can encounter soft corals, sponges, crustaceans, sea stars, nudibranchs, fish, and seals.
St Kilda
This remote, volcanic archipelago is around 100 miles from the mainland, and one of Scotland's National Nature Reserves. The diving is remarkably unspoilt and set against a dramatic seascape of caves, walls, and winding crevices. Wildlife is in abundance here too, from smaller invertebrates and crustaceans, to bigger stars such as puffins, seals, and basking sharks. Travel to the islands can be a challenge due to prevailing conditions, but on your journey remember to keep an eye out for dolphins, minke whales, and even orca.
Oban and the Sound of Mull
From shallow reefs to deep wrecks, a trip to Oban is sure to cater for every interest, with easy access to the Firth of Lorne and Sound of Mull, and a plethora of life including anemones, sponges, lobsters, skate, and sea otters. The SS Breda (10-30m/33-98ft) is one of the biggest wrecks in Scotland, with an intact structure and penetration opportunities, while the SS Rondo (5-50m) sits almost vertically in the water. From the shore, Lochaline West Pier's wall descends down to an epic 90m. For an extra thrill, schedule a boat trip to see the infamous Corryvreckan whirlpool.
Western Scotland's Sea Lochs
Sea lochs (tidal inlets) offer excellent shore diving and are especially predominant along the western coast of Scotland. A firm favourite is Loch Fyne, which stretches 41 miles and is the longest of the sea lochs. With an extensive eco-system dotted with reefs, pinnacles, and wrecks, it's home to firework anemones, brittlestars, scallops, squat lobsters, oysters, and even visiting dolphins, seals, and basking sharks. Nearby, Loch Long's history as a WWII testing ground is evident through numerous 'a frame' structures, while Loch Creran features the world's largest serpulid reef. Adrenaline-seekers often head to the Falls of Lora, where rapids caused by topography and tides bring nutrients for marine life and carve through the rocks below, creating a kaleidoscope of shapes, colours and textures to behold.
St Abbs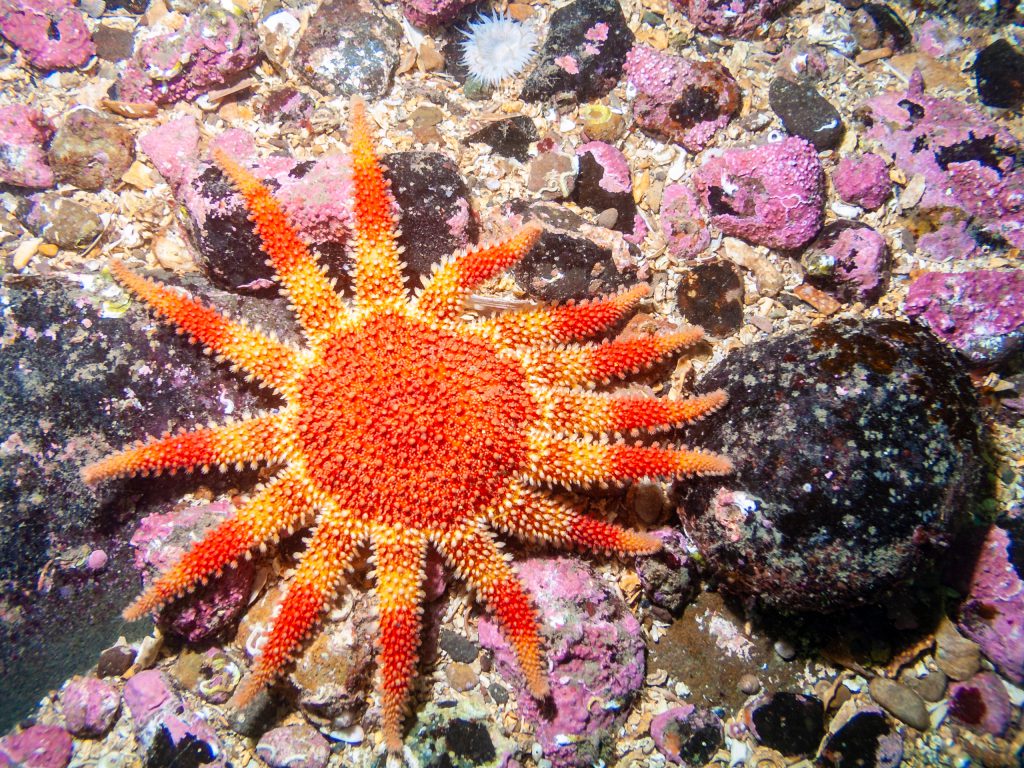 Part of the St Abbs and Eyemouth Voluntary Marine Reserve, St Abbs is said to have some of the best shore diving in the UK. One of the best-loved is Cathedral Rock, which unsurprisingly is characterised by walls and arches, each encrusted with vibrant invertebrates, as well as swim-throughs and mesmerising tricks of light. Around the corner, at Big Green Carr, expect to bump into giant pollock and, if you're lucky, the resident wolffish.
Farne Islands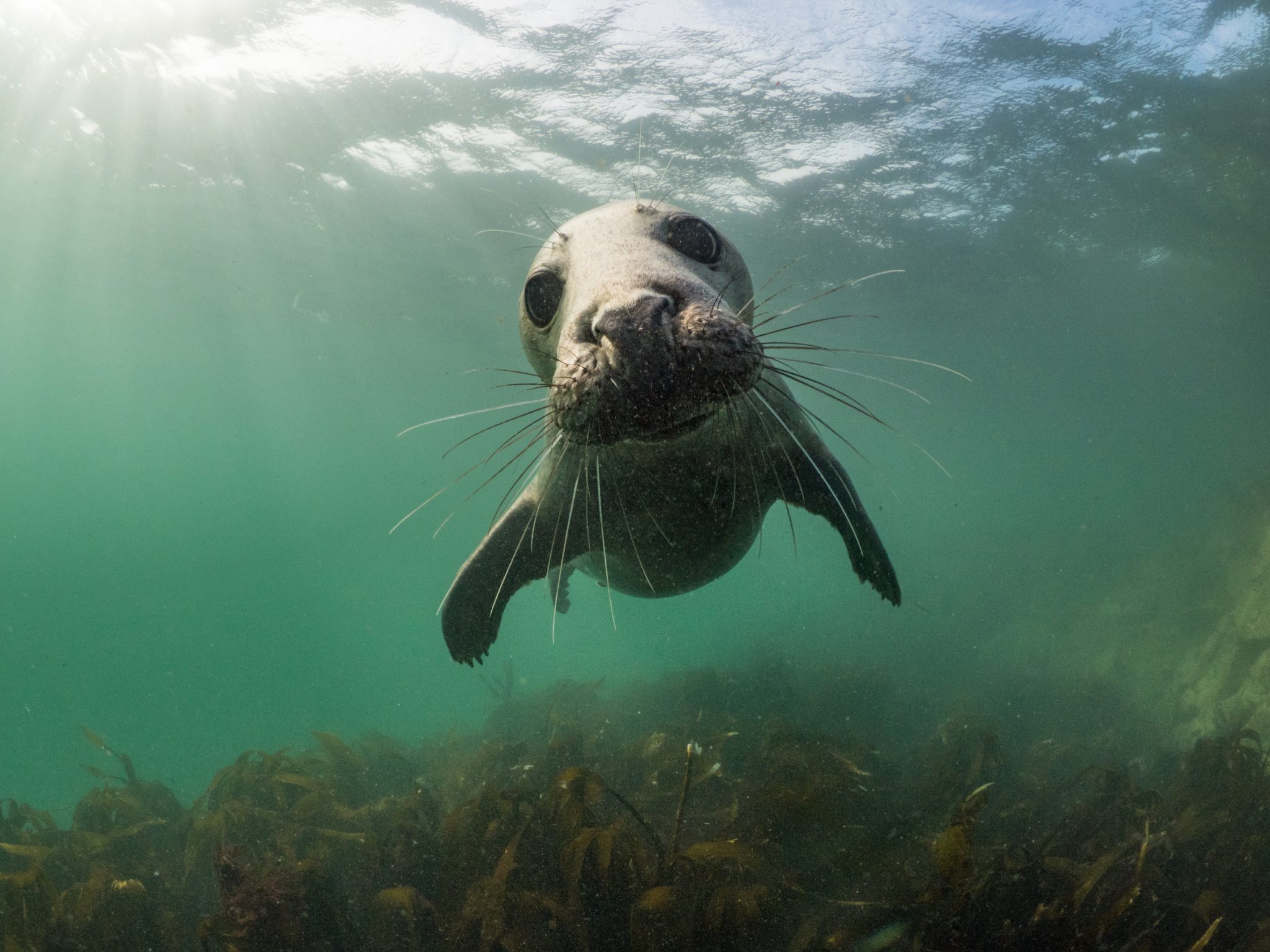 Located off the Northumberland coastline, the Farnes are actually in England, but they're just a stone's throw from the Scottish border and a popular checkpoint for divers travelling up into Scotland. While the islands are surrounded by wrecks and beautiful reefs, the attraction here is clear and simple: seal encounters! There's estimated to be thousands of grey seals in the area, and they're very accustomed to visits by divers. Don't be surprised if you find your fins being tugged by one of these playful residents!
Are you inspired to start exploring Scotland's waters? Visit PADI Travel to learn more about UK diving, and start planning your next trip today!
---
Live Unfiltered in the UK
Prepare yourself for a diving revelation! Learning to dive in the UK and Ireland is the challenge you've been looking for. Not only will it help you to explore the underwater world, it will also help you disconnect from your screens and reconnect with nature and your mental wellbeing. Live Unfiltered and learn to scuba dive in the UK and Ireland.