Whether you've got kids of your own or simply want some peace and quiet, sometimes we all need an escape to one of the best adults-only dive resorts! There's no shame in saying some holidays are best enjoyed kid-free, especially when it comes to diving.
The only decision to make is: where to go? We've done the research for you on some of the best adults-only dive resorts you can book right away. From top-notch luxury at a beachfront Maldivian water villa to enjoying Fijian cooking courses in a luxe ocean-view resort.
---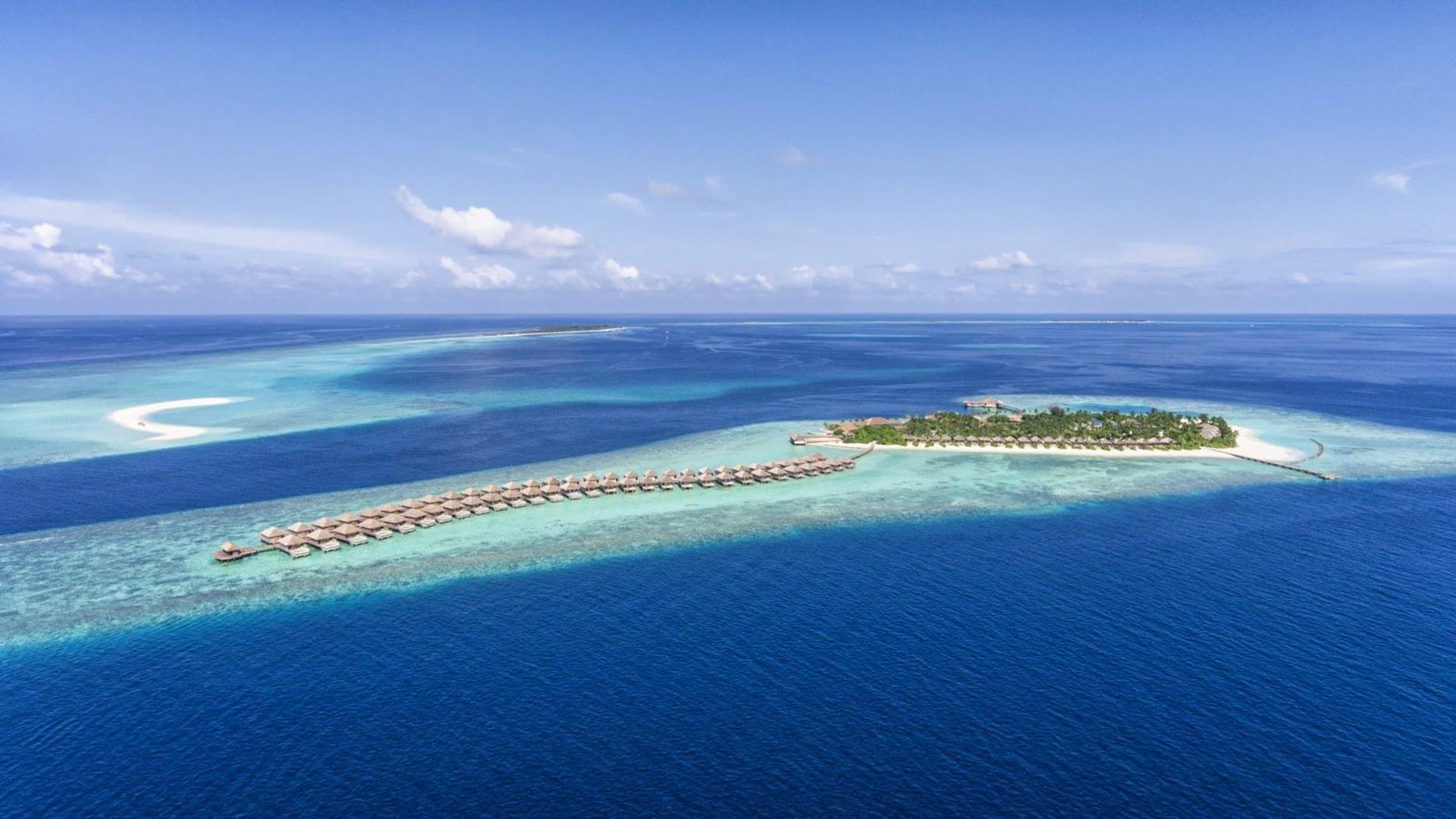 Hurawalhi Dive Resort – The Maldives ($$$$)
Designed by the renowned architect, Yuji Yamazaki, Hurawalhi Dive Resort houses the world's largest all-glass underwater restaurant, which puts it at the top of many Maldives bucket lists. On its own private island, the resort features a variety of private villas surrounded by pristine blue lagoon waters. The waters around Huwawalhi Dive Resort are home to thriving reefs, tons of colorful marine life, and 60+ surrounding dive sites. This is one of the best places in the world for diving with manta rays and whale sharks. As Robin H., a recent guest at the resort, wrote in a review, "Resort is great – great service and great food. Diving great – lots of sharks – which was what we wanted most."
Also, the island is a short, 50-minute flight from Male. And, for those who want to learn more about the underwater environment or get involved with local conservation, there's also a resident marine biologist onsite at the Hurawalhi Manta Trust Marine Biology Center.
Best time to visit the Maldives: November – April
Best time to visit the Maldives for manta rays and whale sharks: August – November
---
Occidental Grand Papagayo – Costa Rica ($$)
For a 5-star, all-inclusive Costa Rican experience, plus a 5-star dive center just a short ride away, the Occidental Grand Papagayo should be your top pick. Above all, Occidental Grand Papagayo is a truly calm resort, free of party vibes (if that's what you're looking to avoid), yet boasting a tranquil private beach and two swimming pools. And, as recent guest Mary K., states, "The staff at the resort [are] very nice and accommodating."
Over 20 dive sites are yours to explore in the local waters, including the famous Bat and Catalina Islands! You'll spot a vast amount of marine life in the surrounding Gulf of Papagayo; think turtles, moray eels, pygmy seahorses, and rays with calm seas and little wind. The area is also visited by a range of pelagics in the summer season, including bull sharks.
Best time to visit Costa Rica for calm seas: August – December
Best time to visit Costa Rica for pelagics: May – November
---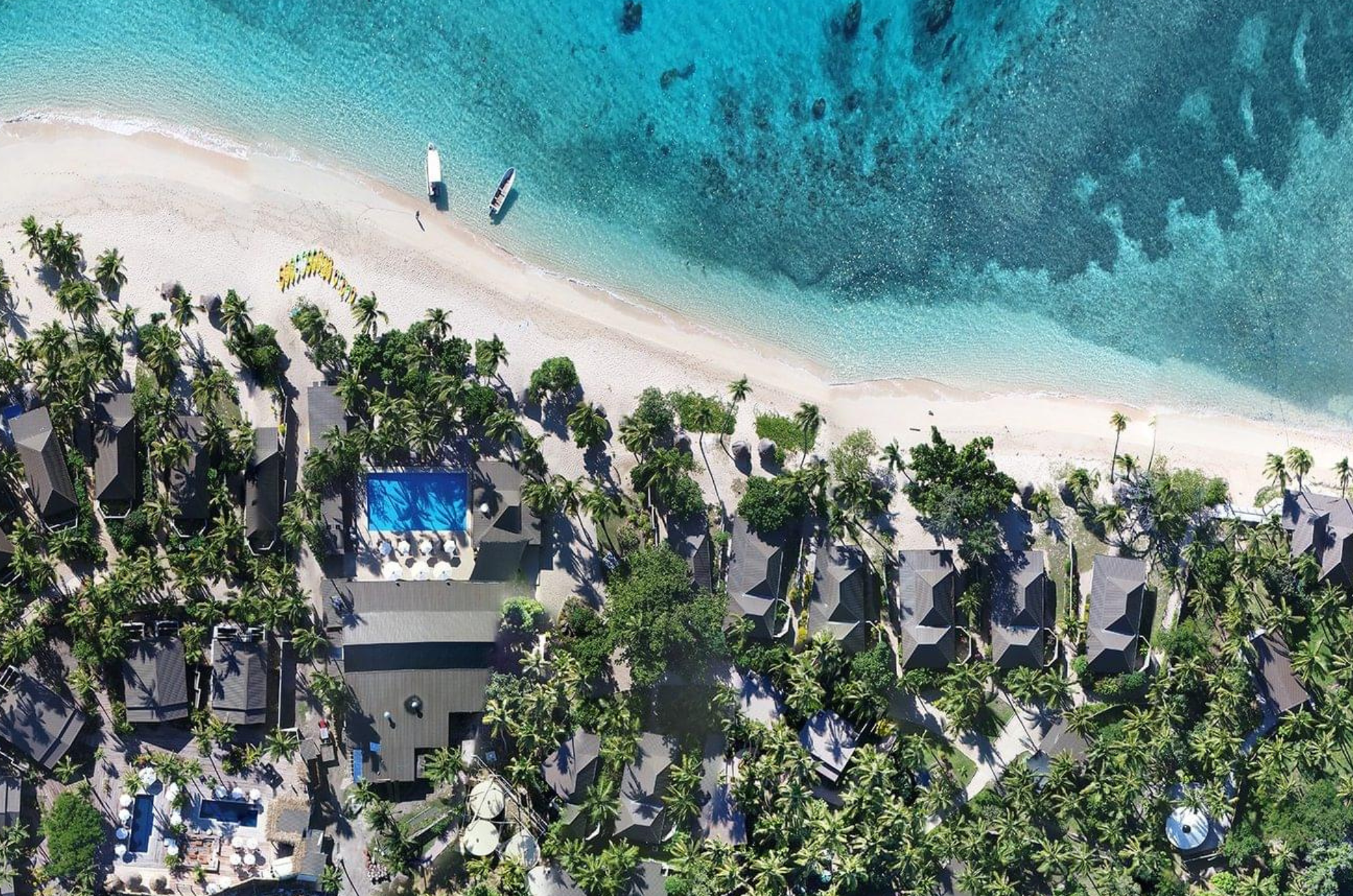 Paradise Cove Resort – Fiji ($$$)
Paradise Cove is a 5-star resort with a luscious variety of romantic onsite activities, making it an ideal honeymoon getaway. After diving alongside local white-tip, black-tip, and grey-tip sharks, you can indulge in an onsite Fijian cooking lesson. Or, rest up as you witness a sacred Kava ceremony. Furthermore, for wreck lovers, there are two great sites nearby this resort plus 33 additional dive sites within 25 minutes of the dive center. Lastly, an onsite wellness spa provides guests with the icing on the top of the cake when it comes to ultimate relaxation in Fiji.
Best time to visit Fiji: July – September
Best time to visit Fiji for crystal clear visibility: April – October
---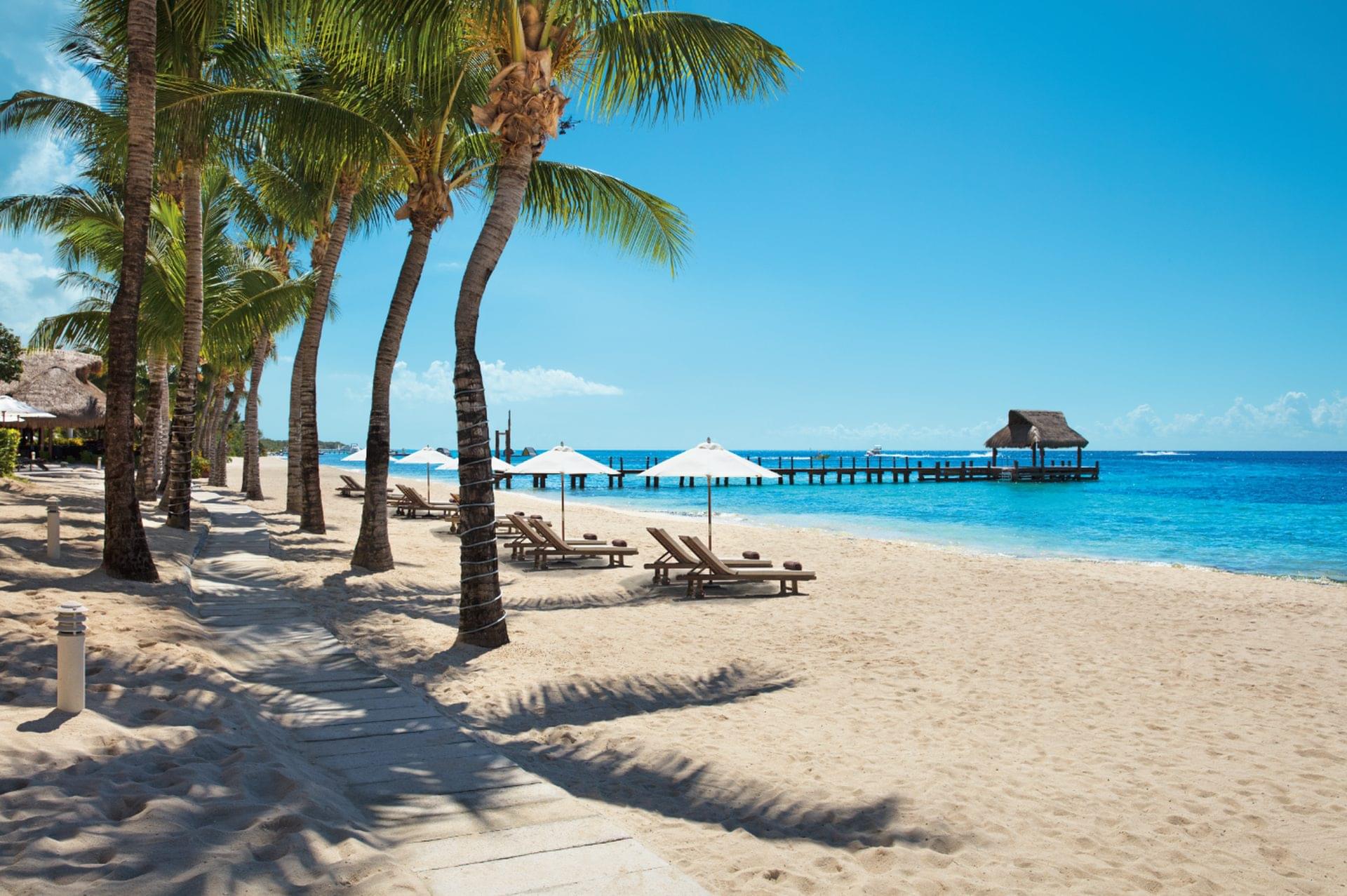 Secrets Aura Cozumel – Cozumel, Mexico ($$)
Secrets Aura Cozumel is all about swim-up rooms, all-inclusive dining, and stunning, large marine life. It also boasts a sublime beachfront setting with its own jetty to take you to nearby dive sites. Common marine life sightings here include dolphins, sharks, turtles, rays and tropical reef fish. And during the winter months, eagle rays grace many of the area's dive sites. Plus, the onsite, 5-star dive center has a 4-to-1 student-to-instructor ratio, so you'll avoid mass groups during courses. Aside from diving, Secrets Aura hosts daily activities and nightlife events onsite. There is also wait service available at the pool and beach, as well as 24-hour room service!
Best time to visit Cozumel: March – June
Best time to visit Cozumel for eagle ray sightings: November – March
---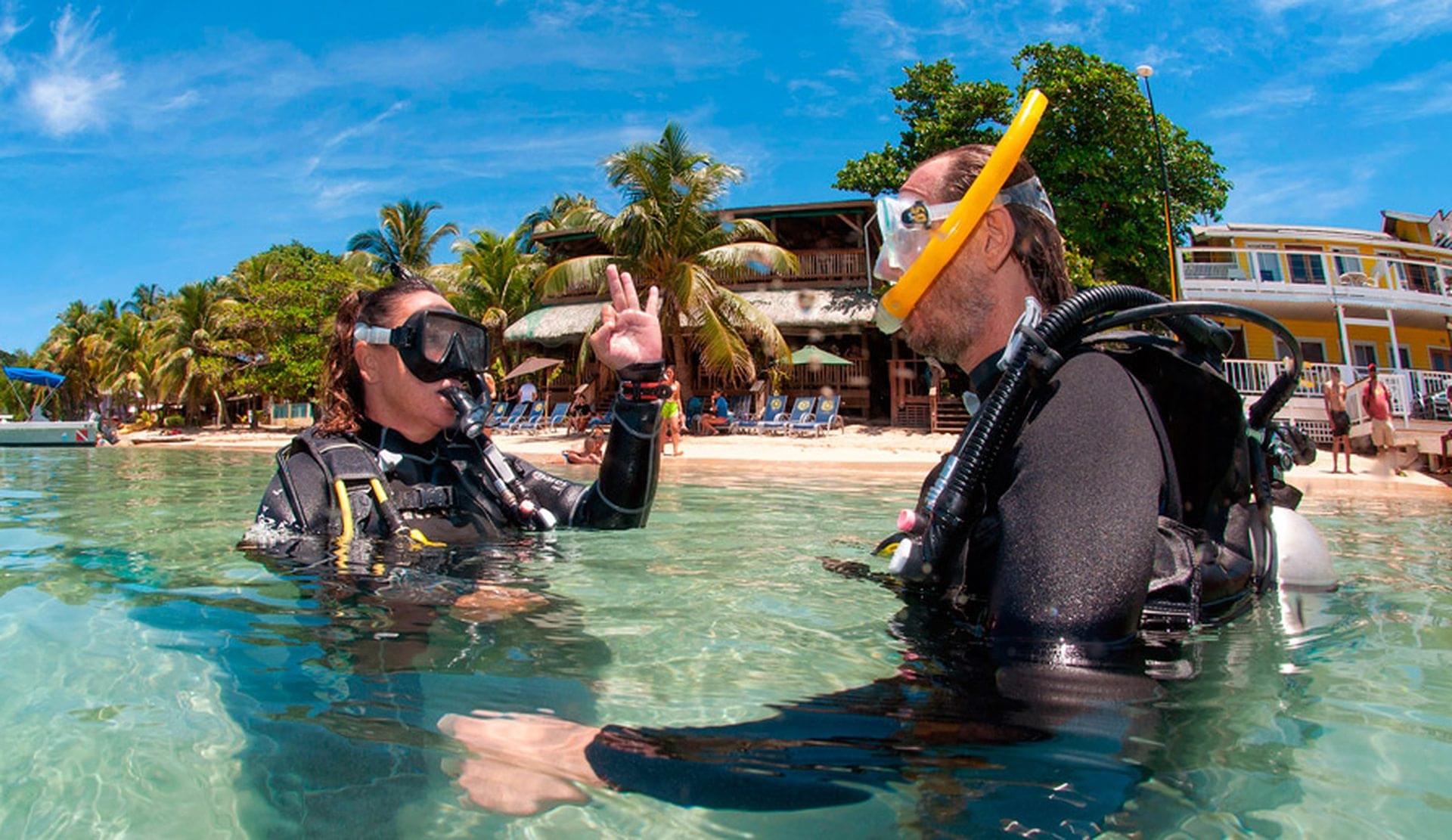 Naboo Resort – Roatan, Honduras ($)
Naboo Resort's location could not be any better in West Bay in Roatán. 80 dive sites (yes, you read that correctly) on the surrounding Mesoamerican Reef are within a 15-minute drive from the resort by boat, and during the right season, you might even see a whale shark while you're on any given dive. Furthermore, the onsite, 5-star PADI dive center has a multilingual staff and its own boat to avoid any waiting times for commercial dive boats to arrive. Michael S., a recent PADI Travel guest at the resort, remarks, "As for the attached dive shop, it was an excellent-run operation. The dive staff was friendly and knowledgeable, and everything was on time."
Naboo is a family-owned resort with just 18 modern rooms. It's certainly a peaceful escape, ideal for those looking for awesome diving and few crowds. Last but not least, the entire resort is shielded from the busy surrounding beach by a soothing tropical garden.
Best time to visit Roatan: December – May
Best time to visit Roatan for whale sharks: February – April
---
Ready for Your Adults-Only Escape?
If you're intrigued and ready to jump on your flight to Roatán, Cozumel or even the Maldives, get in touch with PADI Travel. The team of dedicated Scuba Travel Experts is on hand 24/7 to help answer your questions and find the right diving holiday for you!