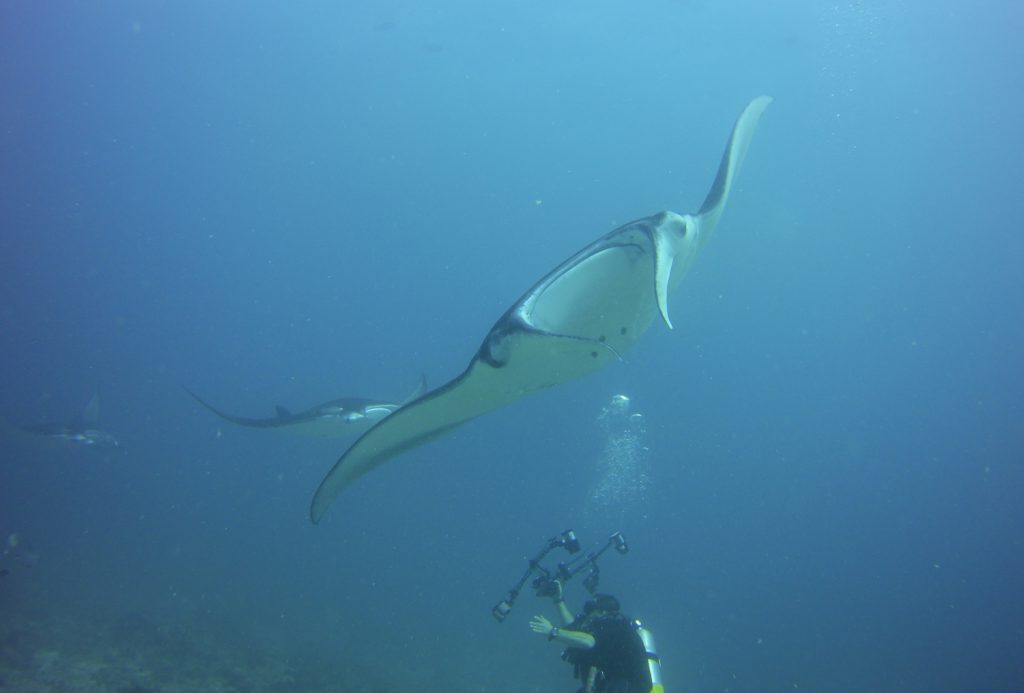 Written by Robert Currer
They're huge. The thought filled my skull as my eyes widened in my mask. Three manta rays were spiraling below me, growing ever closer as each second of my descent passed. Awestruck, I couldn't take my eyes off these graceful gliders even as I fumbled to ready my camera. There was a power there, but a gentle one. The sense wasn't of the taut, controlled muscle of a predator, but rather of a creature so elemental that it had no need for raw displays of dominance. The massive rays exuded instead a force of subtle restraint. Here was art made live and the ocean personified.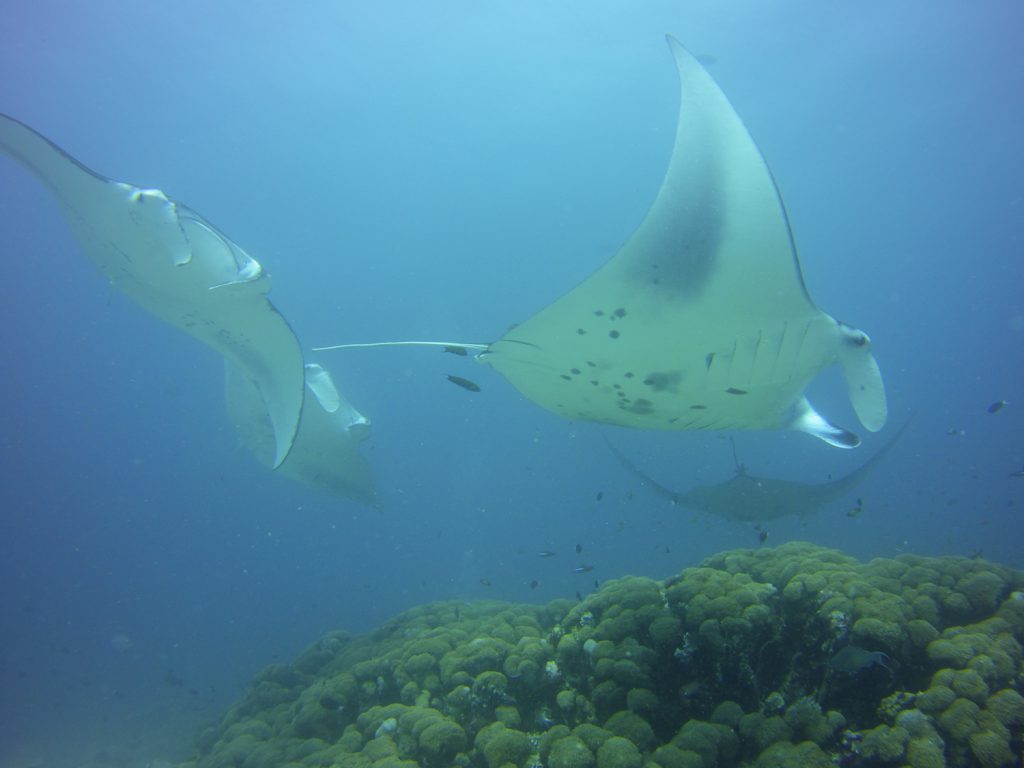 We reached the bottom and I exhaled raggedly into my SR2. The regulator mirrored my breath patiently as I worked to slow the excited sprinting of my pulse. The mantas were all around us now, passing and dancing over the cleaning station in front of us before making wide arcs around the dive group. Again, I found myself feeling comfortably small in a big ocean. The sheer grandeur of the beauty around me was staggering. I had no idea how I would begin to express all that wonderment armed with only a camera, but I set to work trying. I did my best.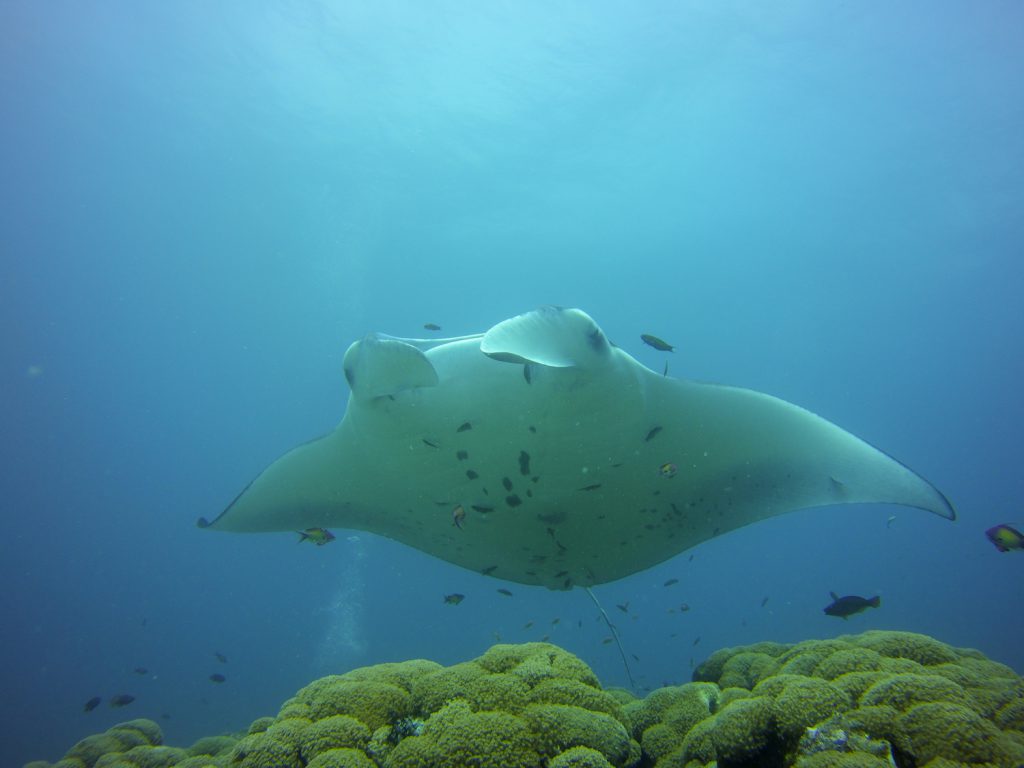 Back on the boat, it took several minutes for the adrenaline to die down. I had been so excited that I had giggled manically into my regulator for much of the dive. My mind, usually a swirling torrent, had feverishly focused on nothing but the creatures around me. Yet post-dive, that focus had begun to melt away in to a quiet, dreamy euphoria and I settled in to watch the water while the sun massaged my face. I had been certified to dive thirteen years earlier; my languid thoughts couldn't help but notice the parallels between the rapture of the day and what I had felt on my first dive all those years ago.
Life is too fleeting to waste
It's a marvel that over a decade of diving hasn't dulled the excitement the ocean inspires in me. What started out as the directionless yearnings for adventure of a teenage boy has now transformed into a career. Still, I had actually avoided going pro for years. I feared that if I made diving my livelihood that I would in turn lose my love of it. However, the weekend warrior lifestyle chaffed. I spent all week fantasizing about travel and adventure, but when the weekend finally came I was so worn out by the grind that I hardly had the energy to slake that thirst for excitement.
Finally, the boughs broke. What had been growing discontent plummeted into a deep and dark depression. Change was needed. My resignation was tendered and a new visa was added to my passport. With that the comfort of DC faded to the unfamiliarity of Guinea, a West African country where I started teaching middle school. The fears and worries that had held me back were scrubbed off in that red soil. When I returned, I was finally ready to follow a decade of passion; I enrolled in the PADI Divemaster program and never looked back.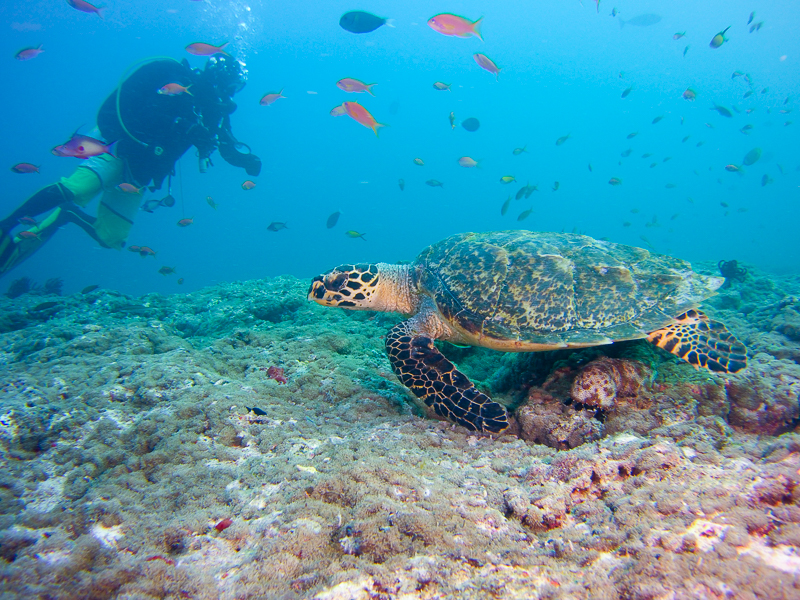 A gateway to the best parts of life
In the intervening years, I've continued my pro training and currently hold the PADI IDC Staff Instructor certification. Often, I have wondered why I had been so worried about losing my love of diving and the sea. Indeed, that couldn't have been farther from reality. I love what my life has become. I live in Northern Virginia, outside of DC, I dive full-time, and travel regularly all over the world. I even got paid to go see those mantas.
The real punchline though is that this could be anyone's life. There are PADI dive centers all over the world that conduct pro training and there are literally hundreds of dive positions in nearly every corner of the globe. So if you, like me, are weary of the grind and want to do something that you truly love, then do it. Call your local PADI dive center and ask about going pro. Let diving change your life.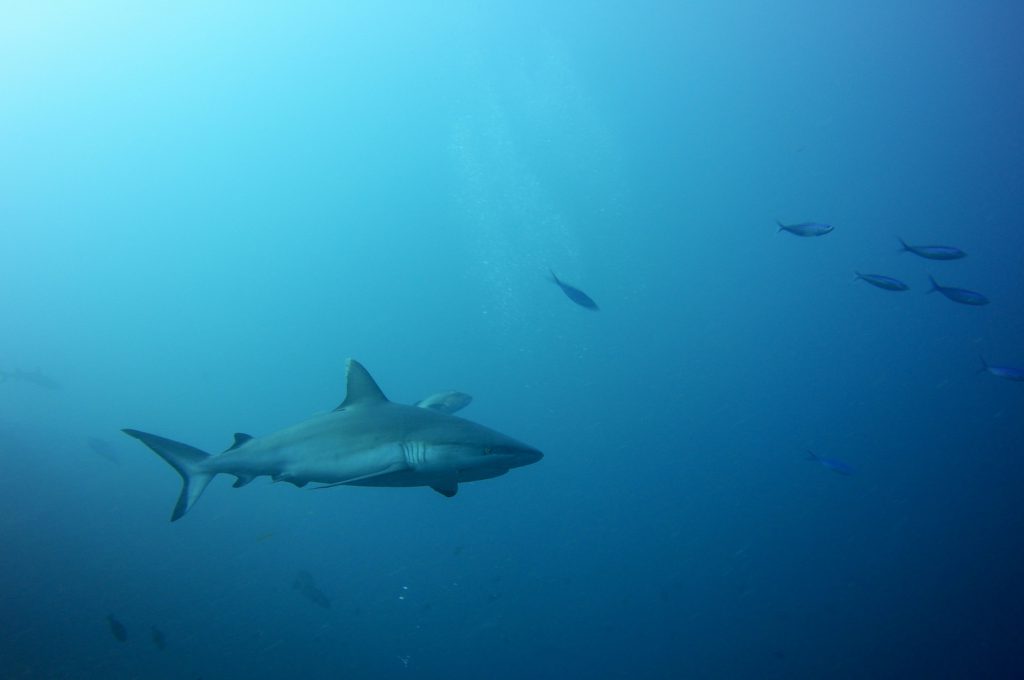 Learn more about PADI Pro certifications here.