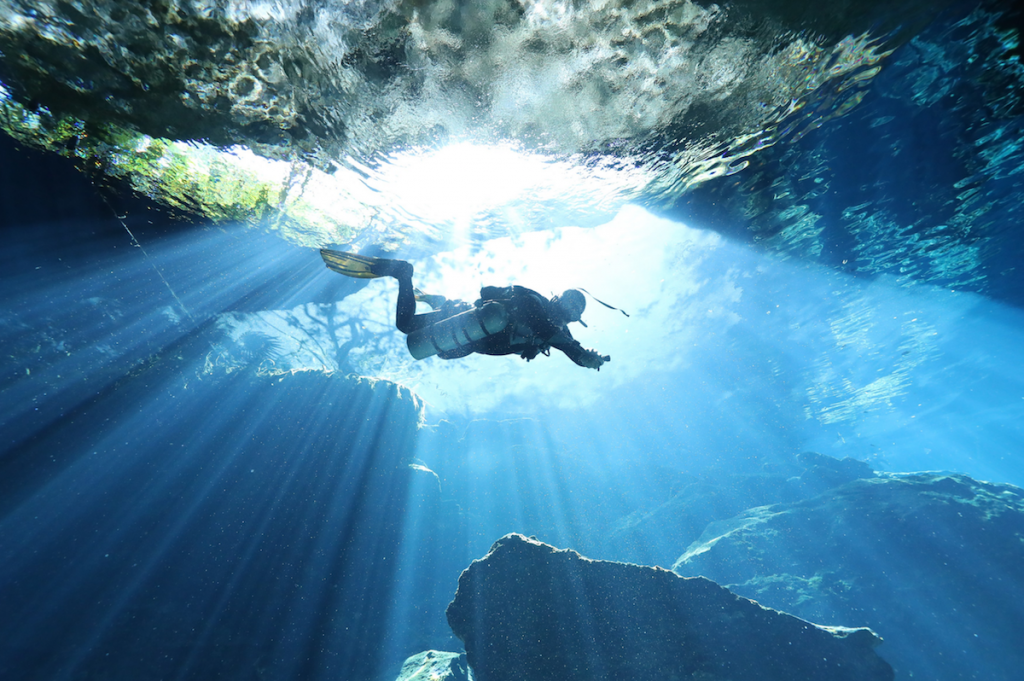 Written by Shawn Mahoney
In late 2014, my wife and I went to Playa Del Carmen, Mexico to celebrate the wedding of our friends Liliana and Michael Cook, but we also had a little secret of our own. As a diver of more than a dozen years, my bucket list was long so I turned to Anita and Pablo at Scuba Playa to help me check the mystical Cenotes off my list. I was the only diver that day, so I asked my instructor, Pepe Urbina Bravo, if he could help me do something special, create a cinematic underwater film revealing the gender of our first baby to be born in April of 2015. Pepe was ecstatic to help and in the end my nephew, Adrien, and niece, Iris, said they felt like they were watching a Hollywood movie.
This got me thinking and since then, with the help of the Rob Duncan and the folks at Backscatter, I've created Beacons Films, an adventure film company that divers can hire to record their expedition and produce a film in 4K cinematic fashion. With that, I knew I needed to show potential clients the quality of my work so once again, I turned to my now good friend Pepe and Scuba Playa to help me kick off Beacons Films.
It is here in the cenotes, majestic underwater caverns, where the natural underground fresh water and the salt water of the sea meet. Get a rare and exclusive look at the cenotes, wondrous underwater caverns of the Mayan Riviera in Mexico. Filmed in Playa Del Carmen, Mexico and the surrounding areas.
Edge of the Sea from Beacons Films on Vimeo.
A cenote is a natural pit resulting from the collapse of limestone bedrock that exposes groundwater underneath. Within many are natural formations dangling majestically from the ceiling, stalaglites, and penetrating up from the floor below, stalagmites. Each took over 100,000 years to form so it is very important to be careful and respectful to not touch them as a simple touch could cause them to perish.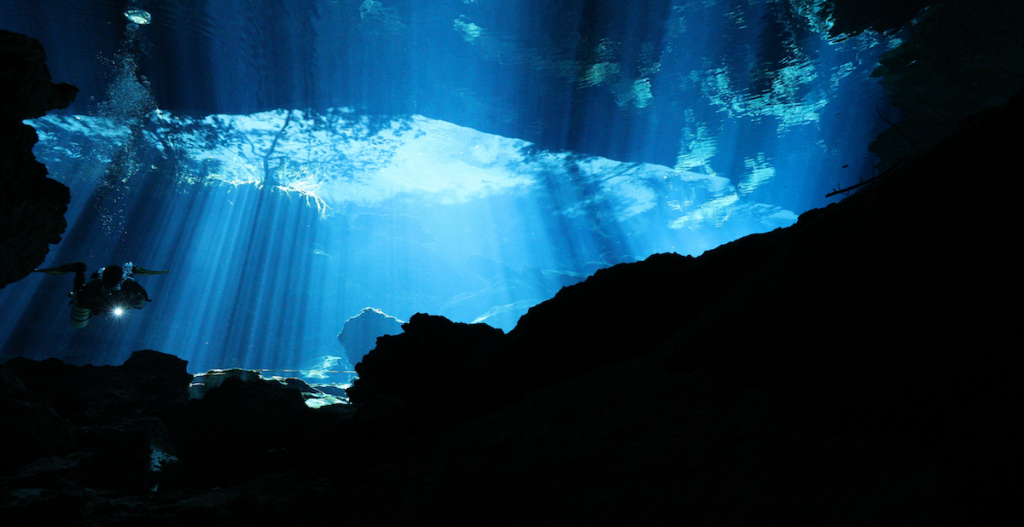 Cenotes filmed in order of first appearance: Angelita, Kukul Kan, Chac Mool, Dos Ojos.
– Filmed by Pepe Urbina Bravo and Shawn Mahoney, edited by Shawn Mahoney.
– Shot on Canon 1DX MKII.
– Housing by Nauticam.
– Lights by Gates Underwater Products: Dual G14's @14,000 lumens.
– Lens 1: Canon 16-35mm f/2.8L III in cenotes Kukul Kan, Chac Mool and Dos Ojos.
– Lens 2: Sigma 15mm f/2.8 EF DG fisheye in shipwrech, open ocean, and cenote Angelita.
– Aerial footage on DJI Phantom 4, DJI Osmo used in a few land shots.
– Music licensed via Musicbed: Future of Forestry – Edge of the Sea.
Learn more about Beacons Films.
Looking for more on diving in Mexico? Check out this recent PADI trip to La Paz.