If you want to try scuba diving but aren't ready to commit to a certification course, you have a few options: a PADI® Discover Scuba Diving® experience (also known as a DSD®) and…other programs.
Other programs have names like "try dive" and "resort course," but these aren't necessarily the same as a PADI Discover Scuba Diving experience. Make sure you know what you're signing up for. There is no such thing as a "PADI try dive" or "PADI resort course."
You might be thinking, "If the dive shop has good reviews, but they don't specifically offer PADI Discover Scuba Diving, does it really matter?" Yes, it does.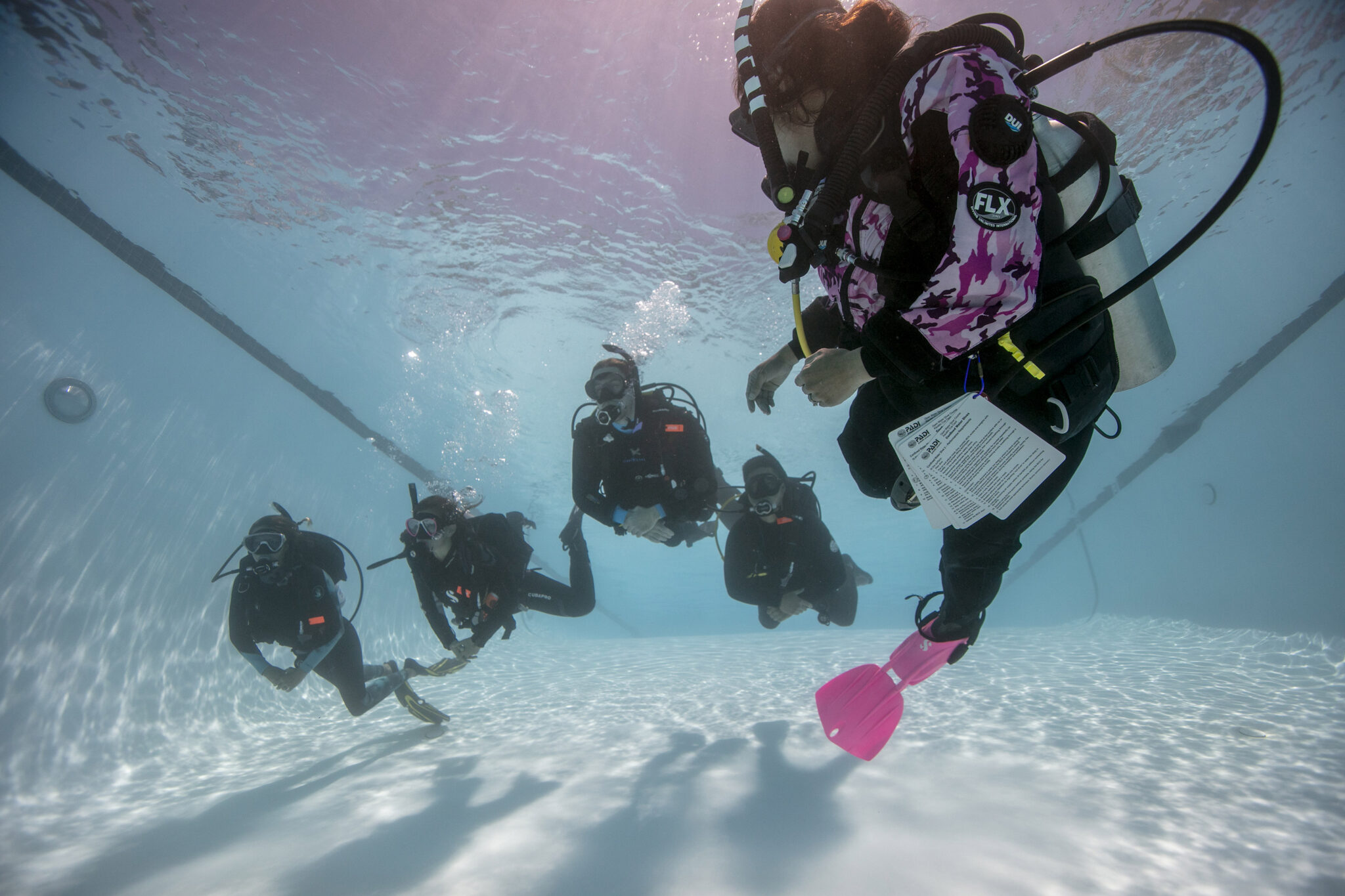 Have you ever bought something online that had good reviews that turned out to be not-so-great? I did.
This is kind of embarrassing, but I bought an off-brand, sunlight therapy lamp, and it gave me a sunburn on half of my face. My friend recommended a HappyLight brand therapy lamp, but did I get that? No, I did not. I chose something that had good reviews but cost less and ended up damaging my body.
I'm not saying PADI Discover Scuba Diving experiences cost more; sometimes they do and sometimes they don't. The point is, when you're buying something that can affect your physical well-being, get the real deal. Don't choose the off-brand thing that is like the thing you want.
---
Try Dive vs. PADI Discover Scuba Diving
PADI's Discover Scuba Diving experience (DSD) is an established program for people who want to try scuba diving without investing in a full scuba certification course. It's a great option if you're not sure whether you'll like scuba diving.
The PADI Discover Scuba experience is sometimes referred to as a "try dive," or "discovery dive," because, let's face it, "the PADI Discover Scuba Diving experience" is a bit of a mouthful. Before you register, just confirm that you're enrolling in a PADI Discover Scuba Diving program and not Megan's Magical Underwater Mystery Tour.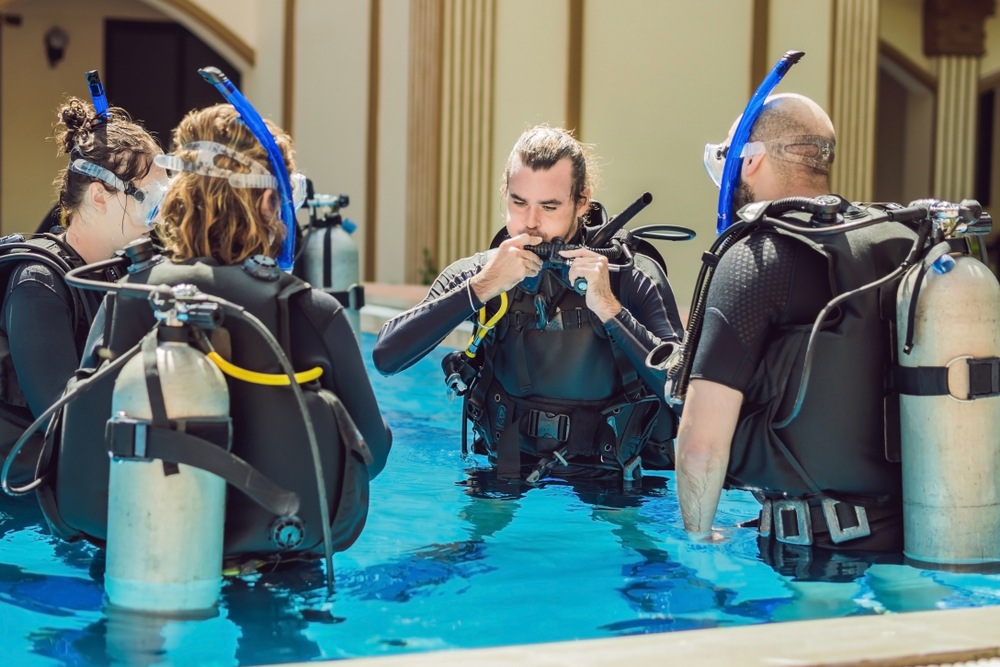 The PADI Discover Scuba Diving experience is designed for people with no scuba diving experience. You'll take your first breaths underwater, play around and have fun with the best-designed introductory dive experience.
For example, your Discover Scuba Diving leader is not allowed to have more than eight participants in the pool and four in open water, unless they are assisted by another instructor or qualified dive leader. There are also depth limits:
6 meters/20 feet for the initial pool session with access to shallow water you can stand up in for the first part
12 meters/40 feet for the optional open water dive
Another important difference: you can apply your Discover Scuba experience toward a PADI Open Water Diver certification. Be sure to tell your instructor if you're interested in this option before you start your in-water training.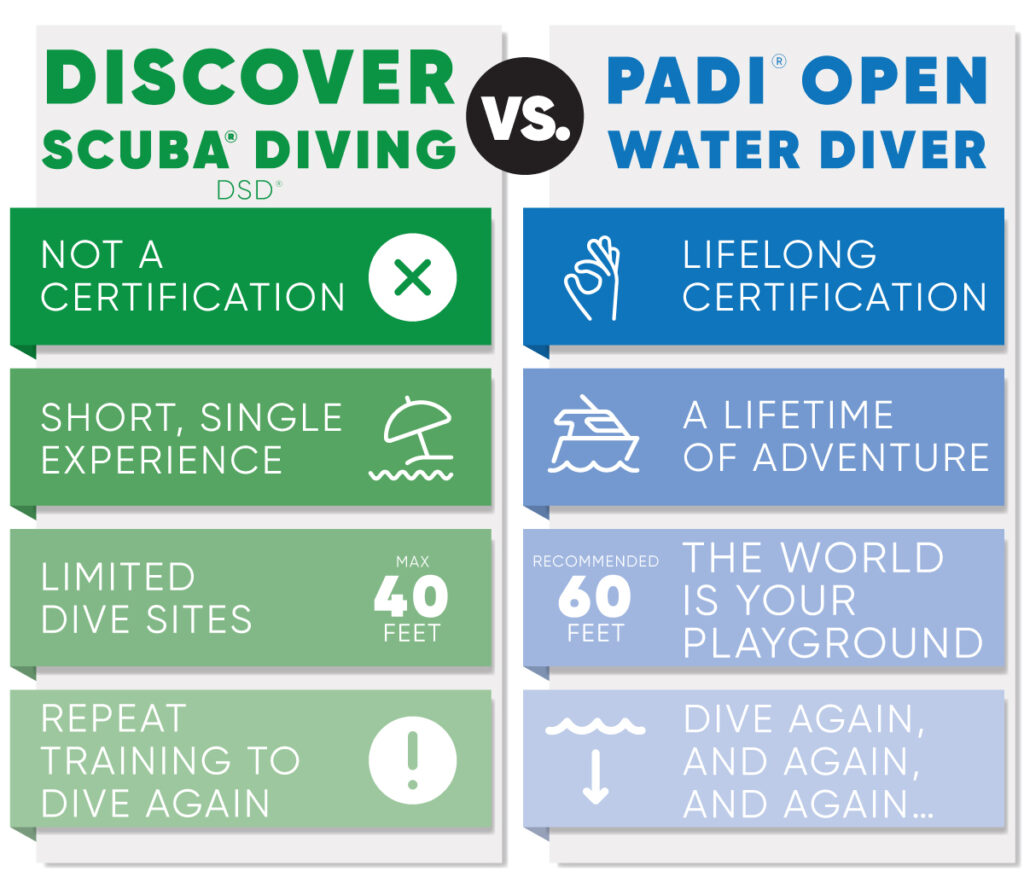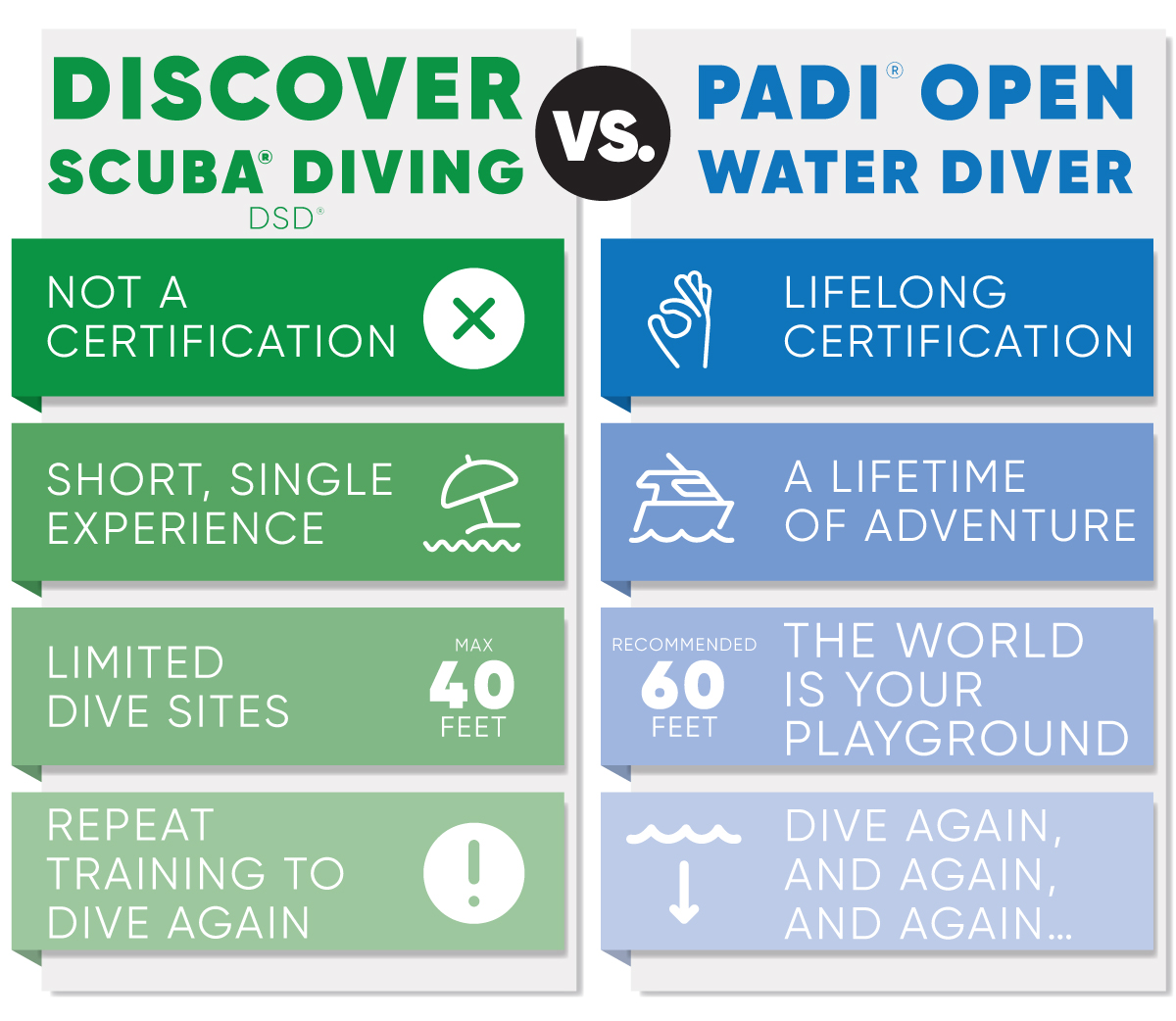 ---
What to Expect During Your PADI Discover Scuba Dive
Before getting in the water, you'll learn about the equipment you'll use, some underwater hand signals and other scuba diving fundamentals. You can do this before you arrive (ask your instructor about PADI Discover Scuba Diving eLearning™) or at the dive shop.

Next, a PADI Pro will help you put on scuba gear and ensure it fits properly. In shallow water, you'll learn how to:
Use your BCD (an inflatable vest for controlling buoyancy)
Clear water from your mask and regulator
Equalize your ears
Recover the regulator if it falls out of your mouth
Breathe underwater
If you're interested in applying your Discover Scuba Diving experience toward an Open Water Diver scuba certification, your instructor will teach you some additional skills. Watch this video to learn more about getting scuba certified.
Then comes the fun part! Enjoy swimming around the pool or body of water with pool-like conditions. When you feel comfortable, you can go into deeper water with your instructor – to a maximum depth of 6 meters/20 feet. 
Optional Open Water Dive
In case you're wondering, "open water" refers to any large body of water (the ocean, a lake, a quarry, etc.). While most people make their open water dives in the ocean, you can do a DSD optional open water dive anywhere with calm conditions, including hot springs or a placid river.
The maximum depth for an open water dive during a PADI Discover Scuba Diving experience is 12 meters/40 feet, but you don't have to go that deep. A Discover Scuba dive typically lasts about 30 minutes. Your DSD leader will explain how to monitor your breathing gas and the lowest acceptable level you can get to before calling an end to the dive.
Altogether, a Discover Scuba Diving experience with an open water dive takes about 2-3 hours.
---
Ready to Take the Plunge?
Breathing underwater is something you'll never forget. Contact a PADI Dive Shop or PADI Professional for access to the DSD eLearning and to schedule your PADI Discover Scuba Diving experience.
---
Go Deeper