Diving in Jervis Bay, NSW, Australia.
Jervis Bay is famous for its pristine coastal wilderness which includes the amazing diving on offer in the region. Located just two hour's drive south of Sydney, the area is a hidden gem waiting to be explored.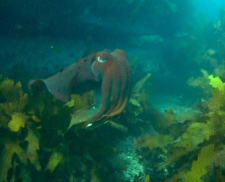 This must-visit dive location boasts over 30 dive sites to explore with many of these dive sites being protected by the stunningly large cliffs of the region. There is a vast array of unique marine life including rays, octopus and cuttlefish (pictured).
Seasonal diving with Australian Fur Seals is another reason that Jervis Bay has gained a reputation as a top dive destination of Australia. These playful creatures are extremely inquisitive and enjoy mimicking divers as they explore the many sites. Encounters with these cute creatures is a memory that will last with you forever.
Featured Dive Sites:
The Docks – This dive site has a great mix of kelp beds, boulders, swim-throughs and small caverns. It is also teeming with marine life such as Bleekers Devil Fish, Eastern Blue Gropers, Weedy Sea Dragons and the elusive Red Indian Fish. The site depth ranges from around 6 – 20 metres/20 – 65 feet.
Point Perpendicular – This dive site is actually made up of a few different sites and home to a great range of marine life. There are a number of good swim-throughs on many of these sites and an abundance of fish which call the smooth boulders home. The site depth ranges from around 6 – 35 metres/20 – 115 feet.
SS Wandra Wreck – Jervis Bay also offers a taste of wreck diving and this broken up wooden ship is an excellent dive site to explore. An array of marine life now call the wreck home including the colourful Blue Dragon nudibranch. The site depth is around 28 metres/90 feet.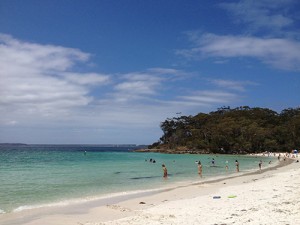 Above the surface, you will be spoilt by the natural beauty of the area. The National park wraps itself around Jervis Bay, St Georges Basin and the ocean. The white sand of many of the beaches including Hyams and Murrays Beach must be seen to be believed. The sand is some of the whitest in Australia.
There are a number of stunning walks and kangaroos are regularly spotted throughout the National Park and surrounding beaches. There is a great range of accommodation on offer ranging from camping through to luxury houses to rent.
It's a great place to dive, whether you're looking to learn or an experienced diver looking for world class diving close to Sydney.
Want to know more about diving in Jervis Bay or book a dive? Contact a PADI Dive Shop below and let them show you this piece of paradise!
Ocean Trek Diving Resort: www.oceantrek.com.au – PADI Five Star Instructor Development Dive Resort.
Dive Jervis Bay: www.divejervisbay.com – PADI Five Star Dive Centre.
Ulladulla Dive & Adventure Centre: www.ulladulladive.com.au – PADI 5 Star Dive Centre.
You can also contact your local PADI Dive Shop regarding organized dive trips to Jervis Bay.