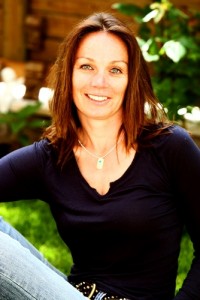 Since 2008, PADI Course Director Szilvia Gogh has appeared in movies, TV series, commercials, music videos and even video games, using her diving skills to help tell stories on screen. And it seems that her actor colleagues think that she's got a job to be jealous of. "Most everybody is envious, as we often get to do the coolest things on the movie set," Gogh says. "At the end of the day, we get to play in the water all day AND get paid to do that."
For Gogh, the drive to dive has always been strong. She started diving as soon as she was old enough to get certified, and by the time she was 21, she'd logged over 1,000 dives. After learning English, she became a PADI Instructor and continued diving until she'd logged more than 5,000 dives and achieved the prestigious PADI Course Director rating. After years of hard work, here's how Gogh describes  her big break:
"One day a talent scout stopped by my old dive centre in search of girls who could swim in the ocean for an upcoming Axe Commercial. Swimming in a bikini is not difficult, but to do it all day long in 10ºC water proved more challenging.
The day began with 50 girls. By noon most of them were either seasick from waiting on the boat for hours between shoots or had severe hypothermia. By the end of the day, only a teenage lifeguard and I remained, and thanks to her connections, we became part of the Screen Actors Guild (SAG) pool of stunt-women."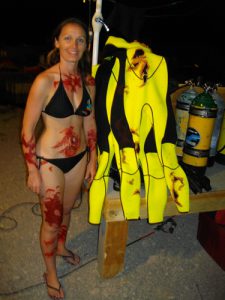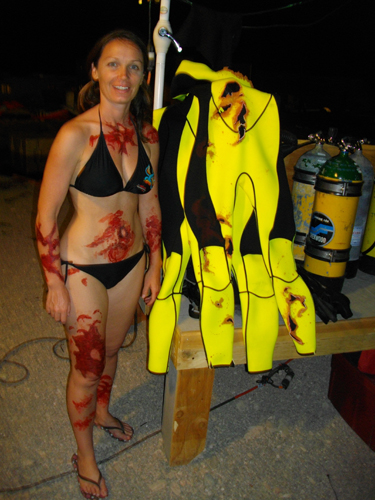 Here are some of Szilvia Gogh's recent gigs:
Sinister Movie, 2012 (stunt, acting)
Big Miracle Movie, 2012 (stunt double for Drew Barrymore)
Powerade Behind the Athletes – Olympics 2012, Commercial (Marine Coordinator)
Bangkok Five Music Video, 2011 (water safety)
Escape from Ravenhearst, 2011 Video Game (Marine Coordinator)
The Green Hornet Movie, 2011 (stunt driver)
Piranha 3D Movie, 2010 (stunt double for Dina Meyer)
Desperate Housewives TV series, 2010 (water safety)
Gogh passes on some words of wisdom for divers hoping to make a career segue like hers. "I have been fortunate to work with Alex Daniels, one of the most respected and busiest stunt coordinators in the business. When I asked him what it takes to be a good stunt diver, he said, 'Develop every possible skill. A good stunt man is specialized, yet has complete skills.'" She advises that anyone who wants to work on movie sets should be trained as PADI Rescue Divers with Enriched Air Nitrox certification, and that for water safety, divers should be a PADI Divemaster or Instructor.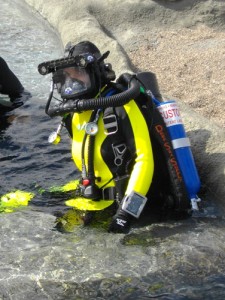 Gogh is also passionate about helping and inspiring others. She volunteers with the Chance for Children Camp, which gives at-risk kids creative and productive ways to discover and develop their dreams, and founded Miss-Scuba.com, a website designed to bring women together from all over the world who share enthusiasm about diving, travel and adventure.
"Luck comes to those staying busy while waiting" is Gogh's favorite mantra. For divers who want to follow her path, staying busy with training and logging dives will surely help.
Read more about Szilvia Gogh's experience working on Piranha 3D. Or check out other scuba diving jobs open to you as a PADI Professional.
Ever dreamed of getting paid to scuba dive?
Contact a PADI Dive Center near you and ask about becoming a PADI Professional.
You can also read more about what it takes to become a scuba instructor.