For me, the ocean and space have always gone hand in hand. Both are challenging, low oxygen environments but both hold wonder, curiosity and imagination for so many. They unite us as to the beauty of our planet. As soon as I took my first breath underwater, I was absolutely hooked, but little did I know where diving would lead me and how it would also help me on my journey to becoming an astronaut.
I got my PADI Open Water Diver certification in 2012 in Cambodia, and since then I have logged dives all around the world, including Vietnam, Thailand, Borneo, Indonesia, Malaysia, The South Pacific, United States and closer to home, in various locations around Australia. My love for diving and the underwater world led me to finally take the plunge and work towards gaining my Instructor certification (Open Water Scuba Instructor) in 2019 and Master Scuba Diver Trainer (MSDT) shortly thereafter. I had taken time off from my usual occupation as a robotics engineer and lived on a tiny island in the Gulf of Thailand where I was teaching diving every day and showing the underwater world to so many, diving shipwrecks and swimming with whale sharks. It was certainly a change from the fast-paced life working in technology; however, I think we all know what comes next – something called a pandemic.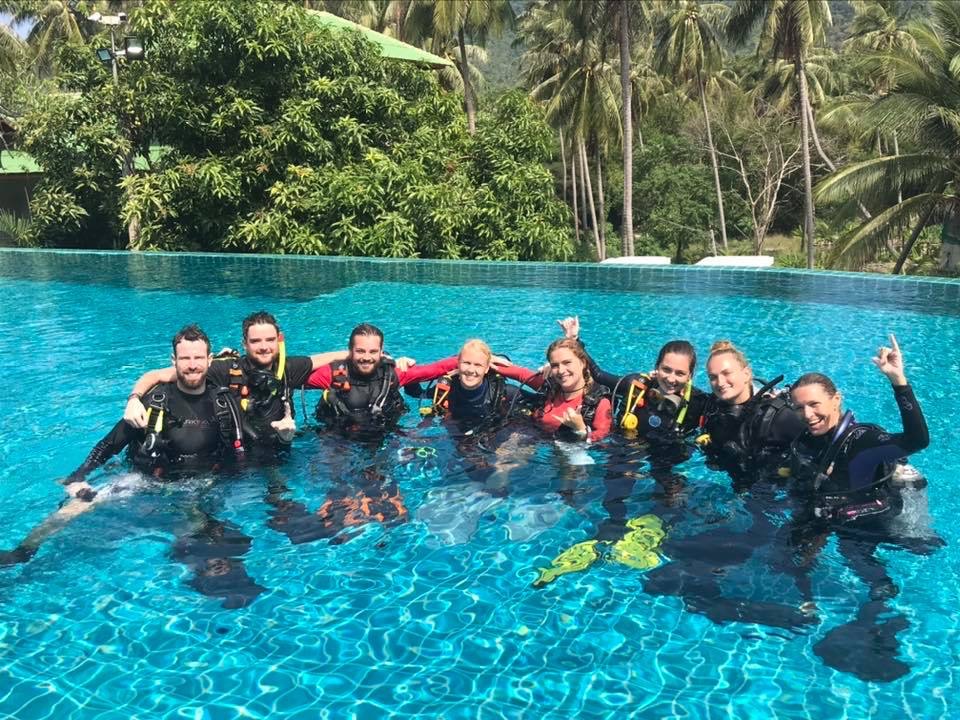 I have always been slowly progressing towards my goal of becoming an astronaut, and in June 2020, right as I left Thailand to go back to Australia I got the news – I was accepted as an astronaut candidate! I was to be a part of a small team made up of others from around the world; I just couldn't believe it. Fast forward again to two years later, and I would finally embark on my first round of astronaut training, which was to be microgravity lunar simulations, involving – you guessed it – diving! It is quite common to prepare for space missions with underwater training and in our case, in the calm shallows of a natural habitat, we were to simulate equipment failures on a lunar surface while remaining negatively buoyant.
Underwater training of any kind is a dream come true for me, so I was over the moon (pun intended) at the chance to be a part of lunar simulations. Though as much as I am comfortable underwater and have had vast experience in all kinds of challenging real world scenarios, one should never become complacent. On the sunny shore of our training location, I set up my gear and made a plan with my team before we ran through our buddy checks making sure we were each comfortable with each other's gear set up. Then, away we went! As soon as I slipped below the surface, I was transported to another world, as I always am. Below the surface, the quiet and calmness of the water was noticeable with the sound of each breath in and out. I descended to the bottom, kneeling in the sand ready for the ok to start my assessment, it was time to focus on the challenge at hand. I was able to use my knowledge and experience as an Instructor to communicate with my team as we worked through our simulation challenges together – after all, being an astronaut is about teamwork – before surfacing back to our 'home planet' to get ready for our next dives and simulations.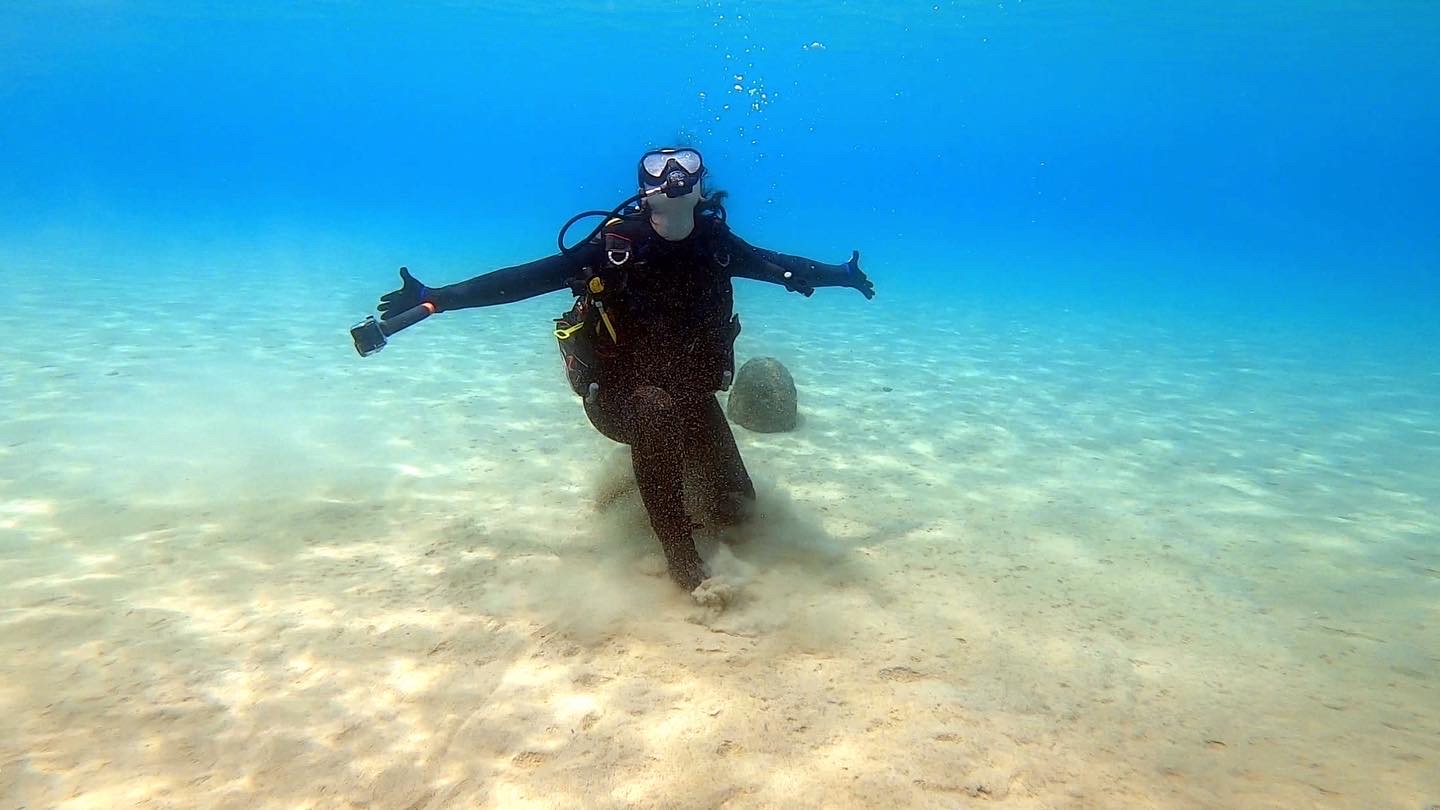 Every so often within my astronaut training, I experience something that I am able to attribute back to diving, which continues to help in ways I never expected. Late last year, I was donning a space suit for the first time, learning how to put one on before experiencing the feeling of being pressurised within the suit. As we all know from either diving or being in an aeroplane, when the pressure changes, we need to equalise. In those normal scenarios equalising is no issue; you can simply pinch your nose to relieve the pressure. However, when you're in a spacesuit and your helmet is on, you have no access to pinch your nose. Thankfully after many hours underwater I learnt to equalise without pinching my nose, a skill that served me well in this instance! As a fun fact, there is also a little nose clamp in the suits for you to slide your nose into if you need help with equalising.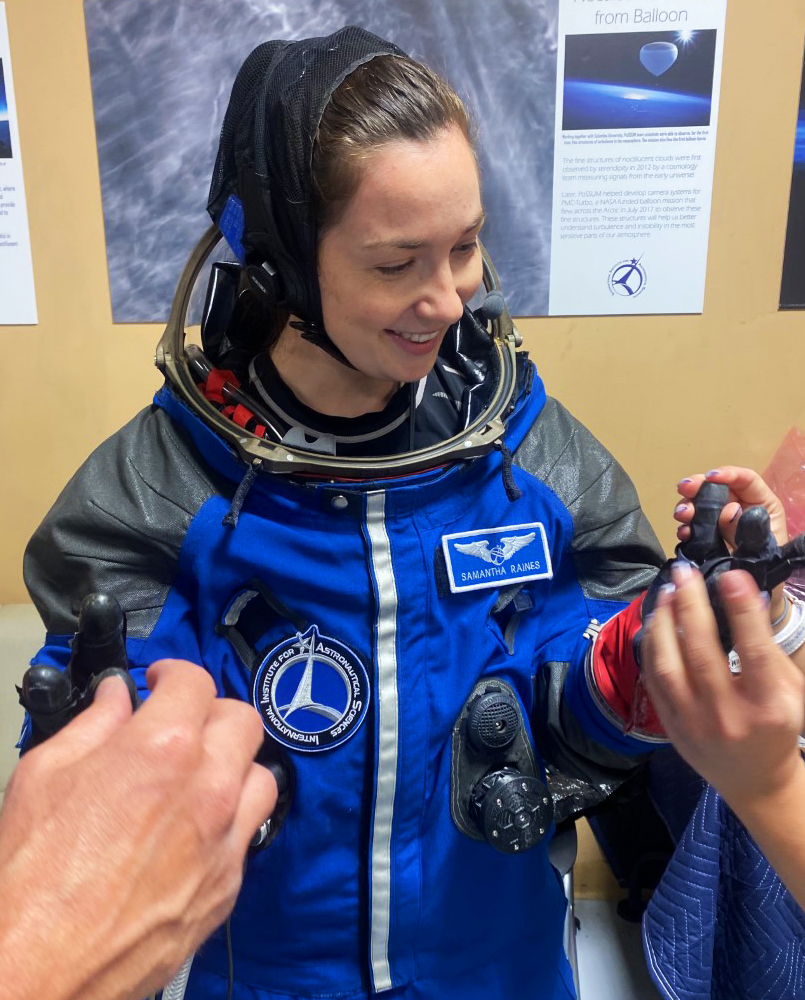 Diving has opened doors I never thought possible, while also being a way for me to continue to champion something I am so passionate about – ocean conservation. I love for others to experience life below the surface, and by being an Instructor, I can continue to open hearts and minds to the beauty of our world and instill a willingness to protect it. There is nothing more incredible than seeing someone overcoming the obstacles or hesitations they had with diving and seeing their eyes change, from apprehension to amazement the moment they see this new world in front of them. Where else can you be truly submersed in another creature's habitat? As well as being an Instructor, I also work within ocean robotics and am committed to technology contributing to a more sustainable future. My own motto is 'to continue looking after Earth while aiming for the stars', so I love that through diving I can inspire anyone to become a Torchbearer for our oceans and more aware of ocean conservation through PADI programs such as PADI Aware. We'd love for you to join us in being a voice for the ocean too:
With that I leave you to see where diving will take you, whether you're yet to start your diving journey or continuing your dive journey if you've already taken the plunge.
See you underwater! To the sea, to the stars.
Sami – The Aussie Astronaut Candidate
---
Samantha (Sami) Raines is a Robotics Engineer working on Ocean and Space Robotics, an Astronaut Candidate, Diving Instructor, Master Scuba Diver Trainer and PADI AmbassaDiver. Samantha holds a Masters of Computer Science and builds Autonomous Robotics, including AI computer vision software, for exploration by using different remote sensing methods and AI to help understand harsh environments and navigate accordingly. Samantha is also a Scientist Astronaut Candidate with IIAS. She is passionate about technology impacting the world in a positive way and believes there are many ways technology can contribute to a more sustainable future. Outside of the office Samantha can be found scuba diving, exploring the ocean depths and teaching others about the wonders of the Ocean through diving, as well as participating in conservation efforts like reef clean ups and wildlife habitat conservation.