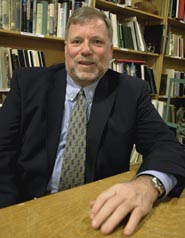 Charlie Beeker is the type of professor any diver would want to have. He loves  The Creature from the Black Lagoon, scuba diving in Grand Cayman (the east end, specifically), and he heads up the Academic Diving and Underwater Science program at Indiana University. Appointed to the Marine Protected Areas Federal Advisory Committee in 2005, Beeker is responsible for the creation and implementation for numerous underwater parks and currently leads underwater research projects throughout the United States and Caribbean.
When asked what started him on the path to his current career, Beeker gave us this great quote: "The sea is an underwater museum still awaiting its visitors" – Philip Diole, 1951. He told us, "When I read this as a young diver, I began to formulate the idea of Living Museums in the Sea, a model for protection of shipwrecks and associated biology."
For divers interested in a career working as a scientific research diver, Beeker says a master's degree is  a minimum requirement. He also suggests seeking volunteer research experience to round out your resume.
As for diving skills, Beeker recommends, "Being a comfortable diver in multiple environments is very important…and at minimum a Divemaster certification.  Use of still photography for underwater documentation is very important, as is knowledge of the local environment… to understand how biological resources interact with shipwrecks and other cultural resources, creating a relative state of equilibrium, if not disturbed."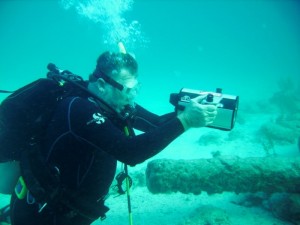 If you have the right qualifications, the jobs are out there. "There is increasing world wide recognition for the need to increase protection and management of of underwater resources, both cultural and biological.  Careers are available with the National Marine Sanctuary Programs, National Parks Service, various State agencies, and non government organizations (NGOs)," says Beeker.
"It is important to be passionate in your approach to the job, and gain as much knowledge as possible to be better informed about the resources.  However, do not be afraid to admit you are not the world's authority on a subject, and instead are always learning while you are living the dream."
What's your dream career?
Contact a PADI Dive Center near you and ask about becoming a PADI Professional.
You can also read more about what it takes to become a scuba instructor.
Interested in diving for a living but not as a scuba instructor?
Read about other scuba diving jobs open to you as a PADI Professional.