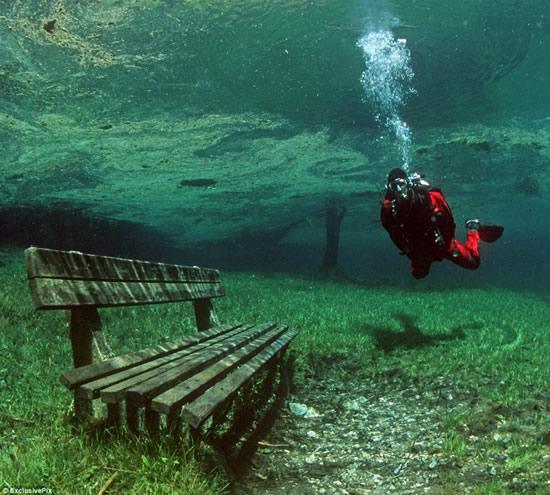 Austria's storybook mountain scenery could make even the most outdoors-averse person want to get outside and maybe even spin around in a wildflower-dotted meadow. With the abundant high-altitude hiking opportunities in the country, it might come as a surprise that one of Austria's most beautiful hiking spots is actually in – that's right, in – a lake.
Or, at least it is for part of the year. Grüner See (Green Lake), located near the town of Tragoess in Styria , is nestled within the spectacular Hochschwab mountains, and its situation creates a unique phenomenon. During the winter, the lake is shallow, at a depth of only about one to two meters (three to six feet).  But in the spring and summer, as the snow and ice melt and run down from the surrounding karst peaks, the lake fills with brilliant green water, to a depth of ten meters (30 feet) or more.
The walking paths and roads that are used for strolling and driving during the winter and fall become submerged, along with all the benches and nearby plants, providing a weird, wonderful and otherworldly experience for divers. It's a great opportunity for divers of all levels to experience a truly unique phenomenon, as well as revel in the beauty of the area. While there's not a lot of life beneath the lake's surface, divers might see some trout and small crustaceans.
For divers living in or visiting Europe, Grüner See should be at the top of your once-in-a-lifetime-dives list. In addition to remarkable scenery, it's a great opportunity to complete your PADI Altitude Diver specialty. Similar diving opportunities are available in Switzerland.