"Go confidently in the direction of your dreams. Live the life you have imagined," said 19th century author Henry David Thoreau. When it comes to your career, it's easy to dream of the perfect job and workplace, but it feels more difficult to achieve it. Is it time to let your dream take flight?
If you dream of a career that is unique, challenging, fun and allows you to work in exotic locations, why not look to your favorite hobby – scuba diving! Not only does opportunity abound for those who become professional dive instructors, but they have the satisfaction of transforming lives by teaching diving to others, too.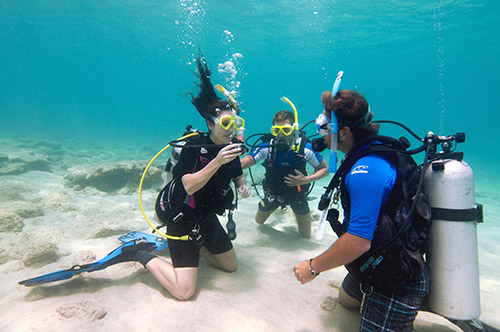 A great place to start transforming your dream into reality is the PADI Instructor Development Course. This in-depth course is specifically designed to build your abilities as a professional dive educator.
The course is tough but extremely rewarding and all your hard work will pay off once you're able to teach PADI programs around the world. Plus, you'll build lasting bonds with your fellow classmates while boosting your confidence and refining your skills.
Just imagine the ocean being your office and exchanging your desktop computer for your scuba equipment. Your instructor education doesn't have to stop there, either. You can acquire specialty instructor ratings in areas of interest, such as Digital Underwater Photographer or Enriched Air Diver.
Check out a few our past PADI blogs about becoming a PADI Pro and the amazing opportunities it can lead to;
Live the life you have imagined! Locate a PADI Dive Center or Resort to learn more about teaching diving.