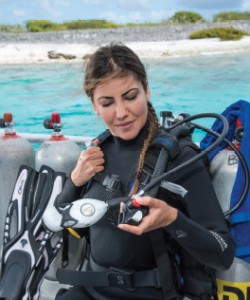 Learning to be comfortable underwater is a challenge in itself, but imagine trying to be comfortable underwater while posing for pictures. In a recent photo shoot for PADI's revised Open Water Diver manual, underwater model and free diver Estrella Navarro Holm proved that it takes more than being a good diver to create great underwater images. It also requires learning the proper techniques and being passionate about your environment.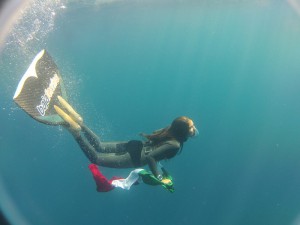 "It's one thing to be comfortable underwater, it's quite another to be comfortable and look at it. Underwater models must be keen on their buoyancy and be able to compensate with their breath," says PADI Media Producer, Niccole Sherman. Estrella, who practically grew up in the water, had no problem demonstrating these qualities during the shoot.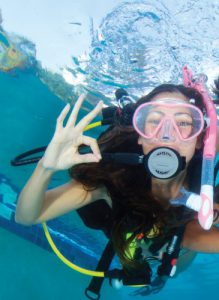 Estrella Navarro was born to love the water. Born and raised in La Paz, Mexico, Navarro grew up right next to the Gulf of California, which Jacques Cousteau often called "the aquarium of the world." Before she could even walk Estrella was swimming and soon after, snorkeling. With the open water as her childhood playground, it's not exactly surprising that Estrella went on to study marine biology, became a professional diver and started working as an underwater model.
It's not just her capacity for hard work and her natural ability that make Estrella fun to shoot underwater. When Estrella is working a photo shoot, she enjoys herself and works to demonstrate her love for the ocean in each shot. "Being relaxed makes a huge difference when you are modeling – it will be captured by the camera. Another characteristic is to project your love for the water and nature. It will show even through your mask the enjoyment that you have…" says Estrella.
Are you aspiring to be an underwater model one day? Besides being safe and becoming familiar with PADI techniques and security procedures, Estrella says that as an underwater model, it is always important to put your love of the ocean first. "The importance of an underwater model is not about yourself, but to put in evidence the surroundings, the beauty of the animals and the immensity of this world."
To follow Estrella's future adventures, visit her website: www.estrellanavarro.com. To see Estrella in action, visit your local PADI Dive Center and pickup a copy of the recently-revised PADI Open Water Diver manual and DVD. She will also appear in the updated PADI Open Water eLearning course.