The list of amazing wreck sites can go on and on…
All across the world there are hidden and popular sites that attract divers of all skill levels. From the most experienced to the novice, divers cannot resist the allure of a mysterious sunken ship. There is plenty to discover, what with natural sea life and leftover remnants of the ship to explore.
After looking at some of the world's Top 5 wreck destinations, here are some additional sites to add to your list of great wreck diving spots:
Malta
It's no secret that the Mediterranean is a great destination for both diving and land tourism. With over 20 wrecks surrounding Malta, it is regarded as one of the greatest wreck diving locations in the world and a paradise for wreck diving enthusiasts. With wrecks including the WWII Bristol Blenheim bomber, the tugboat Rozi, the HMS Maori and several others at technical diving depths, you won't be left disappointed. Wrecks in Malta can be access by both shore and boat.
Graveyard of the Atlantic, North Carolina
Wrecks are so plentiful here that there is a museum here for those who have an interest in exploring wrecks even while they are on land. Divers can explore the USS Monitor, and Cape Hatteras is home to more than a whopping 600 shipwrecks that date back to the 1500s. Aside from the variety of wrecks found in the Graveyard of the Atlantic, it is also becoming a popular shark diving destination with sand tiger sharks a regular sighting.
Coron, Philippines
With a deep history, the Coron area is enthralling. This area off Palawan and Subic Bay is full of WWII history, and the Morazan Maru ship lies in 25 metres / 80 feet of water. One of the most popular sites however are the wrecks of the Japanese freighter fleet sunk in 1944. Dive the Irako wreck and you will be accompanied by schools of tuna, lion fish, groupers and scorpion fish. Learn more about diving in the Philippines.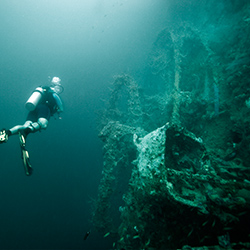 Narvik, Norway
Another location with over 20 wrecks, including many German, English and Norweigan ship wrecks from the 1940s, Narvik holds a great deal of history beneath its waters. The Georg Thiele, a destroyer built for Nazi Germany's Kriegsmarine in the mid-1930s is a popular spot for history buffs and an easy to locate wreck dive. There are even parts of the wreck that remain visible above water in Rombaksbotn. There are also many wrecks from the Second Naval Battle of Narvik, although some are off-limits to divers.
Aqaba, Jordan
The Gulf of Aqaba is situated off Jordan at the northern point of the Red Sea and boasts some fantastic wreck opportunities, both naturally and intentionally placed. The Taiyong and Al Shorouk are great sites, but both require technical diving skills. Sunk for the purpose of tourism, the Cedar Pride wreck dive has been beneath the waters for 20+ years and lies at depths between 7 – 26 metres. Should you want to see what an American self-propelled anti-aircraft M42 Duster tank looks like underwater, the Gulf of Aqaba is where you can find it.
Halifax, Nova Scotia
If the cold water excites you, this is your spot. This area is one of the best areas for shipwrecks in North America due to its rough coast. A popular wreck in the area is the Russian (Kohlkosnik) and is suitable for those who are certified to dive below 40 metres. The Russian is an incredible sight with tanks scattered across the bow of the ship.
Great wreck diving locations can be found all over the world, and you might be surprised to learn there is one near you. Visit the PADI Dive Shop Locator to find a shop near you, find wreck dive sites near you and enquire about the PADI Wreck Diver course.
What are some more of your favorite wrecks to explore?