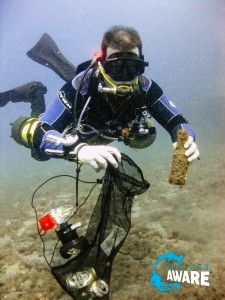 If you're looking to get more out of your next dive and want to help protect the wonderful oceans you cherish at the same time, then consider adding the Project AWARE Dive Against Debris distinctive specialty course to your must-do list. Not only will you learn valuable information and gain great experience as a diver, you'll also become part of the bigger movement to protect the oceans and keep them clean for sea life and divers alike.
Plus, with Project AWARE's Debris Month of Action coming up in September, now is the perfect time to build your skills and confidence in fighting the messy issue of marine debris. The Dive Against Debris course will help you achieve this by:
Educating you about the marine debris issue. You will learn what damage has already been done, where ocean trash comes from and how you can be an active part of the solution.
Equipping you with the knowledge and skills needed to conduct a Dive Against Debris survey. You will learn how to create a survey dive profile, understand the best use of photography and make effective decisions on what to remove and what to leave behind.
Highlighting the five steps needed to record and report findings from a Dive Against Debris dive: weigh, sort, record, dispose and report.
Explaining how to join the global Project AWARE movement of scuba divers protecting our ocean planet
Throughout the course you will gain a detailed understanding of what issues debris causes in the underwater environment. After the course is complete, you will be empowered to participant in ongoing Dive Against Debris surveys near you, and even start a survey of your own!
The valuable data you submit as part of these surveys will help to support the development and implementation of policies that will improve solid waste management at all levels. Plus, your findings will be added to the interactive Dive Against Debris Map so that you and others will be able to visualise your impact at a local and global level.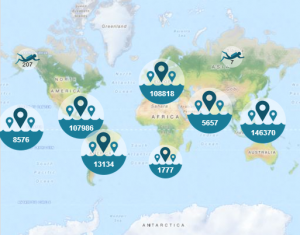 To enrol on this exciting new course, divers must hold the PADI (Junior) Open Water Diver certification or above and should be at least 12 years old. The only other requirement is enthusiasm and a desire keep the oceans clean and beautiful!
Sign up to take the Project AWARE Dive Against Debris Specialty Course now – contact your local PADI Dive Shop for more details on getting started!
Click here for more information on Project AWARE's Debris Month of Action – including tips and resources to help you and your friends get involved.