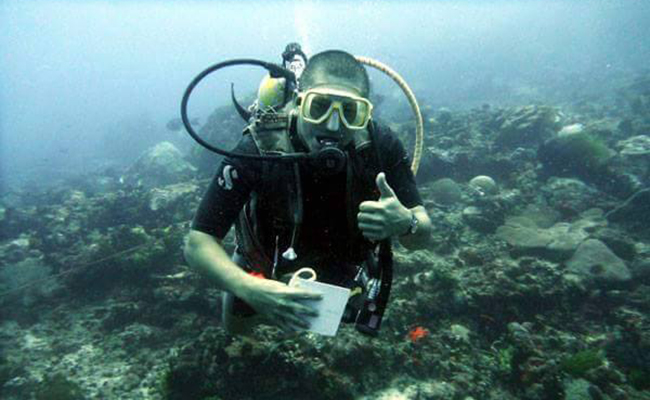 Growing up on Apo Island in the Philippines, PADI Divemaster Harnold Callora, already harboured both a love of the ocean and a vast array of experiences diving – both with and without scuba – before he took the giant stride and became a Divemaster in 2014.
Harnold is now based at PADI Resort, Salaya Beach Houses in Dauin, the Philippines, which is where we sat down with him to discover what takes place typically in Harnold's day.
Describe a typical day in your working life as a PADI Divemaster.

When I arrive at work it's all about organising the day. Gear, the boat, liability forms, oxygen, and making sure that everything is ready for when the guest arrive. Having gear on board and set up, and having made all necessary arrangements with the crew and captain is essential. When the guests arrive for diving, it's briefing time. The white board comes out, maps are drawn, and dive plans are discussed.
Then, it's the best part – the diving! Whether its coral dives with turtles and tonnes of reef fish, or searching the sandy bottoms for weird and wonderful critters, it's all about ticking things off diver's wish lists.
Back in the resort, we wash gear, hanging everything to dry, and then plan for the next day with the guests. We also need to check the weather and arrange with the kitchen and office staff to ensure that everything is smooth for the divers, and if that all has to be done over a beer at the bar with the guests…well I suppose someone has to do it!
When and where did you start diving?
I've been diving since 2005. I did my Open Water Course and have since never left the ocean. Before I got my Divemaster, I worked as a ranger at Apo Island, regulating the marine sanctuaries and making sure that they were being protected.
What made you choose to become a PADI Professional?
I wanted to be able to show other people the other side of the world that I love so much. Being able to take them under the waves and show them the amazing marine life down there is so special. Being a Divemaster also allows me to support my family and bring my children up well.
What highlights do you recall from your PADI Divemaster Course?
I really enjoyed learning to assist on courses. I find it so rewarding when a student struggles with a skill and I get to work with them one on one to get it right. When they are finally able to achieve it, it's such a great feeling for both them and me!
I think the thing that I took most from my Divemaster course was learning how to be a good role model. It is something that you learn from your Instructor and other Divemasters around you during your course.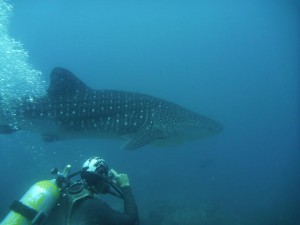 What dive locations are on your bucket list and why?
I love the Philippines, and there is so much that the waters have to offer. I want to dive on Tubataha Reef, which is over the west side of the Philippines near Palawan. There is so much life there and the coral reefs are so undamaged by man and nature. Everyone I know who has been says it's amazing.
What has been the most memorable dive of your life?
There isn't much 'big' life here in Dauin and Apo Island, but I remember one dive on a dive site called Cogon where we saw a whale shark. It was about 10 metres long, and the most amazing thing I have ever seen.
What words of advice and encouragement would you give to divers thinking of becoming a PADI Divemaster?
My one piece of advice to anyone thinking of becoming a PADI Professional would be to go ahead and do it! Go and achieve your goal and become a Divemaster. It is such a great feeling to work with PADI and to be able to show other people the wonders of the water world. I love being able to meet people from all over the world every day and share their experiences of diving around the world.
Are you ready to become a PADI Divemaster? Contact your local PADI Dive Shop, or visit padi.com to find out more about starting your next dive adventure.