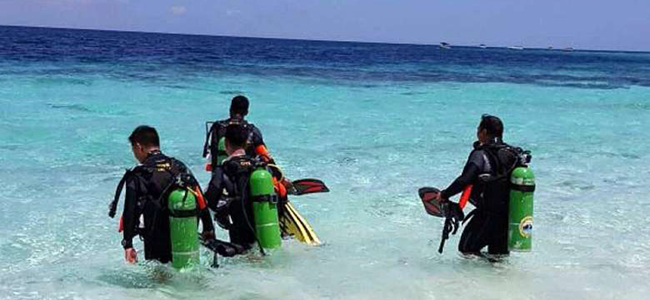 Last July, Sabah's State Government appointed 6,846.5 hectares or coral reef surrounding Pulau Sipadan as a protected park in an effort to preserve marine life in the area. Previously only the 13.5 hectares of land was protected, restricting Sabah Parks from enforcing conservation laws in the surrounding waters.
A ceremony was held on Saturday, 6th March 2016, where the Permanent Secretary to the Sabah Tourism, Culture and Environment Ministry, Datuk Ginun Yangus, officially launched the Pulau Sipadan as a protected park.
Known for having some of the best scuba diving in the world, Sabah Parks have also appointed four Dive Marshals to monitor scuba diving activities in Sipadan. These authorities will now be able to act against people who destroy coral in the area. Each day, 120 divers are given permits by the National Security Council (NSC) to dive at Pulau Sipadan for a price of RM40 each.
"They will be like undersea policemen who will act against divers trampling or destroying coral. It is a major step forward. In due time there will be more dive marshals," Datuk Ginun Yangus said. "By gazetting the area as a protected park, enforcement and monitoring can be done more effectively, which [will] help in preserving the coral reefs. It also provides new source of revenue for the Sabah Parks."
Sipadan is the only oceanic island in Malaysia, meaning it does not sit on a continental shelf. Volcanic in origin, the island is located in the Celebes Sea in the Indo-Pacific basin, one of the most biodiverse marine habitats in the world. Divers in Sipadan are likely to see cleaning stations that attract Manta Rays, Devil Rays and sharks, Pygmy Seahorses, Cuttlefish, Mandarin Fish and Hawksbill Sea turtles – just to name a few!
For more information on diving in Malaysia, visit our Vacation Spotlight.
If you're interested in how you can minimise your footprint when diving, follow Project AWARE's Ten Tips for Divers.