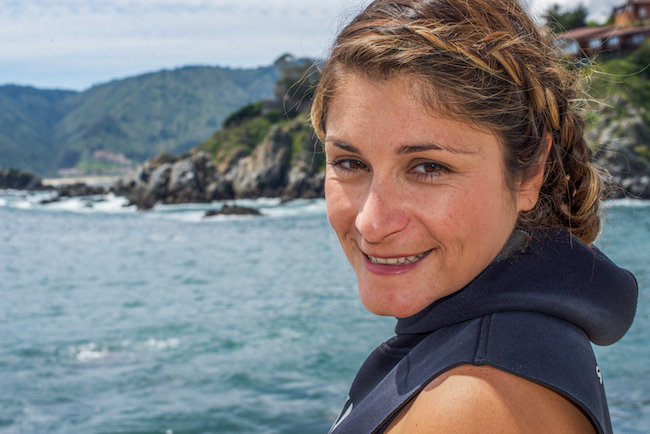 Life in the city, traffic, and the daily office grind are a few of the many reasons that Pia took to the diving world.  Her aspirations of adventure, wanderlust, and a carefree lifestyle propelled her to leave her job and her country, and become a PADI Open Water Scuba Instructor in Fernando de Noronha, Brazil. Now, 29 year old Pia has a successful career as an underwater photographer and videographer at Stuart Cove´s Dive Bahamas, where she dives with sharks daily, and works with major TV show productions including; Discovery Channels Shark Week, National Geographic, BBC and GMA to name a few. We caught up with Pia in between shark dives to ask her about her My PADI experience.
What does PADI mean to you?
To me, "My PADI" is my passport to explore and travel the world. My PADI allows me to discover new opportunities and live life to the maximum, with limitless experiences. It's the institution that has taught me the best way to dive and be confident about my skills.
How did you decide to abandon your life in the city to become an underwater photographer?
Actually, right after ending my journalism career I knew there was something missing inside me. I had this adventurous spirit and I didn't know how to focus on it. A very good friend of mine, who is a PADI Regional Director, opened my eyes to a new world. They made me see that by becoming a Dive Instructor, I would have the opportunity to work anywhere in the world, be underwater every day, and most importantly, transform lives.
At first I wasn't sure if I would be able to go through the whole path from Open Water Diver to Instructor in less than one year. However, I did, and I started living and working in a place I had always dreamt about. In Fernando de Noronha, I met Marta Granville, a great Brazilian photographer, who introduced me and guided me through my first steps in underwater photography.  My life was complete–I had found my life passion.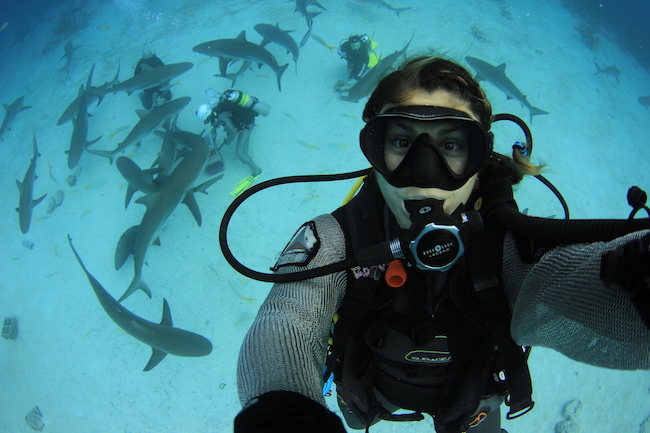 What were your main fears?
Of course when I left my "stable life" in the city, I was really scared. I was starting up a career that I didn't know much about, with the possibility of living in unknown places, with unknown people—it was definitely a risk. I was trading the easy familiar life that I already knew, for the uncertainties of a new world.  I now feel that living life on the unexpected side, on the side of adventure, helps you get fully connected with yourself.
How has PADI changed your life or career?
PADI has changed my life completely. I did five years of journalism, but in my career I never felt complete. I needed more action and I was seeking something else. Once I became a PADI Open Water Scuba Instructor, I realized I could go anywhere in the world, and that I could work in any remote location I wanted. Now I feel free to put my finger on the map and decide where I want to go. PADI gave me the freedom to become a citizen of the world. Also, I discovered my real passion—underwater  photography.
What is the most difficult part of being an underwater videographer and photographer?
Just like any other career, to be successful and satisfied, it's got to be something that you really love. Nowadays, there are so many famous photographers, and talented people that I admire, that when you start, you might feel like it's too hard to grow in such a competitive and high standard field.
Personally I do what I like the most. I've questioned my career sometimes, heard good advice from people who I respect who told me that as a photographer I was wasting my time, and here I am, very happy with what I do, and working on projects I've always dreamt about. I don't think that's luck, I am convinced that it is persistence and love for what you do that leads you towards opportunities. If someone loves underwater photography, I can guarantee that sooner or later they will find their opportunity, the ocean is really big and there are thousands of places to discover.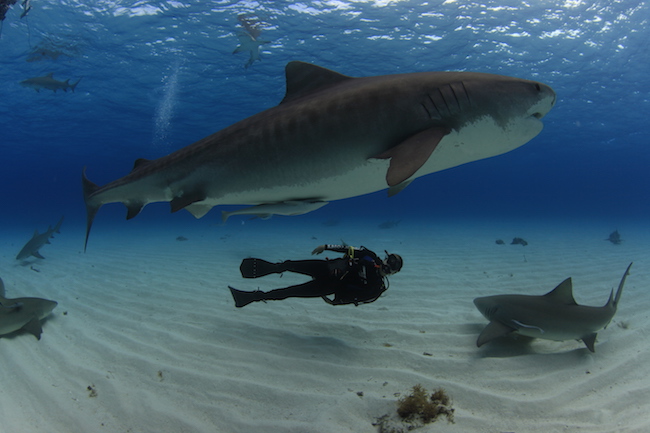 Describe what it's like to dive with sharks.
Diving with sharks is a fun and really life changing experience. I have to confess that when I was a child I was so scared of sharks. On vacation, I couldn't even relax knowing they are in the ocean! Now I dive with them every day, and I love them. They are really smart and amazing creatures.  On the dive we do here at Stuart Cove's Dive Bahamas, people can interact with them, and see how incredible they really are. I personally don't know anyone that has made this dive and said they still don't like sharks!
Do you have any words of inspiration for women seeking a career in this industry?
All women who have an adventurous spirit and a strong connection with the ocean should jump in this field. It's a beautiful profession that gives you a lot of freedom, allows you to meet people from all over the world, live in fascinating places and be in contact with the sea every day. Gender is not a hindrance in this field, on the contrary, the balance is needed, and as a woman, I feel complete in this profession.
What was it like to participate in PADI's first Women's Dive Day last year? 
The first PADI Women's Dive Day was truly amazing. I loved the day and the spirit of all the woman who participated. It was a perfect chance to get together and celebrate female divers and just enjoy the ocean and the company. All the girls had fun, we went diving and chatted for hours. We were supposed to come back at six o'clock, but we didn't get back until eight! The spirit was so high that we even organized a couple more dive days just to get the same group together.
What are your plans for Women's Dive Day this year?
This year PADI Course Director, Hayley-Jo Carr, is organizing a women's day with an emphasis on marine conservation. Hayley-Jo will be teaching the Sea Turtle Awareness Specialty and ending the day with our famous shark dive at Stuart Cove's Dive Bahamas — raising awareness for both turtles and sharks. The event is complimentary thanks to Stuart Cove's Dive Bahamas. All we are asking for is a donation to Project AWARE for the AWARE certification card.  The day will also include lunch, a treasure hunt with prizes and, of course, some chilled wine to end the day. We are all very much looking forward to it!