PADI recently had the opportunity to interview PADI Course Director Fu Chun. Fu works in Bali, Indonesia at her PADI Five Star Dive Resort Fish In Air and tell us how she came to be a PADI Professional and why she loves the diving lifestyle.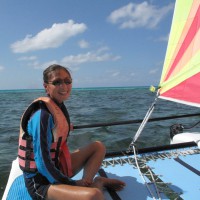 How did you start working in Indonesia as a PADI Instructor?
I took my PADI Divemaster course and Instructor Development Course in Bali in 2008. I really love the diving and lifestyle here in Indonesia. After travelling for a few years as a PADI Instructor, I decided to head back to Tulamben in Bali. I now live in Bali and teach at my own PADI 5 Star Dive Resort in Tulamben.
What do you like about working in Indonesia?
The great feedback from our students. My Chinese language skills are a great advantage in Indonesia and this helps our dive center to cater to Chinese tourists. Another reason I like working in Indonesia is the local staff who are very friendly. Our Chinese restaurant also receives great reviews from guests and visitors.
In what other dive locations have you worked?
I was lucky enough to work in the Maldives for around two and half years. I also worked for a few months in Malaysia.
What do you enjoy most in your day-to-day life as a PADI Instructor?
I can easily combine my interests and work together. I get to live close to the sea and enjoy tropical weather every day. I also get the opportunity to take plenty of holidays and to travel often.
What advice would you give to other divers who are considering becoming PADI Professionals? 
As a PADI Dive Instructor you don't have to worry your job in five years' time. If you keep good altitude, customers will keep coming to you.
What are your diving plans for the future?
I'd like to go diving in more interesting dive destinations in Indonesia as well as around the world.
Having become a PADI Instructor eight years ago, Fu is living every diver's dream by teaching the world to dive. She recently completed the PADI Course Director Training Course in March this year to join the most elite group of scuba diving educators in the world as a PADI Course Director.
Learn more about diving in Indonesia or how you can become a PADI Instructor. 
 Visit padi.com or your local PADI Dive Shop for more information.