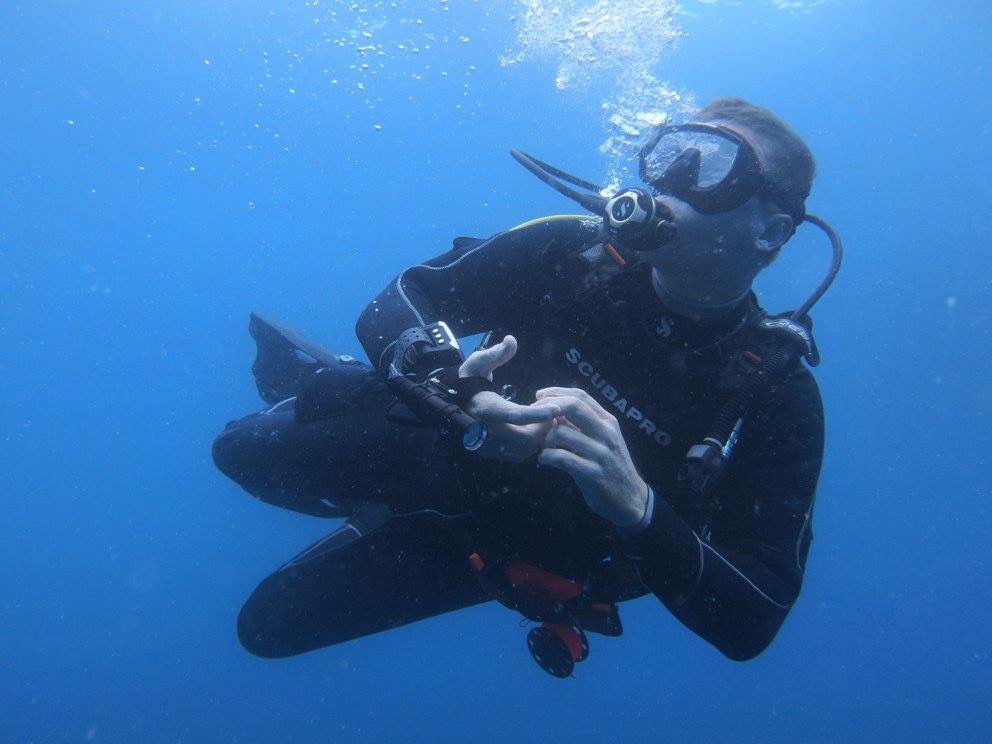 PADI recently interviewed PADI Divemaster Christian McGuire from Go Dive Brisbane. Christian provided some great insights into the life of a PADI Divemaster.
PADI – Tell us a bit about yourself.
Christian – I'm a Divemaster at Go Dive Brisbane. I also have my own business and love travelling to places that don't appear on your standard tourist map! Diving offers me the chance to see places from a different perspective. Touring a new region is always fun, whereas – diving allows you the opportunity to meet new like-minded people and experience places from the ocean looking back along the coastlines, instead of looking out onto the ocean only wishing I was out there.
PADI – Describe a typical day in your working life as a PADI Divemaster.
Christian – The day starts the night before when I call each of the instructors to see if there is anything they need in preparation for the following morning. Then it's a early start at the marina ensuring everything is ready to go for our divers and that includes reviewing dive plans with instructors and taking care of logistics. When the divers arrive it's all about making them feel comfortable, calm and excited about their day. The key for me is to always have things ready for the divers before they even ask and this is something I try to do for my instructors too. Having everything in place including all our safety items creates a relaxed environment so everyone on the boat can organise themselves stress free. On the dive sites its pairing buddy's to suit their ability and comfort zone, being ready and available for the instructors as well as assisting with dive plans to suit conditions and divers.
When we hit the water and start to descend my focus is on everyone's safety and creating as many opportunities as possible for the divers. Dive sites like Manta Ray Bommie in the summer months and Flat Rock in the winter months offers plenty of chances to see Manta's, Leopards, Grey Nurse and Hammerheads!
PADI – When and where did you start diving?
Christian – I started diving in 1989 as young junior open water diver with my dad on the Great Barrier Reef out of Shute Harbour. Through other sport and working commitments in the mid 1990's I had a long interim break from diving until the bug got the better of me and I decided to get re-certified in 2013 and haven't look back since.
PADI – What made you choose to become a PADI Divemaster?
Christian – There wasn't any doubt for me, I always want to get better and learn more. I was fortunate to complete my PADI Divemaster course at Go Dive under some great instructors. I believe if you are constantly in an environment that's unnatural to you and out of your comfort zone you become adaptable to anything and learn to think quickly on your own feet. Being in environments where you need to be ready and available in seconds, when someone needs emergency help or you know your needed before someone even asks, then that environment becomes second nature to you. Being a Divemaster is becoming a professional diver and that's about being ready for every situation. I wanted to be ready and now there is not a situation in the water or on the boat where I feel unprepared.
PADI – What dive locations in Australia are on your bucket list and why?
Christian – One of them was the Abrolhos Islands in WA, the history of the Batavia intrigued me and I have just booked in a dive trip there. I'd love to dive the charters south of Heron Island, the kelp forests in Tasmania and the isolated reefs of Rowley Shoals.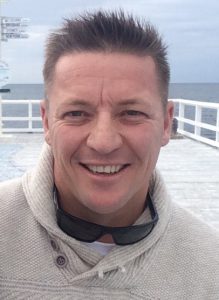 PADI – What highlights do you recall from your PADI Divemaster Course?
Sure a whale shark or manta is a huge highlight, but for me challenges are a reward. My satisfaction & highlight came from the eventual progress of a young diver…
I was diving with one of my instructors conducting the deep section of the advanced course, we were about to start our ascents & I was monitoring the group from behind the students when a young girl started to panic. I could see she was rapidly breathing and I was concerned that if her breathing escalated she might act irrationally & bolt to the surface. As we were at 26 metres, I immediately made physical & eye contact with her. Over the next minute I was able to encourage her to retain her regulator & slow her breathing back to normal.
We managed to complete a safe ascent including our safety stops & discussed the dive on the surface of the water.
What ultimately developed & became the highlight of my PADI Divemaster Course for me was her feedback.
She said to me, 'to see quick we were to act & how calm we made a dangerous situation encouraged her to want to be a better diver & become a Divemaster one day as well'.
PADI – What has been the most memorable dive of your life?
Christian – In Australia it would be a particular day at Manta Ray Bommie, where we were smothered by a school of manta. In QLD we see them fairly regularly throughout summer but this one particular day was out of control, the manta's came in like they had something to say and I'll never forget it. Outside of Australia, diving the 'Leru Cut' off the Russell Islands in the Solomons was awesome and the whole experience diving the 'Blue Hole' in Da Hub, Egypt was insane.
PADI – What words of advice and encouragement would you give to divers thinking of becoming a PADI Divemaster?
Christian – I would highly recommend the opportunity to expand your skills and complete the PADI Divemaster 'without rushing it'. The more time you are put under pressure and the more questions you ask instructors, divers and industry leaders the more advanced you will become. The PADI Divemaster offers great opportunities for those wanting to broaden their skills and diver awareness. It develops you into a safer and more confident diver to be around, offering you more chances to explore with divers at a much higher level.
Thanks to Christian for sharing some insights into his life as a PADI Divemaster here in Australia. If you want to live the life as a PADI Divemaster contact your local PADI Dive Shop or visit padi.com.