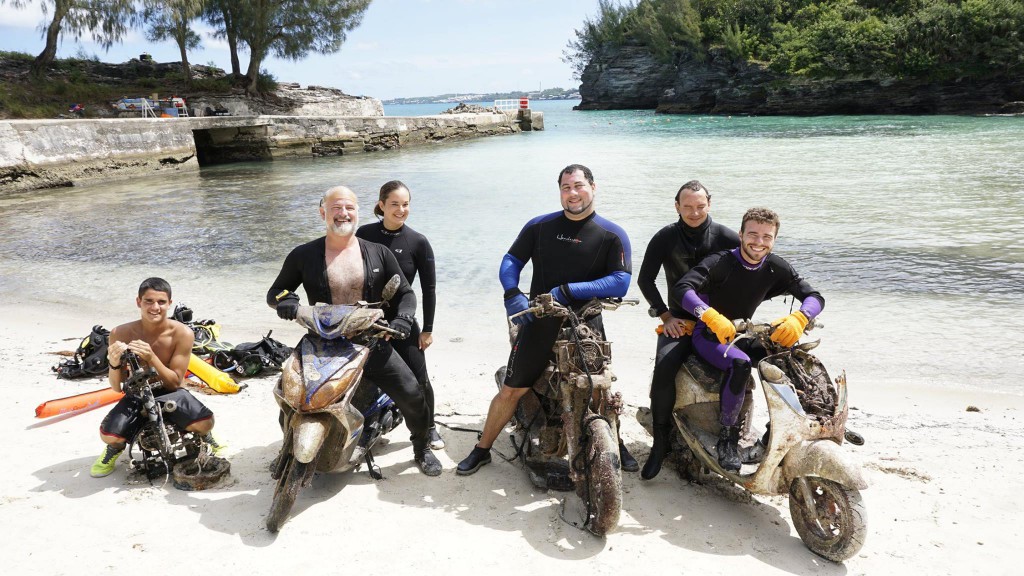 There's a reason divers show up in droves for organized dive-site clean-ups. Not only do we get the feel-good high of helping, but we also allow sites to return to their natural state — beautiful and thriving.
Group clean-ups are easy to find during April, aka Earth Month, but even if you can't find an organized clean-up to join, you can start your own group event or clean up debris with a buddy on any dive.
Regardless of where or when you dive, start with the right gear. In addition to a mesh collection bag, you'll want gloves — garden gloves are cheap and work fine — as well as a knife or other cutting tool for removing ghost nets and monofilament fishing line.
From a boat.
"We only do clean-ups from the boat, because shore dive spots are cleaned up every time we dive them," says Rachel Domingo, PADI instructor and owner of Maui Dreams Dive Company in Hawaii.
Instead, her clean-ups happen via boat. A group leader oversees the process, and teams of two collect debris. Surface support retrieves heavy items from divers, bringing them to the boat.
Domingo suggests the biggest thing to be aware of is time. In other words, pay attention to your deco.
"People get enthralled," says Domingo. "Cleaning up trash is more fun than you'd think. Even professional divers run low on air on clean-up dives."
As for how to handle trash that has acquired reef residents, she advises, "If it is now part of the reef, has growth on it or a critter calling it home, leave it alone."
The trash she sees most is fishing line. To collect, keep fingers together, like a claw. This is your makeshift spool for winding.
Says Domingo, "That way, you're not collecting a weird wad, but are able to collect a lot and keep it tidy."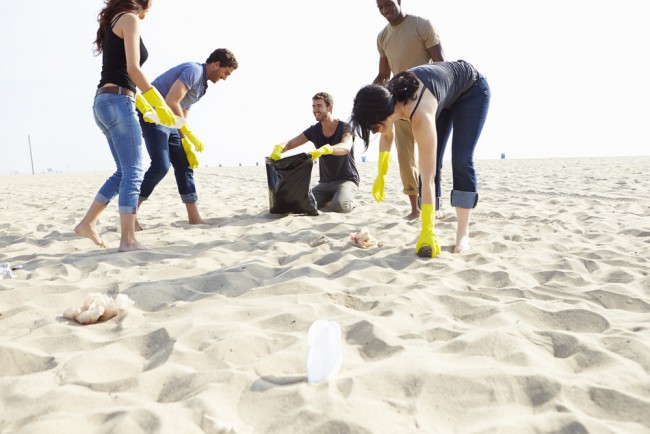 From a pier.
Taylor Bodine, manager of the Central Coast Aquarium in Avila Beach, California, has organized four clean-ups, including the 2015 event that collected 900 pounds of trash.
Her clean-up strategy starts on the surface. Map out the area, if only visually. Decide where you'll gather what you've collected and how you will remove it from the site. Next, line-up surface support.
"Everyone wants to jump in the water to collect, but you need a surface crew to help haul it up onto the pier," says Bodine.
On the pier, all trash is rinsed.
She says, "We wash the animals and barnacles from the debris, giving them a chance at life back in the ocean."
In the ocean, she's been surprised the larger items retrieved. In 2015, four divers carried a toilet back to shore. Impressive, but not a feat divers should manage if unaccustomed to big buoyancy shifts.
She's also been taken aback by the number of cell phones and iPods collected.
Other than that, she says, "I've been even more surprised at how many people come out and help."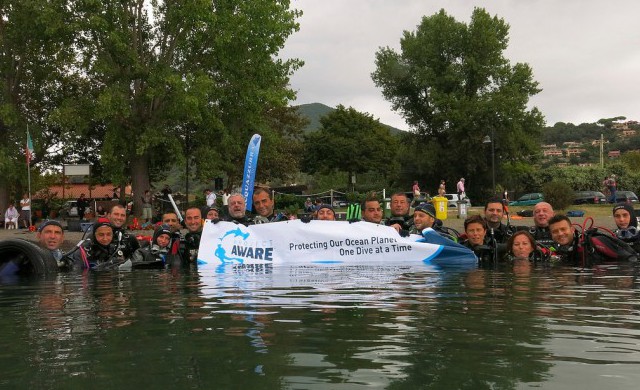 Go further. Become a Debris Activist.
In 2011, Project AWARE launched Dive Against Debris, a citizen science data collection of underwater debris. The program goes further than traditional cleanups, utilizing the unparalleled vantage divers have of the impacts of marine debris on the ocean.
"As divers, we should feel empowered," says Hannah Pragnell-Raasch, Program Specialist at Project AWARE. "We have unique skills to become citizen scientists and participate in Dive Against Debris surveys, yielding critical data about the types and quantities of marine debris items found in underwater habitats across the globe."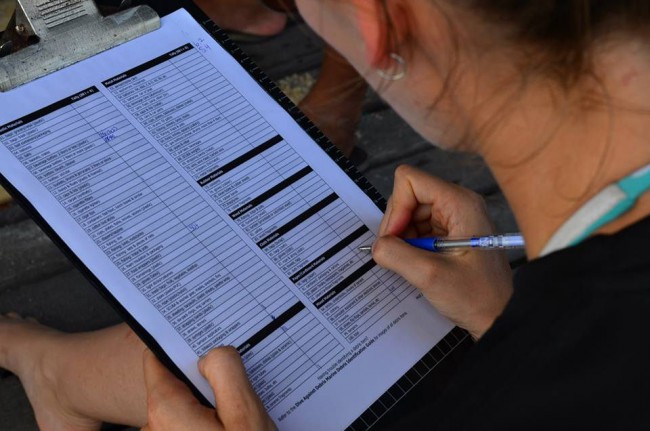 Not only do Dive Against Debris surveys directly improve the quality of local sites, but the data collected helps influence policies and drive the change needed to stop trash from reaching the ocean in the first place. Findings are also visualized on the Dive Against Debris™ Interactive Map to further highlight the quantity and type of marine debris littering our seas.
Want to join the Project AWARE movement? Dive Against Debris today.